New telematics program focuses on actionable information, flexibility, transparency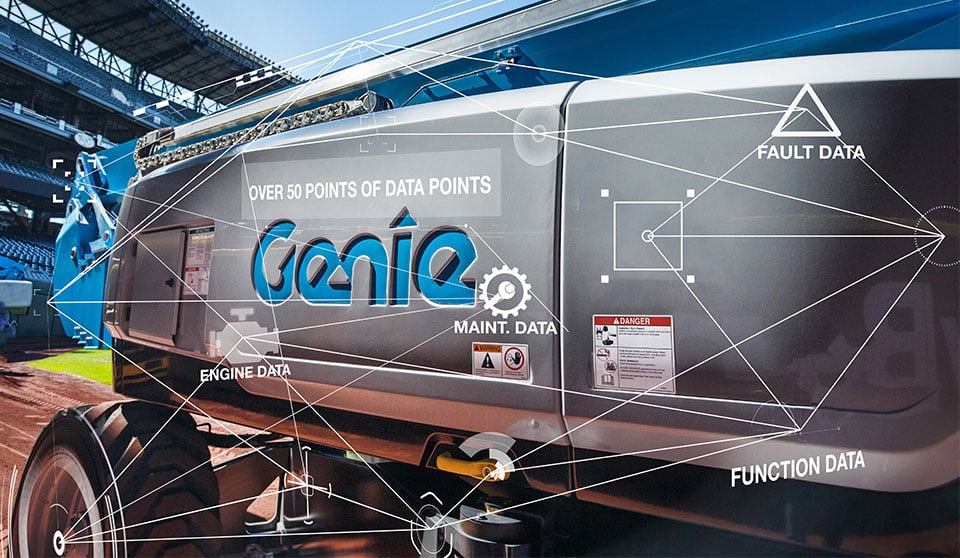 Focused on providing actionable information, flexibility and transparency, the new Genie Lift Connect telematics hardware is now available as a standard feature with a three-year subscription on all new machine purchases for Genie scissors, booms and telehandlers. The subscription includes the ability to consume the data through the Genie Lift Connect Portal and/or the standard ISO API (ISO15143-3).
"From knowing how equipment is performing or how often a machine is being utilized, to where each unit is or when it is ready for maintenance, machine data can provide a lot of insight to a rental business," said Christine Zeznick, Genie senior product and business development manager, Terex AWP. "Today's Genie Lift Connect telematics technology has evolved to help our customers understand the information their machines are providing, enabling them to more efficiently manage their businesses. The Genie Lift Connect telematics offering has been developed in direct response to our customers' rental business needs for actionable information, flexible use and transparency in the data."
Lift Connect focuses on providing information and insights that allow rental fleet and service managers to take action through a variety of tools, including: accessing dashboards and reporting to quickly identify what should be worked on first; easily viewing the entire fleet; seeing what is due for maintenance at a glance; and receiving near real-time reporting, including on machine status, faults and utilization.
The Genie Lift Connect program offers service managers the ability to remotely diagnose equipment, saving time and money; easily identify parts required to complete maintenance; view machines with upcoming maintenance for easy planning; and view alert dashboards to identify if action should be taken, says Genie.
The Genie Lift Connect telematics offering provides more data than any other player in the aerial industry — accessing data from any Genie CAN bus-enabled machine, including fault codes, sensor data, fuel level, battery life and charger information, the company says.
"As time goes on, the data from the Genie Lift Connect offering will become more and more powerful. Initially, this information will be 'descriptive,' focusing on what's currently happening with a machine including how many hours are on a machine, where the machine physically is and if there are any fault codes on it," said Zeznick. "Over time, Genie Lift Connect data can be leveraged on a larger scale and used for "predictive" and "prescriptive" activities, such as predicting service calls in the field and proactively prescribing maintenance and service based on how the equipment is actually being used."