Technical Safety BC releases report and recommendations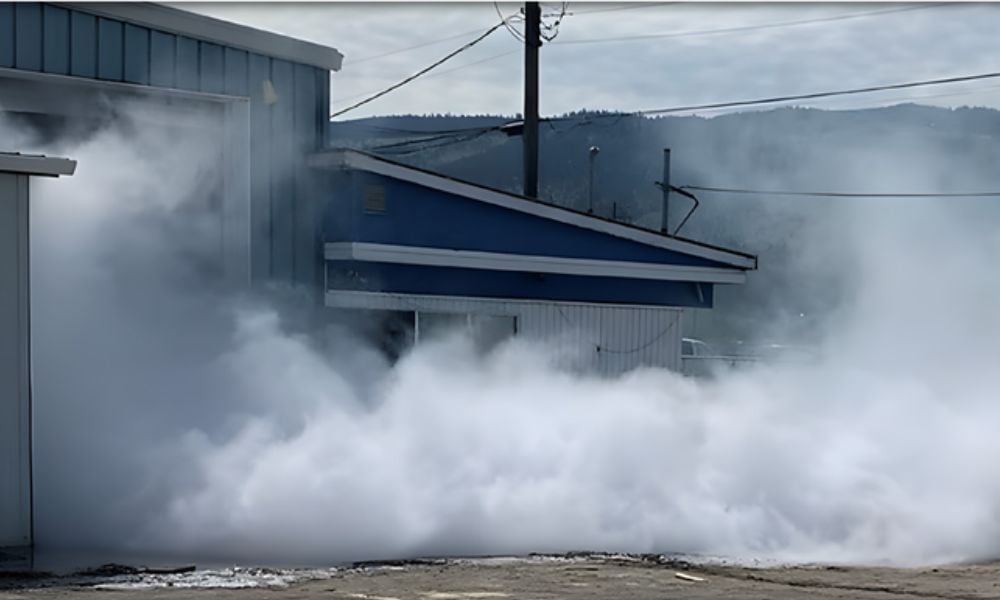 Poor communication and a lack of training led to a deadly ammonia leak last year, according to the independent body that oversees safety of technical systems and equipment in British Columbia.
"Those involved with doing the work didn't necessarily have the qualifications to work with ammonia," says Jeff Coleman, director of technical programs with Technical Safety BC.
On May 26, 2022 a "significant amount" of ammonia was released from a refrigeration system at an ice-making facility called Arctic Glacier in an industrial park on the Tk'emlups te Secwepemc reserve in Kamloops.
One worker died and two others were injured when the pressurized toxic gas was released. The area around the plant was evacuated and nearby businesses were temporarily closed.
What went wrong
"Organizational changes, unclear communication, and incorrect assessments were all contributing factors to the ammonia not being removed,'' reads the report from Technical Safety BC.
The investigation discovered the refrigeration unit had been shut down in 2015, but the ammonia wasn't removed. That critical piece of information wasn't clearly communicated and then staffing changes during the seven years leading up to the incident only exacerbated the lack of knowledge surrounding the safety hazards associated with the refrigeration unit.
There were two refrigeration units that required disassembly, but a licensed contractor wasn't hired to do the work and "the system wasn't properly assessed and interpreted." The workers knew one of the refrigeration units contained ammonia.
"While they believed they were removing ammonia from one system, it was believed that the other system was empty, when in fact, it was full as well. So the following day, when one of those people opened up a valve, it released the full contents of that vessel," says Coleman.
Recommendations made
Technical Safety BC released these three recommendations:
It is recommended that when planning for and facilitating the final shut down and disassembly of refrigeration equipment, owners and managers directly engage a licensed contractor to validate:
ammonia and oil are removed; and
equipment is ready for safe disassembly and transportation.
It is recommended that persons who previously held, or currently hold a technical qualification do not counsel unqualified persons to do regulated work. Qualified persons are reminded that the Safety Standards Act and Regulations prohibit unauthorized persons from doing regulated work unless they are being supervised by a qualified person.

It is recommended that Canadian Standards Association (CSA) adopt or develop requirements for the dismantling, disassembly and/or decommissioning of refrigeration systems and equipment.
Lessons for those in charge
Coleman says hiring a licensed professional, qualified in handling ammonia, could have prevented this tragedy. He says it's common to see a licensed contractor hired during the installation and construction phase of projects, but when it comes to disassembly, "that is often overlooked."
"We forget that the same skill and hazard exists. I think that's an important thing for occupational safety professionals to remember, that just because it's being taken apart doesn't mean the hazards are different."
Another issue addressed in the second recommendation, is a former employee had tried to coach workers on how to perform the job. Coleman says just because one worker may have held a qualification at one point in time, it doesn't mean they can counsel others on how to do a job that requires a specific set of skills.
"You can't transfer that knowledge in a conversation. And unfortunately, if we give the wrong impression to other people, they're going to act on our advice...and we have to be thoughtful of that."
Paying a licensed professional to do the job is priceless when it comes to safety.