Women have been largely affected by business closures and Beauty United says it's time for the industry to be treated fairly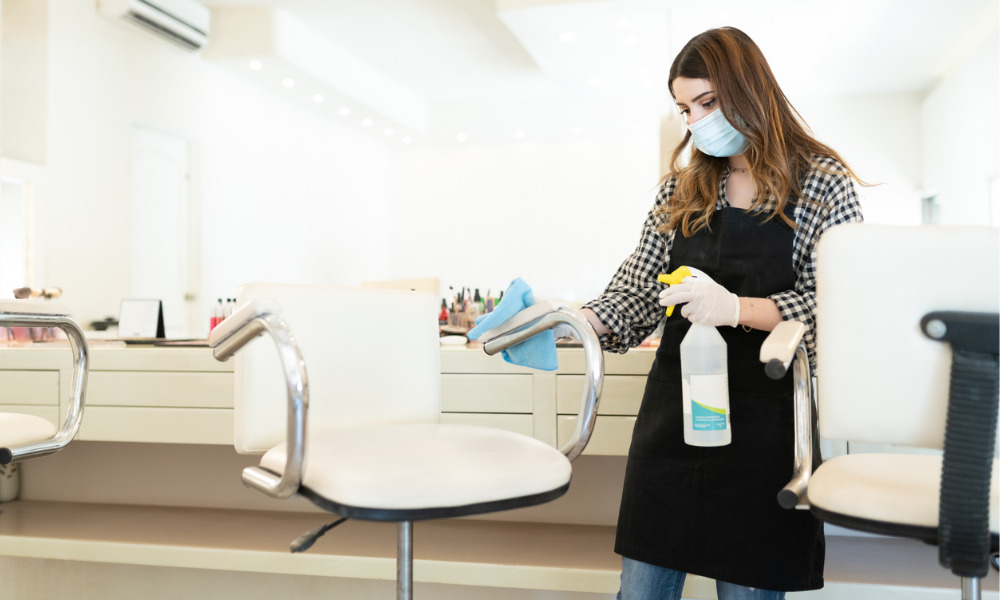 The beauty industry has been decimated by the pandemic, with small businesses being particularly hard hit.
According to non-profit Beauty United & Body Art Council of Ontario, 20 per cent of businesses have closed permanently, and 20 per cent more are at risk of closing. This means salons, spas, barbers, estheticians, tattoo workers, and other small businesses that risk being left out in the cold.
And women are largely affected. Four out of five (82 per cent) of salon and spa owners are female, and about 1 in 5 workers in the industry are people from racialized communities.
While other places of businesses have received aid, Annette Palumbo, executive director, Beauty United & Body Art Council of Ontario ("Beauty United"), says that beauty workers are being left out of the conversation.
Disproportionately affected
Already, women are being disproportionately affected by the pandemic.
In a brief from April 2020, the United Nations (UN) said that "across every sphere, from health to the economy, security to social protection, the impacts of COVID-19 are exacerbated for women and girls." (Full report available here).
The Canadian Women's Foundation says that part of this is that women have been more affected by economic stress. The difference is even more marked for women from racialized communities, notably Indigenous communities.
The Foundation says that women tend to be concentrated in sectors and industries hardest hit by restrictive measures – this includes the personal care industry. As of March 2020, women accounted for 63 per cent of the 1 million jobs lost (and 70 per cent of losses by female workers aged 25 to 54).
Fairness for personal care
To better represent beauty workers, Beauty United launched a campaign called Fairness for Women, which aims to shine a light on the issue and better advocate for the industry in Ontario.
"The Fairness for Women campaign was started because our sector has been closed for so long," says Palumbo. And because female workers were and are being disproportionately affected by isolation measures.
Though the industry was hit hard by the pandemic, she says that the government wasn't doing enough for the sector – and those at the decision-making level were not consulting with industry leaders about what could be done.
"We've never been asked to the table," she says, "so the objective of [the campaign] was to put as much pressure as we can on the government to give us at least a voice and to listen to us."
The group mobilized for months until recently, and was notably asking for funding for training and relief funds for the group's members. Another ask was that beauty workers be able to take part in a (funded) quality assurance certification to ensure that when these businesses are able to re-open, they will be one of the first to be considered because of their commitment to enhanced health and safety protocols.
Finally, this week, the group's demands were met.
IPAC safety
Beauty United is working with Maxill, a Canadian company which specializes in infection prevention and control, on their quality assurance program.
Maxill has assisted various industries in staying open during the pandemic, notably dentistry.
Maxill offered to adapt its Infection Prevention and Control (IPAC) program, currently being used by healthcare specialists such as dentists or chiropractors, and convert it for the beauty industry.
"We want to be safe, we want to open safely, we want to be treated fairly," says Palumbo. "We're an industry that rolls up our sleeves and does we have to do, and we're up to the challenge."
The program, called the Quality Assurance Program, will give beauty businesses a chance to reopen and stay open.
Around 2,900 employees and 191 businesses are currently part of the pilot program. Personal care workers can sign up on Beauty United's website to join in the program.
"I think the quality assurance program will help us go one step further and put us at the same level [as other businesses] when it comes to being secure and safe," says Palumbo.
Beauty United is asking that their Quality Assurance Program be approved in order to allow beauty businesses to reopen when reopening begins, and stay open.
Financial relief
The next phase, after training, is to demand financial relief – on both a provincial and federal level.
"[Businesses] have been closed for 10 months, that's almost a whole year. There are people in debt […] because all of the relief programs that were offered were loans, not grants," says Palumbo.
Once businesses have reopened and workers have "leveled up and retrained", she says that the group is going to look into financial relief.
"But more so, we want to be at the table where there's a recovery committee put together," says Palumbo.
The question remains as to why the beauty industry has been left out of the conversation.
As an industry, beauty is one which is already used to adhering to strict health and safety measures. These businesses could, says Palumbo, safely be able to operate during the pandemic. Why certain industries were labelled as 'essential' as opposed to others remains murky, but the fact that these are largely women-owned and operated businesses could have played a part.
Beauty industry workers were never given a clear answer, says Palumbo.