But only 12 FTSE 100 companies report the number of employees who have disclosed a disability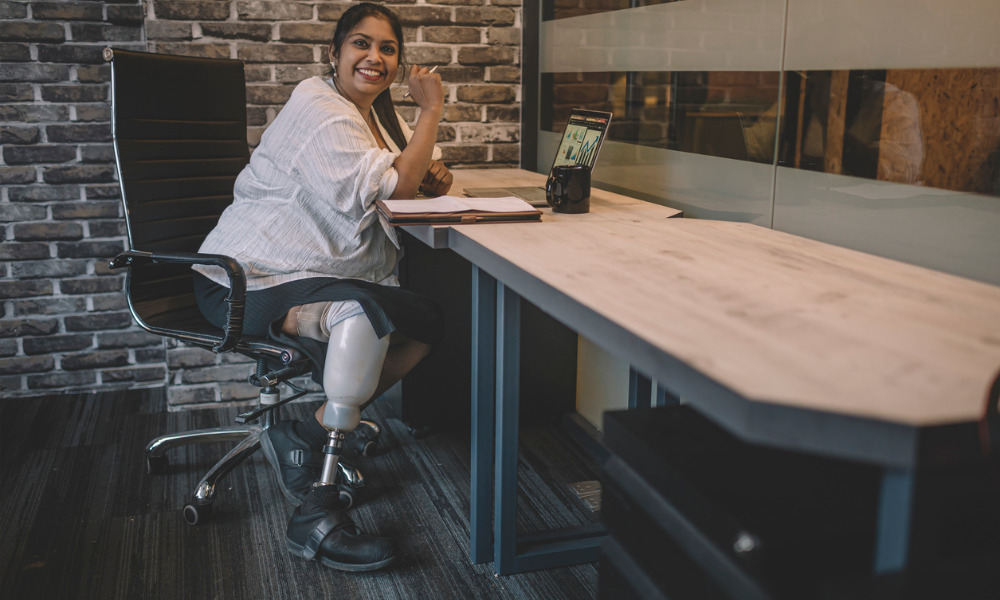 A global business collective launched in 2019 has reached its goal of having 500 companies committing to putting disability inclusion on their board agenda.
Companies like Apple, BBC, The Coca-Cola Company, Sony, Twitter and Verizon among others, have committed to the cause.
With the achievement, The Valuable 500 has become the world's biggest CEO collective for disability inclusion.
The membership includes 36 of the Financial Times Stock Exchange (FTSE) 100 Index companies, 46 of the Fortune 500 and 28 of the Nikkei. The organizations supporting The Valuable 500 have a combined revenue of over $8 trillion and over 20 million employees across 36 countries.
"We've joined The Valuable 500, a global collective putting disability on the business leadership agenda," said Corinna Refsgaard, group chief of the people and culture office at ISS A/S, in a LinkedIn post. ISS A/S is a facility management services company founded in Copenhagen, Denmark in 1901.
"People are the heart of our company – and we're proud of providing many people living with disabilities with their first jobs or a leap forward in their career. For us, it's about offering people the dignity to be part of the society they live in, to support their families that depend on them and to help them progress in their life journey."
"Today we celebrate the The Valuable 500 reaching a historic milestone. We're proud to join forces with 499 other companies around the world committed to disability inclusion. Because the 1.3 billion people living with a disability around the world should not be ignored. #WeAreTheValuable500. And disability is our business," the Schindler Group said on LinkedIn.
RSM UK – a provider of audit, tax and consulting services – also shared in a tweet their CEO's explanation on why disability inclusion is their business.
"I would like our disabled colleagues to feel they can thrive in an inclusive culture and be confident their talents are recognized," said Rob Donaldson, RMS UK's CEO.
In December 2020, the Ministry of Employment, Workforce Development and Disability Inclusion and the Ministry of Innovation, Science and Industry announced they are collaborating on developing improved accessibility requirements for buildings.
Disability disclosure
People with disabilities make up 20 per cent of the working age population, but not a single senior manager or board-level executive at a FTSE 100 company disclosed a disability in 2020, according to a report from The Valuable 500 and Tortoise Media.
Also, only 12 FTSE 100 companies report on the number of employees who have disclosed a disability. The average reported representation within those companies is 3.2 per cent.
Many Canadians living with multiple sclerosis (MS) face inequitable, insufficient and unaffordable access to disease-modifying therapies (DMTs), according to a separate report.
"While the new research shows stark findings on disability inclusion across the FTSE 100, it also indicates that this is set to change, with 16 out of the 100 companies having set credible targets related to representation of people with disabilities, and more set to put these in place," according to The Valuable 500.
"All members of The Valuable 500 have made a public commitment to advancing disability inclusion within their organizations and positive change is already in action."
The Valuable 500 has now launched phase 2 of the campaign, which will activate the 500 major organizations to work together to make change happen for disability inclusion in business.
Under this phase of the campaign, 13 companies across The Valuable 500 will co-fund, co-build and co-test the programs and solutions, using their industry experience to catalyze progress for the entire community. These "Iconic Leaders" are Allianz, BBC, Deloitte, EY, Google, Mahindra & Mahindra Ltd., LSEG, Omnicom, P&G, Salesforce, Sony, Sky and Verizon.
Apple has also joined the initiative and has become the Iconic partner for Inclusive Design, helping to drive the highest levels of inclusive design within and beyond the community.