Why safety leader says 'if you can't influence, you can't do your job'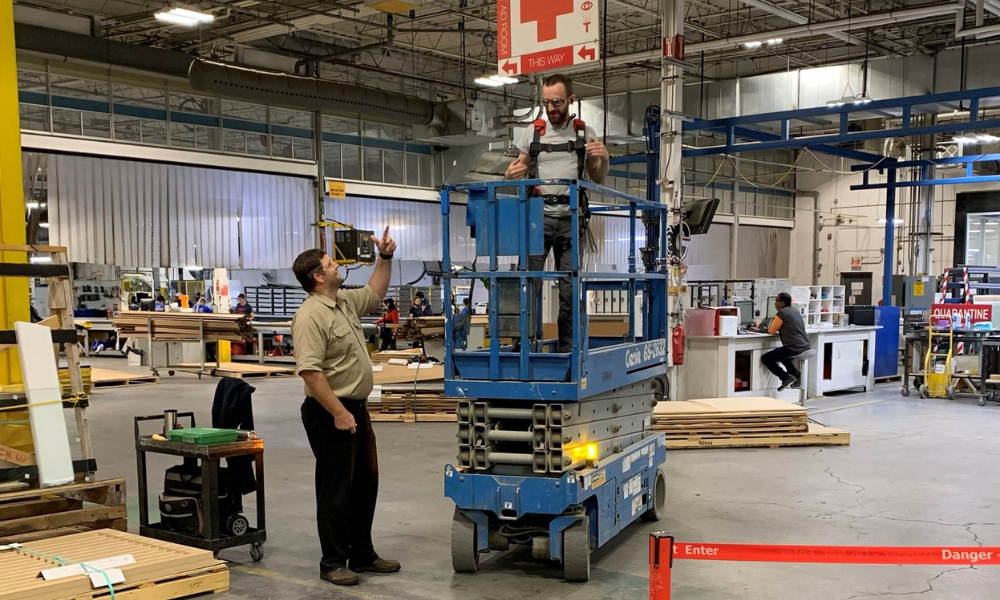 Ian Opelik is a safety leader who isn't afraid of danger, in fact he welcomes it as a chance to influence the behaviour of others and guide them in mitigating hazards. "It doesn't matter what you know or what you can do if you can't influence, you can't do your job," asserts Opelik. "That's me in a nutshell."
For the past 4 and a half years, Opelik has been shaping the safety program at DIRTT Environmental Solutions as the director of health, safety, and environment. But his career path has been a long, winding road full of risk and reward.
A passion born in the Aleutian Islands
Opelik's journey into the world of health and safety began at the University of Victoria in the science department, "not knowing what to do with science," he chuckles. Faced with student loans and uncertain career prospects, he found his calling through a chance encounter.
"I was on the rowing team, and one of the guys said, 'Hey, go up north, work with the US government on the Aleutian Islands." It was an opportunity to work with NOAA as a consultant, and it ignited his passion for safety.
"I wanted some experience, but also some excitement," says Opelik. His love for the outdoors and a taste for adventure made this an easy decision. In 1999 he started working as a health and safety expert on fishing vessels, one of the most dangerous jobs in the world.
"It was like the Discovery Channel's Deadliest Catch, all those boats," says Opelik. "I didn't know it was going to be that much fun." He vividly recalls the excitement of working in an environment where threats loomed around every corner. He also found love and met his wife there.
Leading during the Fort McMurray Wildfire
She led him back to Alberta, where he transitioned into the oil and gas industry, bringing his knowledge of HSE with him. As his career progressed, he realized his strength was in understanding and helping people. "Environmental work is about 70% regulations and 30% helping people," he explains. "Safety, on the other hand, is almost the opposite: 70% working with people and 30% regulations."
In 2016, Opelik was working for Cenovus Energy when the oilsands community of Fort McMurray became surrounded by flames. It was the largest wildfire evacuation in Alberta's history, with more than 80,000 people forced to flee their homes.
"Witnessing lives disrupted by such a formidable force was deeply affecting. However, as a Health and Safety (H&S) professional, it is comforting to observe that meticulous planning can effectively mitigate risks and alleviate stress levels," says Opelik. "The various drills and exercises we had undertaken contributed significantly to a successful response."
Opelik says the team at Cenovus had the proper tools, allocated resources effectively, and ensured employees were properly prepared for natural disasters. "This experience underscores the importance of proactive safety measures and the resilience that a well-prepared team can exhibit in the face of unforeseen challenges."
Leading the way at DIRTT Environmental Solutions
Today, Opelik leads a team of health and safety professionals and sets his division's direction. DIRTT is a company with multiple factories across North America, and many of its workers have English as a second language. "We needed to think of different ways to communicate health and safety to these workers to ensure they understand and can control the hazards associated with their work."
DIRTT is in the business of providing interior solutions for healthcare and education, offering complete interiors for buildings, from walls to offices, ceilings to floors. Their innovative approach ensures customers know exactly what they're getting, with no surprises or hidden costs.
Championing safety and winning hearts
But it's not just the innovative approach to interiors that makes DIRTT stand out; it's their commitment to health and safety, a commitment Opelik has helped instill. In the beginning, his role wasn't without its challenges. "It was hard to get leadership to believe in health and safety," Opelik admits.
However, the tide changed with a new board and C-suite. Now, the entire team believes in the importance of health and safety. "It's almost a dream for health and safety professionals," declares Opelik. "It took me a couple of years to get there, but with this change, we've made amazing strides in health and safety performance."
When Opelik joined DIRTT, they had a total recordable incident rate (TRIR) above 10. Last year, it was reduced to 0.1—an astonishing improvement by 90%. This success illustrates the power of unified commitment to safety and the difference that a passionate leader like Ian can make.
Opelik's dedication and commitment have earned him a nomination for a CSEA Safety Leader of the Year award. But he's quick to share the spotlight with his team, who nominated him. "I don't do it for the awards, but it feels great," he says. "It's like a little family. There's six of us, and it's amazing…you can't win without the team."
Opelik's journey is far from over. He's committed to pushing the boundaries of health and safety at DIRTT. "I hate to stay stagnant…I want to keep pushing, keep learning, keep growing."
With his unwavering commitment to safety, his passion for people, and his drive to make a difference, Opelik is shaping a safer, more sustainable future at DIRTT Environmental Solutions. His story is a testament to the profound impact that a dedicated leader can have in the world of health and safety.