Local community coming together to commemorate victims, support their loved ones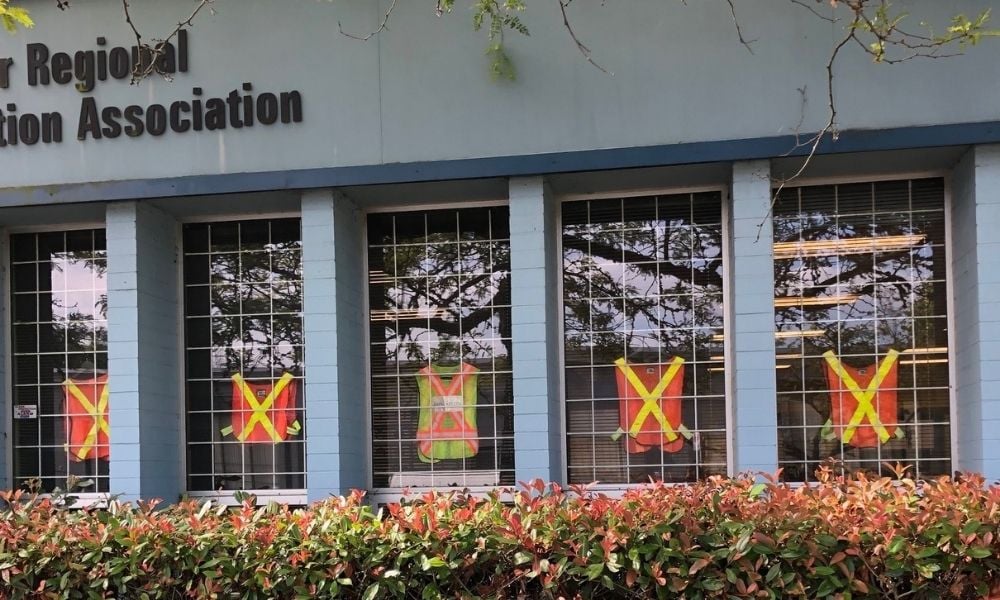 Following the tragic crane collapse last week, the BC construction community has banded together to commemorate the five lives lost.
BC businesses and individuals have been placing high-vis vests in their windows to commemorate the five victims.
Local news outlet Castanet initially reported on the campaign, speaking with resident Hayley Harrison who placed a high-visibility shirt on her front steps after seeing the idea floating around on Facebook.
The campaign was inspired by the hockey sticks that were put out to commemorate the Humbolt tragedy in 2018.
Businesses and organizations such as Century Aluminium Railings, Pitt Meadows Plumbing, Emry Formworks and the Vancouver Regional Construction Association (VRCA) have shown their support by taking part in the campaign.
"To honour our construction brothers who lost their lives on the job in Kelowna Monday, many are displaying hi-vis vests in their windows. VRCA is taking part and sending our wishes for healing to all affected by this tragedy," said Donna Grant, President, VRCA, on LinkedIn.
Those taking part have been sharing their photos on social media through the hashtags #hangahighvisoutside and #kelownastrong.
"On Wednesday morning we saw the campaign and at that point members of ours were already posting their photos using the hashtag. We then put up five high-vis vests in the windows of our Kelowna office and shared the image on social media asking others to do the same in their workplace or home," said Carolyn Mann, Operations Manager, Southern Interior Construction Association (SICA).
SICA has been helping to amplify the campaign on social media to its membership and beyond.
"It is great to see individuals and businesses from across the province participating and showing their support. When driving around Kelowna we are seeing a lot of vests outside or in windows. It is great to see the support from the community for the victims and for the construction industry as a whole," said Mann.
She also said that the organization is working with the Construction Foundation of BC to set up a charitable fund for the children of the victims.
Victim support
So far, three GoFundMe pages have been set up to help the victims' families.
The victims include two brothers, Eric and Patrick Stemmer, who worked for family-owned Stemmer Construction (based in Salmon Arm).
"These men are husbands, fathers, sons, friends and chosen family to so many, this sudden loss is nothing short of heartbreaking," said organizer Emily Roy on the GoFundMe page set up to assist the Stemmer family.
On Friday at 11am, Stemmer Construction also invited those in the community to blast their crane horns to commemorate the five victims. Horns were blasted every minute from 11am to 11.04am for each victim.
Also on Friday, the North Okanagan Labour Council organized a candlelit vigil in the evening. As per the event's Facebook page, around 200 people attended.
WorkSafeBC
WorkSafeBC is currently investigating the incident.
"During the investigation, WorkSafeBC will be working with subject-matter experts and engineers to examine the crane components, sequence of events, and work procedures that took place during the dismantling process. This will be done to identify the cause of the incident and contributing factors that led to this terrible tragedy," said WorkSafeBC in a statement.
"In addition to the investigation, WorkSafeBC's Claims and Rehabilitation Services group has specialized teams mobilized to respond to this incident. These teams will provide support to affected workers, employers, and family members of the deceased. All related claims will be managed quickly, consistently and with a focus on the individual needs of those affected by this tragic event."
At this point, WorkSafeBC said that it cannot speculate on how long the investigation will take, as the length of time for an investigation varies depending on its complexity.