Window cleaners, roofing company also award recipients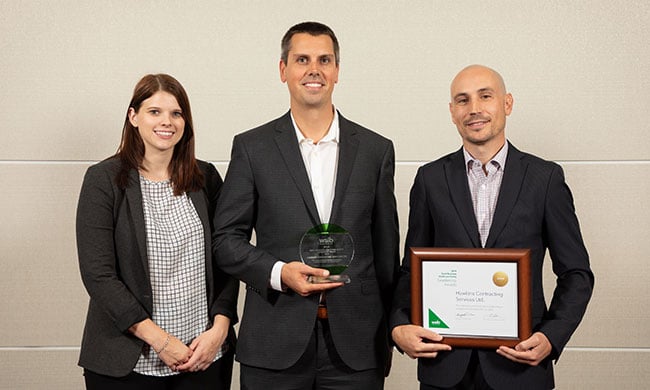 Hawkins Contracting Services of Stouffville, Ont. is the gold winner of the Small Business Health and Safety Leadership Awards, presented by Ontario's Workplace Safety and Insurance Board (WSIB). The awards recognize small businesses (fewer than 50 employees) that have outstanding health and safety programs in place.
The family-run Hawkins has a strong health and safety culture, and it puts a strong focus on collaboration.
"Hawkins prides itself on prioritizing employee wellness by providing services to support the needs of all its staff, and they empower employees to voice their opinions and give regular feedback," WSIB said. "All their training is tailored to the needs of the business and to each individual role."
The silver winner of the small business award is Clearview Window Cleaning of Thunder Bay, Ont. The company has a strong health and safety mentorship and training program, well-established safety routines, including weekly safety meetings, communications boards with safety information, and an annual orientation meeting.
"On top of this, the team conducts many detailed and regular inspections and dedicates the off-season to reviewing their health and safety practices," WSIB said. "Clearview's wellness program makes the employee experience a positive one both on and off the job and helps foster a sense of community."
The bronze award winner is Double AA Metal Roofing of Belle River, Ont.
Everyone at this family-owned local roofing company — including managers and employees — takes their health and safety accountabilities seriously.
"The company's impressive and in-depth hazard analysis is equivalent to that of large organizations, and it provides detailed hazards orientation and discussion for new hires," said WSIB. "Their culture of inclusivity is demonstrated by offering their training information in multiple languages for employees whose second language is English."
The gold, silver and bronze winners received a cash prize of $5,000, $3,000 and $2,000, respectively.
Companies are judged on performance in several categories, including safety culture and leadership, return to work, violence and harassment prevention and hazard identification and control.