Employers are responsible for taking steps to prevent all incidents of this nature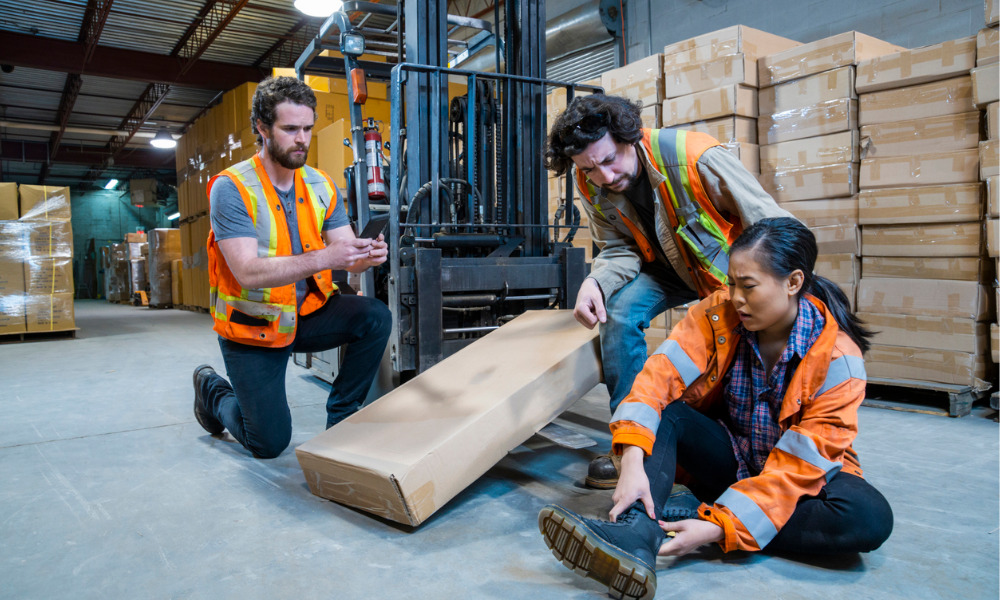 "Absolutely." That was the response employment lawyer Jordan Epstein, associate at Gowling, gave Canadian Occupational Safety when asked if physical assault was an occupational hazard.
"Employers have a legal obligation to provide their employees with a safe workplace. Employers are responsible for taking steps to prevent not just physical assaults in the workplace, but all accidents, injuries, violence and harassment."
Epstein noted that physical assault at work is more prevalent in some industries – security personnel, healthcare employees, sellers or alcohol and retail employees – than in others. However, "in all industries and workplaces, there's a potential risk of physical assault that employees must be aware of and employers must take steps to mitigate," he said.
Read more: Hospital staff subjected to increasing violence: Report
Indeed, this is a huge problem. In fact, nearly two-thirds (63 per cent) of healthcare workers experienced physical violence, based on the Canadian Union of Public Employees' (CUPE) survey of 2,300 front-line registered practical nurses (RPNs), personal support workers (PSWs), porters, cleaners and other front-line hospital staff, conducted May 17 to 24, 2022.
And across different workplaces and sectors, seven in 10 workers have experienced a form of harassment and violence at work, according to the Canadian Labour Congress' survey of nearly 5,000 workers conducted between Oct. 21, 2020 and April 21, 2021.
And these experiences are harmful to workers. A total of 70 per cent of workers who experienced harassment and violence had to miss work because of the negative effects, and 88 per cent were "transferred, suspended, fired, or lost a shift" due to the harassment and violence.
Read more: Man accused of assaulting emergency room security, police officer
Written policy
This is why employers must have in place a plan on how to avoid physical assault in the workplace, said Epstein.
"Employers must – not only should – they must implement a written policy regarding all workplace violence, which includes physical assault. Regardless of whether or not it's included in a safety plan or by itself, there must be some sort of written policy in place that addresses potential physical assault."
These policies, he said, should provide examples of potential violence in the workplace, and must clearly establish the expected behaviour for all employees. The policy should also outline a process to follow in the event that an act of physical assault or any harassment or violence takes place in the workplace.
Read more: Driver 'lunged' at police officer, report alleges
But simply having a policy in place is not enough, said Epstein.
"Employers must be proactive in educating their employees about the health and safety policies, and they must raise actual awareness. Employees should have received training on the workplace policies. And there should be a clear line of communication that's in place for employees to report any workplace violence or incidents of assaults to the company."
Unfortunately, there's no guaranteed method to eliminate workplace violence entirely, he said. So what should employers do if a case of physical assault at work does happen?
"They have to act quickly and they have to act reasonably and responsibly," said Epstein. "This includes identifying the threat of violence or act of violence, responding appropriately under the circumstances, which may require contacting the police, if necessary, and ensuring that all employees are knowledgeable about effective strategies to reduce the likelihood of violence and assault."
Read more: Off-duty police officers attacked while arresting robbery suspects
Employers must also take the instance as an opportunity to learn and adopt new policies. Failing to respond accordingly can be costly to employers.
"There are legal obligations in place for employers to prevent further acts of physical assault when they do take place. And this has key ramifications, as it could expose the company to liability to damages," said Epstein.
"But beyond that, there's a duty to protect employees and workers to a certain extent, and employers should be careful to ensure that their workplaces are safe and meeting that reasonable standard."