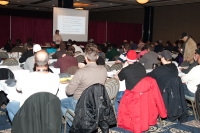 Manitoba's 22nd annual Manitoba Construction Conference has a new safety component, and it's a full-day filled with learning best practices to ensure the success of your safety initiatives in the construction sector.

Manitoba kicked off its 22nd annual Manitoba Construction Conference with the launch of the new Safety Professional Development Day, a full-day workshop geared towards those in charge of company-led safety programs, including owners, safety managers, coordinators, supervisors and construction safety officers.

Safety Professional Day was held the day before the opening of the Manitoba Construction Conference, which was held on February 1 and 2 at the Winnipeg Convention Centre. Safety Professional Day showed attendees how to effectively lead, integrate and apply key elements to ensure the success of a company safety program.

Don Padden, owner, Construction Safety Solutions Inc., led the morning session titled, Simple Safety Solutions, while Stephen Torrence, executive director at the Professional Builders Institute of B.C, followed with a session titled, Leading Change in Worker Attitude and Performance.

The Manitoba Construction Conference (MCC) was hosted by the Construction Safety Association of Manitoba (CSAM) and Manitoba Heavy Construction Association's WORKSAFELY. Close to 2,100 delegates from the province's construction industry attended this year's conference, learning the latest developments on safety and construction management.

"I continue to be impressed with the number of people committed to safety in the construction industry of Manitoba," says Sean Scott, executive director, CSAM, and co-chair of the Manitoba Construction Conference.

"The conference provides these individuals with an exceptional forum of quality classes at an affordable price, and every year our goal is to improve on our past success," adds Scott. "We take extreme care to ensure that every person who attends — whether a registrant, exhibitor, instructor or guest — has a memorable and rewarding experience."

The conference's trade show component showcased over 80 exhibitors from the safety and construction market. MCC's partners included: SAFE Work; Manitoba Heavy Construction Association; Winnipeg Construction Association; Manitoba Conservation; the Workers Compensation Board of Manitoba; Workplace Safety and Health Division; Manitoba Home Builders' Association; and, the Manitoba Building Construction Trades Council.