Doyle excels at promoting safety both at work and in his community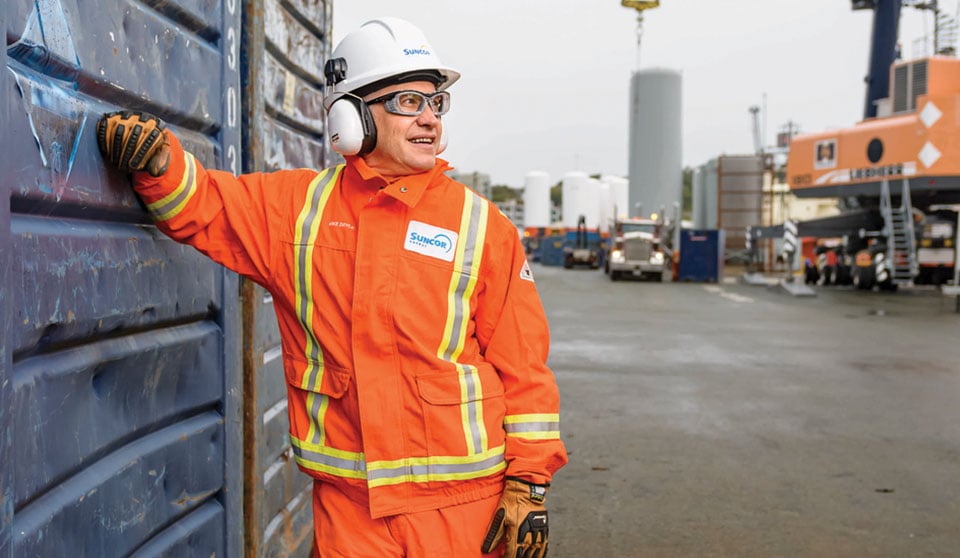 Safety professionals know the importance of bringing safety home. Whether they are hanging holiday decorations with their families, camping with their buddies or completing projects around the house or yard, safety has to be engrained in everything they do. It's possible no one does this better than Mike Doyle, who takes this concept to the next level by serving as the mayor of his small town in Newfoundland. Doyle is the winner of the 2019 Safety Leader of the Year award, presented by Canadian Occupational Safety.
The historic town of Harbour Main-Chapel's Cove-Lakeview has a population of just 1,000, but this doesn't stop Doyle from promoting safety messages at every turn. The town's residents approached him while he was the deputy fire chief for the community and asked if he would run for town council. He noticed a few safety concerns in the town, such as poor provincial roads, unmaintained guiderails, a shoddy boat slipway, pedestrians walking at night without reflective clothing and fire hydrants that were not producing enough pressure for the fire trucks, and he felt his experience as a safety professional could make a difference.
"Any community is really no different than any company out there — safety has got to remain the first priority," says Doyle, who holds the Canadian Registered Safety Professional designation. "Just ask yourself, 'Would I want to live in an unsafe community?' It has a direct reflection on the economic development and potential of that community. As the mayor, I made safety our number 1 priority."
By day, Doyle is the team leader for safety, strategy and operations services at Suncor Energy in St. John's, N.L. One of the main reasons he is so successful as a safety leader is his exceptional interpersonal skills.
"It's his approach. He is a good listener, relationships matter to him, he has a positive attitude and he is just easy to talk to," says Shawn Langdon, offshore installation manager (upstream) for Suncor in St. John's. "He has a good ability to relate to people and I think it allows him to get his messages out to people fairly easily and I also think, more importantly, to have them well received."
Doyle's approachability is further demonstrated by his open-door policy.
"We can drop by at any time. He is always willing to provide support to his team and provide advice. He is always open 24-7," says Steve Kavanagh, senior advisor for health, safety, strategy and operations services at Suncor East Coast. "His phone is always readily available, and he will always make time for any issues or concerns that are brought forward."
If workers at Suncor have a safety concern, they have no problem approaching Doyle about it because he is always looking for opportunities for improvement, says Langdon.
"He makes them feel comfortable, makes them feel safe. He understands the message they are bringing. It's not about repercussion; it's about learning and getting better," he says. "There's a comfort in his presence."
Doyle is very committed to getting out in the field and talking to workers about safety. He regularly visits the offshore installation off the coast of Newfoundland and meets with workers. His ability to build these relationships is his "most powerful skill set" — whether he realizes it or not — because it allows him to get buy-in and commitment for his initiatives, says Langdon.
Stephen Full, EHS director, exploration and production, at Suncor in Calgary, recalls one evening when Doyle took him to the Fort McMurray oilsands site at 2 a.m., in -40 C, in the middle of winter. Normally, executives would visit the site when it was a nice, warm, sunny day, but Doyle already knew what took place in the day shift and he wanted to pay a visit to the night shift. (Doyle worked for Suncor in Fort McMurray before being transferred to the East Coast operations).
"They were quite surprised we showed up in the middle of the night, but they were very appreciative to see we were interested [in] what they were doing. And they showed us they are following the same policies and procedures as day shift," Full says. "Mike definitely wants to see the folks, try to get the feel for what's going right and what's going wrong."
One reason why Doyle is so good at engaging the workforce is because he used to be on the front lines himself. He has worked for 23 years in the oil and gas industry, starting in the mid-'80s when safety was nothing more than a hard hat and steel-toed boots, he says, adding that the prevailing attitude was "get 'er done." When the oil industry took a downturn, he went back to school to obtain a certificate in behaviour modification, which led him to working with special needs adults.
In 2005, he decided to get back into oil and gas for financial reasons. While working as a service rig operator for Concord Well Servicing, the safety manager saw Doyle's passion for safety and offered him a role as a safety lead. And it wasn't long after that he realized he was "exactly where he belonged," he says.
"When mixed with the fact that I have a background in behavioural modification and I love people, safety became a natural fit for me," Doyle says.
4 PINC
In 2011, while working in Fort McMurray as the EHS manager for Silverstar Well Servicing, Doyle was contracted to work at the Suncor facility. He came across some interesting statistics that related hand injuries to breast cancer: There were 104 hand injuries every day in Alberta, 104 people were diagnosed with breast cancer every month in the province and 104 women would die of breast cancer every week in Canada. He developed a program that would shine the light on all these statistics, and Suncor (specifically the late Marty Mudryk) was eager to put it in place.
"At the time, it was all primarily men working on the rigs and the one common denominator was women in their lives. Each of them has a mother, an aunt, a sister, a girlfriend, a wife, a daughter and it was really, at times, heart-breaking when we first rolled this program out and people shared their stories, how [breast cancer] had affected them," Doyle says, who has also been personally affected by breast cancer.
If a worker witnessed a colleague putting their hands in danger, they would stop the task and give them pink gloves and a pink hard hat. The worker would then re-enact the situation showing how it should have been done safely and "before and after" photos were taken to be used for future teachings. That individual would need to wear the pink items until another worker was found to be putting their hands in danger. For every safety alert generated, a donation was made to the Canadian Breast Cancer Foundation.
"It's a macho-type male-oriented drilling world and [Doyle was able] to get them to wear pink gloves and pink hard hats and then they have to do their shift," says Full. "It's funny to see the pictures of guys who are six feet tall, 250 pounds and wearing a pink hard hat, but the crews could actually relate to it."
The program was extremely successful. In its first year, many of the drilling rigs Doyle was working on did not have any further hand injuries and during the 2013 drilling program, there was only one recordable hand pinch/crush injury at Suncor, despite having experienced an excess of 1.2 million exposure hours. Plus, in the first two years of the program, $15,000 was donated to the Canadian Breast Cancer Foundation.
When asked why the program was so successful, Doyle says it was because it tugged on the heartstrings.
"That's what's really important when you talk about safety programs; you have to hit people in their hearts."
SAFETY STARTS WITH ME
Another successful campaign that Doyle developed is the Safety Starts with Me program for the East Coast offshore operations. The program focuses on worker awareness and safety, hazard recognition and leading measures. After reviewing proactive reports, job observations and hazard identifications, a theme is chosen for each month, such as ladder safety, dropped objects or control of work. Presentations are created on each topic by the safety team, but then they are translated by the individual disciplines, whether they are an electrician, cook, scaffolder or abseiler, and made relatable to their specific jobs. In order to promote collaboration and engagement, the responsibility for presenting and developing these presentations is rotated throughout the staff.
The campaign strives to encourage workers to really internalize the message of "Safety starts with me" and take personal accountability for safety.
"How we show up each day as individuals having a strong safety focus, following rules and procedures, reporting hazards and owning them when we see them and intervening when we see unsafe acts, that's our personal commitment and the notion that 'Safety starts with me,'" says Langdon. "Our individual behaviour needs to underline all these programs."
After the project was rolled out in 2015, the East Coast operations saw a 50-percent increase in proactive reporting, an 80-percent decrease in recordable injuries, a 50-percent decrease in first-aid incidents and a 30-percent reduction in the number of environmental releases. The program was also instrumental in the East Coast operations winning a Canada's Safest Employers award in 2016. Over the past three years, this Suncor location has not had a lost-time injury, despite logging more than six million exposure hours in a high-risk offshore environment.
FATIGUE MANAGEMENT
Recently, Doyle was involved in the development of the Canadian Association of Petroleum Producers' code of practice for fatigue management in the offshore petroleum industry. In collaboration with other operators, contractors, joint occupational safety and health committee members and the Canada-Newfoundland and Labrador Offshore Petroleum Board, the code of practice was developed to ensure offshore workers are fit for duty based upon their work schedules. While the industry has long talked about alcohol and drugs when it comes to impairment, the impact of fatigue was not widely discussed.
"Really, fatigue was just spit spot everywhere else and there were no set parameters for how we should think about fatigue," Doyle says. "The initiative was important, and it set out the foundation for how we should consider fatigue in the workplace."
Now, fatigue is included in pre-job planning meetings, it's in risk assessments and is now "baked in" to Suncor East Coast's processes.
Doyle enjoys participating in these types of initiatives because he sees a lot of value in bringing these various individuals together to tackle issues within the industry. Any opportunity to share knowledge and learn from others in regard to safety is always welcomed in his books.
"It's an open discussion. Let's talk about this. Let's put the elephant on the table and have the discussion. Let's see where it goes and, at the end of the day, come up with something that works for all of us," he says. "We will interpret it in our own ways in our own safety systems, but, at the end of the day, this is the one constant."
Whether it's a new safety campaign, process or procedure, one of Doyle's strengths is that he always takes the time to meet with the front-line staff about the upcoming change, says Full.
"He makes sure he goes out there and talks to the people, so that they understand the value of what we're trying to do, why we are making the change and what the potential impact is to the individual," he says. "And then he follows up to ensure it is implemented correctly."
Whether it's on the job at Suncor or acting as mayor for Harbour Main-Chapel's Cove-Lakeview, Doyle is truly an exceptional safety leader in all facets of his life. He is approachable, well liked, a great public speaker and truly passionate about safety, says Full.
"When he sees that there's issues at work or at home, he tackles them head on. He has a lot of experience from Suncor with project management and things like that, so he has been able to go apply that to his home life as well and help out the community he is in."
This article originally appeared in the January/February 2020 issue of COS
---
5 ways to be a successful safety leader
Never forget your first day on your first job. Don't forget that feeling of being scared, not understanding things and not knowing where things are or who to talk to. Are you setting people up for success?
Be eyes to eyeballs with folks on the front line. This is the best way to understand your safety culture. Make sure to listen more than you talk.
Treat proactive reporting with respect. The workforce is trying to tell you something — it's as close to a crystal ball as you're going to get — so listen to them. Make sure you let them know they have been heard; the worst thing you can do is let it go to a black hole.
Be humble. Regardless of your title or accomplishments, you never know where — or who — the next greatest safety idea is going to come from. Listen to everyone who comes to you with an idea.
Share everything you know and learn. There should never be a copyright on safety.
Source: Mike Doyle