But unions asking for more from government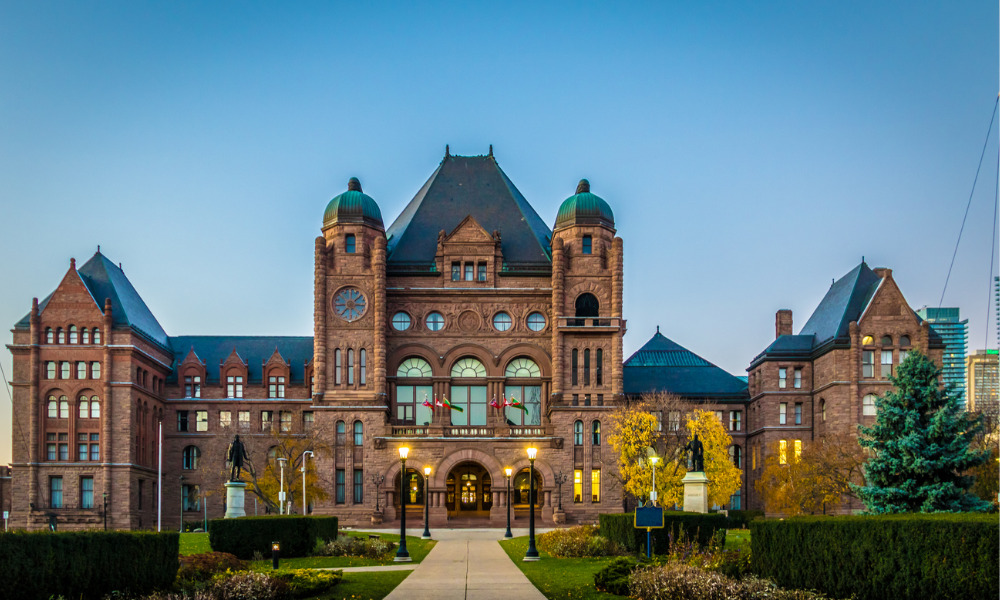 The Ontario government has announced its $45 billion, three-year Ontario's Action Plan: Protect, Support, Recover to respond to the serious health and economic impacts of COVID-19.
The plan will make available the necessary health resources to continue protecting people, deliver critical programs and tax measures to support individuals, families and job creators impacted by the virus, and lay the groundwork for a robust long-term economic recovery for the province, according to the government.
Here are snippets from the three pillars of the plan:
Protect — $15.2 billion, including $7.5 billion in new funding, for the government's urgent response to COVID-19. Highlights of the new funding include:
Increasing average daily direct care from a nurse or personal support worker (PSW) per long-term care resident to four hours a day over a four-year period.
Making available $4 billion in 2021-22 and a further $2 billion in 2022-23 in dedicated support to protect people's health and to support the fight against the COVID-19 pandemic.
Opening the new Cortellucci Vaughan Hospital site with a new emergency room, state-of-the-art diagnostic imaging and operating rooms.
Support — $13.5 billion, including $2.4 billion in additional supports for people and jobs. Highlights of the new funding include:
Providing $380 million to parents through another round of payments through the Support for Learners initiative to assist with added costs of COVID-19, such as technology for online learning. This means a family with three young children, one of whom has special needs, would receive $1,300 in 2020 to support costs related to educational supplies and technology.
Proposing the new Seniors' Home Safety Tax Credit for the 2021 taxation year – a 25 per cent credit on eligible renovations of up to $10,000. Seniors would be eligible regardless of their incomes and whether they owe income tax for 2021. Family members who live with them and support them would also be eligible.
Investing an additional $60 million over three years starting in 2020-21 in the Black Youth Action Plan, doubling its base funding to extend the current program and create a new economic empowerment stream that will support Black youth in achieving social and economic success.
Investing $100 million over two years for the Community Building Fund to support community tourism, cultural and sport organizations.
Providing one-time emergency funding of $25 million for Ontario's arts institutions to help cover operating losses incurred as a result of COVID-19.
Providing an additional $1.8 billion in the Support for People and Jobs Fund over the next two years.
Recover — $4.8 billion in new supports to build the foundation for a strong recovery fuelled by economic growth. Highlights include:
Making additional investments of over $680 million over the next four years in broadband infrastructure
Bringing more jobs to Ontario with a comprehensive plan to address the job-killing high costs of electricity, saving medium-size and larger industrial and commercial employers about 14 and 16 per cent respectively, on average, on their electricity bills (at an additional expense of $1.3 billion over three years).
Reducing property taxes on job creators and lowering high Business Education Tax (BET) rates for over 200,000 employers, or 94 per cent of all business properties in Ontario, to a rate of 0.88 per cent. This is creating $450 million in immediate annual savings and representing a reduction of 30 per cent for many businesses currently subject to the highest BET rate in the province.
Proposing to provide municipalities with the ability to cut property tax for small businesses and a provincial commitment to consider matching these reductions. This would provide small businesses as much as $385 million in total municipal and provincial property tax relief by 2022-23, depending on municipal adoption.
Ending a tax on jobs for an additional 30,000 employers by proposing to make permanent the Employer Health Tax (EHT) exemption increase from $490,000 to $1 million. With this additional relief about 90 per cent of employers would pay no EHT, saving them $360 million in 2021-22.
Committing to provide Ontario residents with support of up to 20 per cent for eligible Ontario tourism expenses.
Connecting workers in the tourism and hospitality sector and others most affected by the pandemic to training and jobs with an investment of $180.5 million over three years, including a skilled trades strategy, an additional $100 million of dedicated investments through Employment Ontario for skills training, a redesigned Second Career program and $59.5 million to acquire in-demand skills.
Providing $500 million over four years to make government services more reliable, convenient and accessible through the Ontario Onwards Acceleration Fund.
Unions want more
Warren Thomas, president of the Ontario Public Service Employees Union (OPSEU/SEFPO) recognizes the Ford government's budget for affirming that public sector workers are the key to helping Ontario out of the pandemic. The union previously called on the Ontario government to make major investments into public services in the budget.
"This is the first budget in more than a quarter century that acknowledges public services are the great equalizer, and that doesn't cast public sector workers as villains," said Thomas. "It's clear that during the pandemic, this government has come to recognize the true value of strong public services. Front-line workers are indeed heroes."
But he added that there is more to be done.
"In this budget, the Finance Minister committed to hiring thousands of new public sector workers in long-term care and child care. That's an excellent commitment, but the government will have a tough time recruiting workers into jobs where pay increases are capped by law at below-inflation rates," said Thomas.
"The quickest and easiest thing this government can do right now to support public services is to repeal Bill 124. At the very least the government should immediately implement a low-income cut-off (LICO) to address attraction and retention issues in occupations suffering shortages in the pandemic."
"It's encouraging to see the Ford government finally put a pin in cuts and start to make some infrastructure investments that workers have demanded for many years. MPPs need to know the gaps in health care are far from filled and new corporate investments like those in auto and infrastructure need strong, enforceable conditions to grow good jobs," said Naureen Rizvi, Unifor Ontario regional director. He also said there are things missing from the budget.
"Missing from this budget was any mention of common-sense policy changes to support the workers who are bravely bringing us through the worst of this pandemic. How will the Time to Care Act be implemented when there is no funding earmarked for more PSWs? When will this government introduce a $15 an hour minimum wage, paid sick leave, smaller class sizes and affordable, public child care?"
The Ontario Medical Association also wants the government to take the next step forward.
"Ontario doctors are also pleased that the government has committed to expanding Ontario's broadband network," said Allan O'Dette, CEO of OMA. "The next logical step is to make virtual care permanent – including care provided by telephone – which will both benefit patients and help reduce the pandemic backlog."