Industry experts and thought leaders weigh in on the importance of sustainability, its compatibility with worker health and safety and the importance of tech in advancing a sustainable mission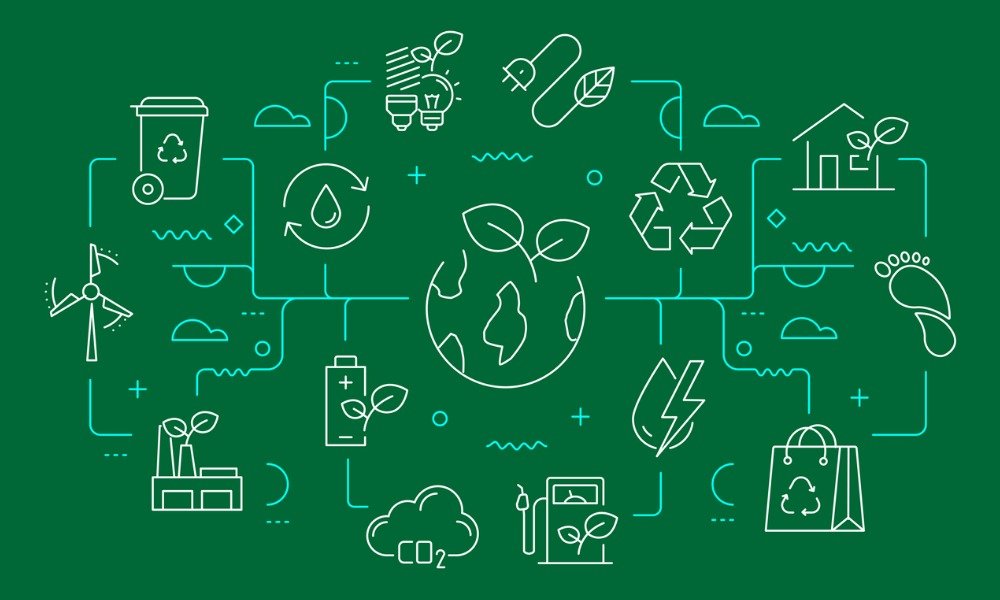 Earlier this summer, we spoke to three industry leaders on how organizations can push for sustainable goals while also ensuring optimal worker health and safety.
While the pandemic has dominated the conversation over the last 18 months, recent natural disasters such as wildfires and hurricanes have shown that fighting climate change will be our next battle.
And businesses and organizations have their part to play – with many already showing an interest in sustainable practices.
The question now is how to integrate sustainability within organizational culture, and within safety culture. For too long, it seems that companies have had to choose – with the bottom line always being the priority.
But this is changing: "Safety is not just a side function of an organization, it's a proactive culture that you're going to create. It's not an either or situation anymore – it's safety, productivity and sustainability," said speaker Kapil Singhal, CEO, Vyntelligence, during the roundtable.
Leadership has an important role to play in making these important commitments, as it did during the pandemic.
And though COVID-19 stole the spotlight away from sustainability for a time, it also demonstrated that organizations very much have the capacity to evolve to meet health, safety and environmental needs:
"COVID-19 has […] evolved the way we engage with and create a different environment for employees, from supporting hybrid working environments to placing a greater emphasis on employee health and wellbeing," said speaker Frederick Morency, VP of Services, Schneider Electric.
Speakers:
Kapil Singhal [KS], Co-founder & CEO, Vyntelligence. Kapil started his career with Ericsson, as a field engineer, designing & building the very first mobile networks in India and worked at an Intel backed start up to build mobile applications in the year 2000! He holds multiple patents in the field of smart data capture and smart recommendations. Kapil co-founded award-winning digital work intelligence platform Vyntelligence with a purpose of simplifying work-life for a healthier, sustainable living.
Frederick Morency [FM], Vice President of Services, Schneider Electric. Frederick boasts more than 20 years of service with Schneider Electric. He previously held the position of Vice President of Field Services, where he leveraged his extensive field, market, and technology knowledge to support Canadian customers in achieving their energy management goals. He graduated from Laval University in Quebec City with a degree in Electrical Engineering, specializing in Electromechanical and Power Distribution.
Mikhail Moore [MM], President & CEO, Vitacore Industries. Mikhail is a serial entrepreneur and business leader. He has established and acquired companies in a diverse range of sectors including tech, construction, healthcare, manufacturing and engineering. Mikhail has a background in science, which is where he developed a passion for logically solving problems. In February 2020, Mikhail and his business partner launched Vitacore to support Canadian medical professionals during the onset of COVID-19.
Roundtable:
How has the pandemic impacted our vision of a more sustainable future?
[FM] "While COVID-19 has uprooted our lives, it's predicted climate change will have a bigger impact on the sustainability of our society if we aren't willing to change it. The actions towards climate change have been on the agenda of many corporations. Many governments – including our government – have put together a climate change stimulus package, which creates an environment that is more favourable for such sustainability plans for corporations. But we all have a role to play when it comes to a more sustainable future, and Canada has a lot to contribute in this space."
[MM] "During the pandemic, the main emphasis was on safety: making sure that people were safe and protected in both their workplaces and in their everyday lives. With that came masks and respirators and gloves and a lot of PPE, which, for the most part, are made up of single-use plastics. And so to some degree, sustainability was initially kind of pushed to the sidelines for safety – that was the main focus, getting high quality PPE to those that needed it the most.
From [Vitacore's] perspective, we're focused on providing masks and respirators to healthcare workers. However, during the pandemic we recognized that we were producing single-use plastic – I think that everyone has seen masks on the side of the road, or in parks, or littered throughout our communities. So I think that one major way that the pandemic has really impacted sustainability is that it sidelined it for a while. And then through efforts from companies such as ours, it has been brought back."
[FM] "In the last 12 months, the demand for sustainability services from our customers has been growing fast [but] sustainability itself has been at the core of our company for the past 15 years now, so we were prepared for this acceleration. Our unique positioning as a sustainability-led corporation has [had] far-reaching impact as a driver of ESG.
COVID-19 has also evolved the way we engage with and create a different environment for employees, from supporting hybrid working environments to placing a greater emphasis on employee health and wellbeing […] it's forced us to be more innovative as well as to look at employee well-being from a more holistic angle."
[MM] "Another way that I think that the pandemic has impacted sustainability is the fact that it's brought to our attention what a world crisis looks like. We're seeing the impact of climate change start to crop up in our everyday life. The pandemic [is] an example of what a global crisis looks like, and how global crises really need to be solved: through collaboration, through innovation and on an international level. And we have to use science and innovation to help and lend a hand in solving the problem."
[KS] "I think that two things come to mind – one is awareness, and the other is collaboration. Awareness starts with us as individuals. Having an appreciation for the environment around us – that awareness is super important to make people do something about [sustainability]. That starts at an individual level, people focusing on making this a better place and doing something to make an impact.
The second one is collaboration. Thinking about the pandemic, even though we were stuck in our own homes, the fact that we could fight a common enemy […] is phenomenal. It's impacted us to heighten our awareness in doing something toward the cause and made us think differently about how we work and how we collaborate. If we keep people safe we can enable them to be more productive […] it enables us to do things differently. It enables us to go toward building a more sustainable future. It's that drive internally that allows us to innovate at a scale and speed that we never thought we could (for example, vaccines)."
How can businesses and organizations ensure worker safety while also pushing for sustainability?
[KS] "Safety is not just a side function of an organization, it's a proactive culture that you're going to create. It's not an either or situation anymore – it's safety, productivity and sustainability. By digitally upskilling people, they can do more with less. The how is the important part. You can start by taking baby steps to make [change] punchy. You have to spawn a culture of creativity and entrepreneurship, and celebrate those that do – that becomes a snowball effect."
[FM] "We cannot put one over the other, because they both work in parallel. Safety at work, our health, wellbeing, and the way we work are all an integral part of Schneider Electric's principles of responsibility. And they are really at the core of Schneider Electric's ESG commitments.
Creating a safe, clean, and orderly environment for employees is a collective responsibility for every Schneider Electric employee. Sustainability has always been an important part of our corporate culture, so it's always top of mind for us, in every program we create."
[MM] "Recognizing that previously, it used to be thought that you can either be a profitable business or you can create a culture in a business that has sustainability as a core value – and the two were thought to be competing. Now, I think that to a large extent, we're seeing technology and research come in showing that actually, it's starting to go the opposite way and that sustainability actually can save money for organizations overall."
"I think, specifically with masks, respirators and other types of PPE, just recognizing that there are opportunities to recycle those products and it can be done in a safe and effective manner. Our recycling program, for example, went through a long pilot phase with McMaster University and the University of British Columbia and our research and development team, in which we proved efficacy for the program."
[KS] "People are people, and they forget very fast; leadership has to play to a role to engage, motivate and involve workers. It has to become part of an organization's DNA, it's no longer an option – we have to do this. And there is a business outcome to [sustainability] as well. That is something that a leader cannot ignore. Change is coming, and coming very fast but we need to find more platforms to accelerate to enable outcomes in a very short amount of time."
How can leadership effectively implement sustainable goals within an organization?
[MM] "I think the biggest thing is just creating a culture in which sustainability is a core value, or something important, within an organization. There are so many great programs out there. And for the most part I think that most people within our organizations, and most citizens – specifically within Canada – are very pro sustainable agenda. So leadership within companies adopting a pro-environment stance, or taking small steps to increase the sustainability of an organization, is well-received. And it's great for the overall culture [of an organization].
[KS] "How can leadership implement [sustainability] goals? It's about vision and commitment to outcomes. Macro-economic factors and governments are pushing for Net Zero – you have to do it."
[MM] "I think that people are more motivated from a positive perspective versus a negative. And so rather than having to wait for us to see the detrimental effects of climate change, I think it's more appropriate for us to take a proactive stance and really inspire individuals within organizations and Canadians overall, to show that we can do business in an environmentally sustainable manner and the two can go hand in hand."
[FM] "Leadership is certainly important. Moving the needle on sustainability starts from leaders of organizations making these important commitments. It's a decision that requires commitment and support at the top and throughout the organization, in order to be successful. But it's equally important to create tangible actions toward these goals. And as I said earlier, sustainability is not something [Schneider Electric] just discovered, it's been a priority for us for at least the last 15 years. It drives our business strategy and shapes our employee experience, making it an integral part of our culture."
In what ways can tech play a role in the push for a more sustainable workplace, world?
[MM] "I think tech plays a huge role. Emails, for example, were something that initially were thought to be used as a faster mode of communication – but [emails] also have a positive impact on the environment. There are a lot of ways within workplaces where technology can play a role – even just ordering materials or logistics. Technology has allowed logistics to really advance in ways where we can receive things in a much more environmentally friendly matter, and understand the carbon impact of the decisions we make from a logistics perspective. There is amazing software out there now that can actually help up calculate what our carbon footprint is and in what ways we can reduce it. So there are lots of ways that technology can play a role in terms of education and understanding impact and also limiting unsustainable practices."
[FM] "Certainly, digital technologies are key enablers […], and it's what occupies a lot of Schneider Electric's priorities. We're facing the biggest threat of our society with climate change. What we do is help our customers on their de-carbonization journey through the use of smart technology, software as well our services.
For example, from a building perspective, technology to manage HVAC, lighting controls and overall energy management has existed for many years. With the increased need to focus on operational and workplace efficiency, as well as implementing new ways of working focused on a better employee experience, it's more important now than ever before, to start to accelerate the sustainability journey by deploying the advanced technologies that are already available."
[KS] "I'll answer with a few examples – I think we all have an awareness of how digital has to play a role in our lives. COVID has accelerated five years of change management into one. Vyntelligence has been investing in its digital platform for over eight years now. Customers are happier and safer – that's how tech can make an impact to make the workplace more sustainable. For example, Vyntelligence worked with a thermal power plant to help simplify safety reports while creating a proactive safety culture. The company's tech enhanced incident response time and simplified the risk assessment processes.
In another example, Vyntelligence helped a leading power business to digitize and accelerate safety reports. In doing this, Vyntelligence helped to reduce the need for manual inputs and avoid physical audits to save time and increase safety.
We are using new tools in a world where people are expecting new things. We're doing this because we want to keep people safe […] if you are expecting people to do more with less and think differently, the single biggest driver is digital – but you have to make digital practical, you have to make AI tangible.
I think if we can augment the human with good, useful intelligence then we are heading to a more sustainable future. We're not here to replace the human beings – we think [tech] it is a massive enabler for productivity, more safety and for digital upskilling."