What are they? What are the benefits of using them?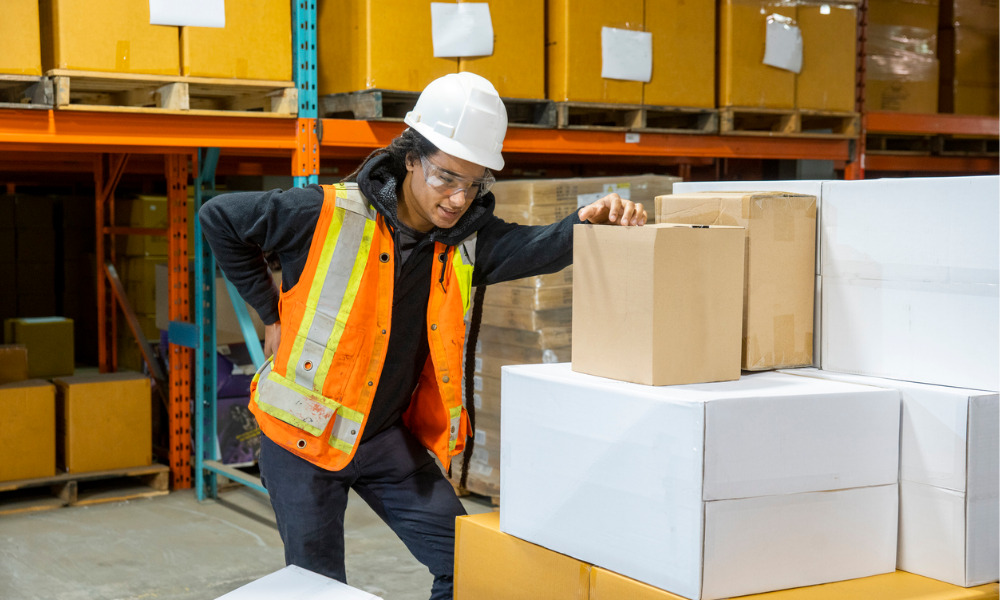 We have discussed ergonomic equipment for office workers and those working from home at length here on COS (certainly in recent months with many employees teleworking due to the pandemic).
But ergonomic hazards are present in every workplace. Work-related musculoskeletal disorders (MSDs) can be common in work environments that present certain risk factors (work postures, repetitive actions, etc.), or in organizations which don't have a good ergonomics program.
Certain bits of kit have gained more traction than others – but one piece of equipment that is gaining a lot of traction recently is anti-fatigue mats.
So what exactly is an anti-fatigue mat?
The Canadian Centre for Occupational Health and Safety (CCOHS) says that "anti-fatigue mats are mats designed to reduce fatigue caused by standing for long periods on a hard surface (e.g., cement floors)."
Furthermore, the CCOHS says that fatigue-reducing mats can be made from various materials such as vinyl, wood, rubber and carpeting materials.
The Centre says that "anti-fatigue mats are often used to decrease foot and lower limb disorders for workers who stand in one position for long periods."
Of course, the mats on their own will not fully solve these disorders – discomfort can stem from a number of issues such a poor posture, footwear, the nature of the work and simply standing up all day.
Indeed, while there have been numerous studies on the dangers of sitting too much at work, standing up all day can also engender harmful health effects. Recent studies have shown that that prolonged standing at work can cause limb pain but also other health issues such as cardiovascular problems (source).
A study conducted over a 12-year period in Ontario found that occupations that involved mainly standing were associated with a two-fold risk of heart disease compared to jobs which involved mainly sitting (source).
Benefits of anti-fatigue mats
Considering the risks mentioned above, it seems imperative for organizations to invest in ergonomic solutions for workers who spend their days standing. Anti-fatigue mats could be a solution.
A 2012 study by Loughborough University in the UK confirmed the health benefits of anti-fatigue mats.
The study, conducted by professors George Havenith and Lucy Dorman, who invited participants to stand on (or off) anti-fatigue for 90 minute periods over five days.
Participants who didn't stand on the mats reported serious discomfort to feet, legs and back as well as stiffness in the neck and shoulders.
The study found that the use of anti-fatigue mats reduced the physical stress placed on feet and legs when standing for long periods of time.
The mats could be especially useful in occupations where standing up for long periods of time is an inherent part of job – retail, manufacturing, security, kitchens – even teaching.
Furthermore, with the pandemic having left many workers homebound or out of work, return to the workplace could place an even greater strain on the body.
How to select an anti-fatigue mat
The CCOHS recommends the following things when choosing a mat:
Firstly, the purchaser needs to know the purpose of the mat – indeed there are different products on the market than can be confusingly similar (e.g. anti-slip mats are not the same, or do not serve the same purpose as anti-fatigue mats).
Secondly, the thickness of the mat matters greatly. The CCOHS says that "softer and thicker may not always be better. Choose a mat that provides some elasticity, but at the same time is not so soft that a person feels they cannot stand comfortably."
In addition, choice of mat will depend on work environment – mats should not increase workplace risks by creating slip or trip hazards. The CCOHS says that mats should have sloped edges, which are less of a trip hazard.
Lastly, like with any workplace equipment, mats need to cleaned requirement to maintain adequate hygiene standards.
As with many ergonomic solutions, equipment may seem onerous at first but the investment will be recouped in the long run in helping to alleviate or prevent MSDs (and the costs associated with them). Outside of financial considerations, worker wellbeing and comfort should obviously be key.
Best anti fatigue mats
There are a number of options available on the market, with the best solution depending on the nature of the work.
According to review website, WorkWhileWalking, some of the best anti-fatigue mats of 2021 include the iMovR EcoLast Premium Standing Desk Mat which experts rated as five stars, and the Economy Standing Desk Mat from the same company, which experts rated four and half stars (full list available here).
Culinary website The Spruce Eats has also rated anti-fatigue mats – specifically for kitchen environments – rating the Sky Solutions Anti-Fatigue Mat most highly (full list available here). Review website Your Best Digs rated the Kangaroo Commercial Grade Mat as the best overall mat (full list available here).