Annual National Ergonomics Month right time for a best practice refresher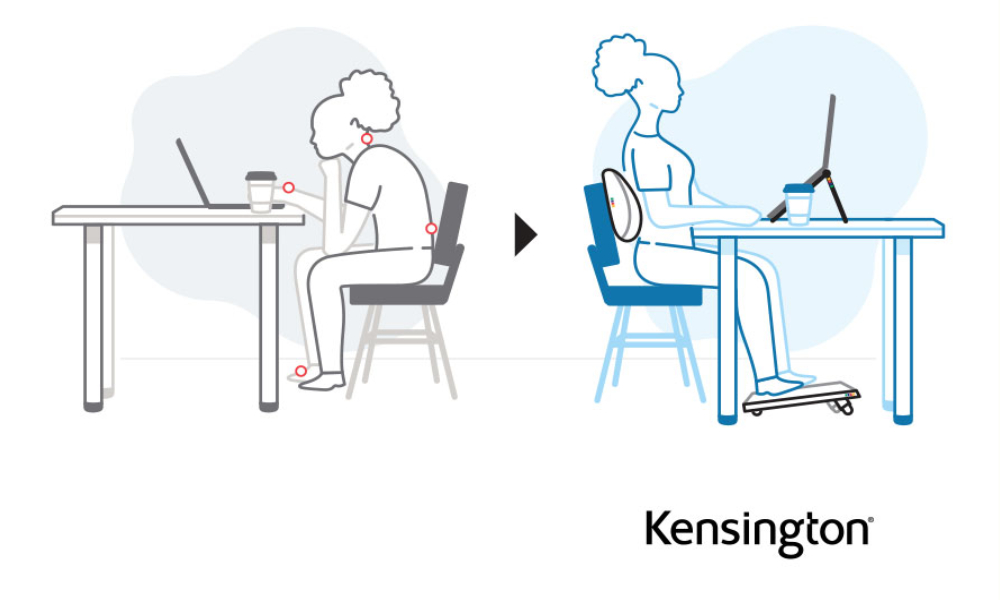 National Ergonomics Month is observed every year in October; it is celebrated globally and serves to promote a better understanding of human-centered design. Poor ergonomics can lead to musculoskeletal disorders (MSDs), in traditional office settings this can manifest through wrist pain or lower back pain.
Workplace ergonomics have cropped up as a large concern during the pandemic – both for those working from home, and also for employees returning to the office. COS recently spoke with Lisa Schuiteboer-Shuler, Kensington's certified Ergonomic Expert and Ergonomic Category Manager about the importance of ergonomics and what can be done to improve it in the workplace.
1. Working from home
At the start of the pandemic, most people working from home were not necessarily set up properly. They may have just had their work laptops, says Schuiteboer-Shuler. "People were working on their dining room table or on their couch," she says. However, "something important to remember, whether we're working in the office or from home, is that we need somewhere to go – and we need to be set up properly," says Schuiteboer-Shuler.
Indeed, two big concerns with regards to ergonomics, are having the right equipment and set up, and also the importance of movement.
What are the main areas of concern? Schuiteboer-Shuler says that the neck area, our wrist area and our elbows are historically the biggest concerns, "people really start to feel in those areas the most," she says.
Now, she says, we're also seeing people having concerns around their back area, notably with regards to lumbar support. In addition, says Schuiteboer-Shuler, your feet need to stay supported and that is something that should be considered by workers and employers.
2. The right equipment
What are the most valuable pieces to start out with? "People don't have to spend all this money on fancy desks," says Schuiteboer-Shuler, "but it's about having equipment that is adjustable."
She mentions a few key pieces of equipment that could be helpful for workers. First of all, a laptop riser that is adjustable and adaptable – two qualities that are valuable for any piece of ergonomic equipment. Two other pieces that should also be a requirement are an external keyboard and a mouse that is close to you.
One issue that workers face, especially those working from home, is that usually in the office the standard workstation is lower. At home, issues surrounding lack of an appropriate desk space or even a lack of space mean that we may not be resting our wrists correctly, i.e. resting them on the edge of the desk. "Carpal tunnel issue so prevalent," says Schuiteboer-Shuler, by resting our wrists on the edge of the desk or table, "we put a kink or a bend in our wrist."
This can potentially be helped by putting a small wrist rest at the edge of the workstation.
Going to the lower back area, she says that optimally having some sort of lumbar support that is adjustable is key, "otherwise we tend to just hunch forward."
Lastly, to keep our feet supported, a footrest is the easiest solution.
3. Movement
"That movement piece of has become so important now that we're working from home," says Schuiteboer-Shuler. Indeed, this may be the greatest difference for those who have switched from working in an office (and commuting to an office) to those now working from home full-time.
Now that many of us are working from home 24/7, we may not be getting out of the house as much to move and take the time to exercise.
This can also be an issue when it comes to how much screen time our eyes are getting.
Schuiteboer-Shuler mentions the "20/20/20 golden rule": every 20 minutes, look away from the screen for 20 seconds, and focus your eyes on something at least 20 feet away. This is also something promoted by the Canadian Association of Optometrists, as a way of easing strain on our eyes and eye fatigue.
4. Back to the office?
In Canada, workers have been returning to the office since the end of summer. With a second wave of COVID-19 declared in Ontario and Quebec, these arrangements may change.
As we get used to the fact that this pandemic will last for months, if not another year, one thing that employers and workers should be getting comfortable with is being able to work from anywhere or working in a different office set up.
"We've found that many employers are not letting employees work in the same space as before, or they are more spaced out," says Schuiteboer-Shuler. This is to consider current physical distancing guidelines.
But this also means that employers should be making sure that equipment is portable, and that employees are able to follow the same work/life balance wherever they are.
In addition, for those companies transitioning to a more permanent working from home set up, Schuiteboer-Shuler says, "I think if companies are looking out for the long-term health of their employees, something important for companies to consider is offering stipends [for ergonomic equipment]. Those who do have really seen a boost in employee morale."
Ultimately, "the pandemic has made ergonomics a mainstream topic," says Schuiteboer-Shuler. "The benefits of ergonomics directly relate to workers' daily life."