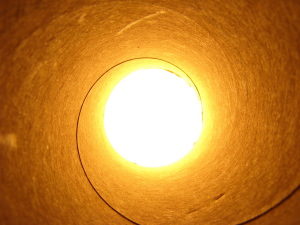 CSA Standards has launched Canada's first comprehensive, national standard on managing work in confined spaces.
CSA Z1006 Management of Work in Confined Spaces specifies requirements and guidelines for managing work in confined spaces and coordinating rescues.
One of the main issues with confined space is failure to recognize a work area as confined space. The new standard provides a broad definition of confined space to allow organizations to properly and effectively identify a confined space and implement risk mitigation, members of the CSA technical committee that developed Z1006 told
COS
at a roundtable discussion held Wednesday.
According to statistics from the National Institute of Occupational Safety and Health, more than 60 per cent of confined space fatalities involve would-be rescuers. Confined spaces can be found in almost all industries in Canada and in places such as grain or corn silos, hydro vaults, underground tunnels, shipping compartments, pump stations, boilers and chemical tanks, the CSA said.
Workers in confined spaces can be at risk of serious injury or death resulting from asphyxiation, engulfment, electric shock, falls, and heat, fire, explosion or long-term illness.
"Even the most skilled workers can become trapped, injured or overcome by toxins in a confined space," says Suzanne Kiraly, president of CSA Standards. "This new CSA standard, the first of its kind in Canada, defines what a confined space is and provides guidelines to managers, workers and rescuers for identifying and avoiding potential risks while not becoming victims themselves."
Injuries and fatalities that occur as a result of confined space work in Canada are typically identified based on the actual cause (such as asphyxia from gas, fatal burns, amputation and crushing) and can be difficult to track across provinces, CSA said. British Columbia alone recorded 18 deaths related to confined spaces entry between 1989 and 2004; five of whom died trying to rescue the original victims.
A confined space is defined as a workspace that is fully or partially enclosed, is not designed or intended for continuous human occupancy and has limited or restricted access, exiting or internal configuration that can complicate provisions of first aid, evacuation, rescue or other emergency response services. Every confined space is considered to be hazardous unless deemed not so by a competent person through a hazard identification and risk assessment.
The CSA Z1006 standard is pending approval as a national standard of Canada. Current standards and regulations vary across jurisdictions and, until now, there has not been a comprehensive national standard or even a consistent definition of "confined space," CSA said.
Some regions have general occupational health and safety or sector regulations addressing various minimum requirements relating to their jurisdictions. In working towards the development of the first national confined space standard, CSA considered these jurisdictional differences and embraced applicable legislation to address the need for a comprehensive national standard. The standard was developed specifically to ensure that it does not conflict with existing regulations but rather works in combination with them to help ensure a high level of safety, the CSA said.
The definition of a confined space within the CSA Z1006 Management of Work in Confined Spaces standard focuses on the characteristics of the space and the ability of a worker or rescuer to enter and exit the space without injury, illness or death.
Hazard identification and risk assessment by a trained worker are required to determine the appropriate controls to address the specific hazards of the space, including those that can cause acute or chronic harm to a worker. The standard provides detailed guidance on roles required for safe entry, training requirements for the entry team and the rescue team, as well as qualification requirements for training providers. It also addresses the competency for individuals to work in a confined space related to their ability to perform specific roles.
The development of this confined spaces standard was funded in part by various federal, provincial and territorial OHS governmental agencies. The content of the standard was developed by a volunteer technical committee comprised of stakeholders from, industry, producers, regulators, labour and general interest representatives. Key industry experts on the technical committee provided input from various sectors, including steel, telecommunications, energy, manufacturing, chemical, petro-chemical, emergency services, pulp and paper, mining, and railway.
CSA Standards Z1006 Management of Work in Confined Spaces standard is available for pre-order in English by contacting CSA Standards Sales at 800-463-6727, or by e-mail at
[email protected]
The French version will be available late summer 2010.