Why lack of compliance with hygiene protocols can lead to serious health risks, according to Essity director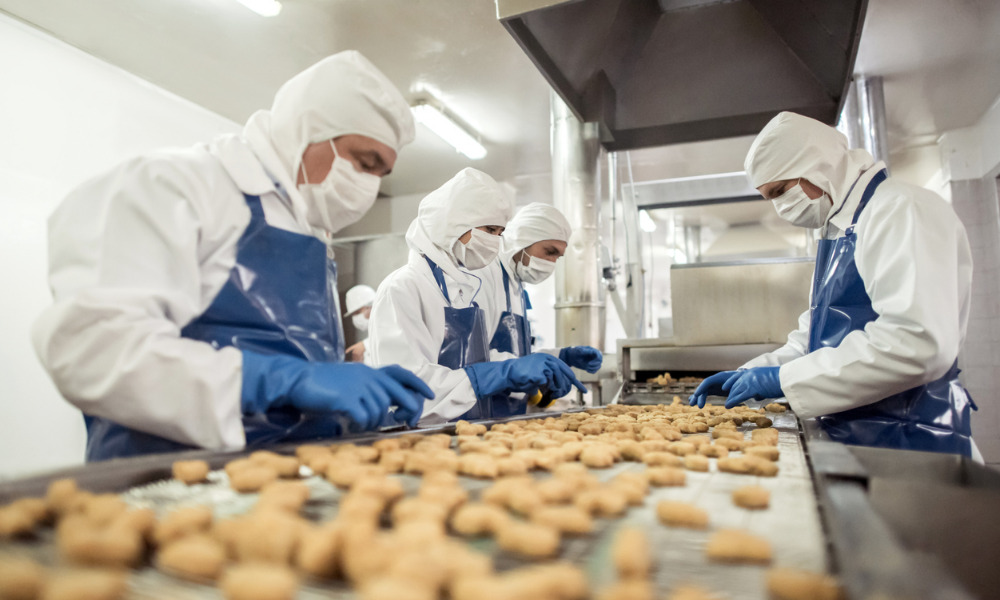 Worker safety in food manufacturing plants around Canada has been top of mind in the past two years due to the current pandemic.
Meatpacking plants have notably been hotspots for major COVID-19 outbreaks in Canada but also in the U.S., France, Germany and UK.
Cargill's High River meatpacking plant in Alberta was home to Canada's largest COVID-19 outbreak in Spring 2020 when almost 950 workers tested positive for the virus.
More recently, this year the Olymel plant in Red Deer, Alta., was linked to 168 cases of the virus.
And meatpacking plants aren't the only culprits, numerous reports of COVID-19 outbreaks in agricultural settings have shone a light on the importance of supply chain integrity and worker health and safety.
Hygiene compliance
In the U.S., 19,000 food-manufacturing employees were injured on the job in 2015, and almost 50 workers were killed each year between 2011 and 2015.
4,500 of these injuries were slips, trips and falls – one of the most common hazards in all industries across the board. Exposure to loud noises, ammonia, dermatitis and asthma are also common hazards in the food industry.
More recently, the pandemic has been a huge concern for food manufacturing plant safety officers.
Nevertheless, while the pandemic may shoulder some of the blame, lack of hygiene compliance is also a top concern for food manufacturing plant managers.
A recent survey from hygiene brand Tork found that 82 per cent of food processors report experience production delays due to lack of hygiene compliance within the last year.
In addition, the survey also found that maintaining protocols poses a significant challenge, with 54 per cent of production managers saying that it is hard to motivate employees working on the product line to comply with food safety and hygiene protocols.
This can be due to a number of reasons such as a weak safety culture but also due to the lack of appropriate equipment:
"When hygiene and cleaning supplies are not readily available at the point of use, or employees must fetch stock to replenish, it can reduce efficiency and make it more difficult to sustain hygiene," says Jenny Turner, Marketing Director, Essity (parent company of Tork).
Health risks
The aforementioned survey results show that "non-compliance with hygiene protocols in the food processing industry not only causes lapses in production […] but could also lead to serious health risks," says Turner.
"Amid heightened hygiene needs in an industry with already rigorous standards, food processing facility managers need the best possible tools to help workers sustain hygiene compliance – and ensure operational productivity. Sustaining hygiene compliance to secure food safety can never be compromised," says Turner.
It is also crucial that hygiene solutions are designed with food safety in mind.
Tork's survey also revealed that 97 per cent of facility managers say that having robust, easy to maintain and well-stocked hygiene and cleaning dispensers in highly visible locations in critical for increasing hygiene compliance.
Employers need to invest in solutions that "are designed to integrate into site workflows to help mitigate risks, increase operational efficiencies, and handle the pressures of a rigorous food processing environment," says Turner.
Rigorous hygiene, from basic steps to highly specialized solutions are the only way that workers can be sure that they are working in a functional environment.
Best practices
Aside from investing in the right equipment, here are some of key best practices to ensure optimal health and safety for food workers.
1. Invest in the correct machinery
The American Meat Institute's Equipment Design Task Force developed 10 principles to be used when designing machinery to be used in food processing settings; these principles can actually be applied to most food manufacturing environments and include directives such as ensuring designs are cleanable to a microbial degree, no product or liquid collection and easy access for inspection and maintenance.
Specifically with regards to machinery, lockout/tagout systems which are compliant with relevant regulations are essential – as failure to comply can lead to (and has led to) worker injuries and even fatalities.
2. Encourage (or mandate) personal hygiene
Individual worker hygiene plays a key part in ensuring a healthy and safe work environment in food manufacturing plants. Workers should minimize contact with food, notably raw food, to avoid potentially spreading (or contracting) diseases (e.g. salmonella). Wearing protective clothing such as gloves, aprons and hairnets is also a must. Lastly, effective and frequent hand washing is crucial – especially during COVID-19.
3. Waste management
Appropriate storage, notably waste storage, is essential to avoid build-up or cross-contamination. Incorrect waste management can also lead to infestations of cockroaches, flies or rodents who can not only contaminate the food but also spread diseases among workers.