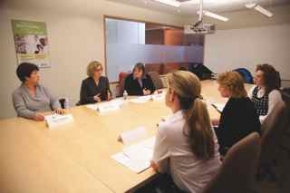 As more women enter male-dominated, non-traditional occupations, the health and safety challenges are increasingly evident. Six women take part in a conversation that brings to light the pressing issue of women safety in high-performance jobs.
Imagine you're a construction worker at a job site with no washroom facilities. If you're a male worker at that construction site, it may or may not be a big deal. Now imagine you're a female construction worker at a job site with no washroom, and you're on your menstrual cycle.

Helen McBride, a safety rep for the Canadian Auto Workers Union, recalls the story of a female construction worker who was laid off because "once a month for several days she was taking too much time off the job to go to the washroom." There was no washroom at the construction site she worked at so the woman would drive to the nearest coffee shop to use the washroom.

"It becomes a difficult thing when you're a woman in your menstrual cycle," McBride says.

Jan Chappel, senior technical specialist at the Centre for Canadian Occupational Health and Safety (CCOHS), recalls a female worker at a big oil company who faced a somewhat similar difficulty. "I remember fit-testing for respirators and this lady wasn't small, she was quite tall and she had a very slender chin. And there were little gaps [on the respirator]."

The regulation states that personal protective equipment (PPE), such as respirators, must properly fit the worker for maximum protection. The company tried every respirator manufacturer to find the right fit for the woman's face so she could be properly protected at work, but to no avail.

These are just some of the many workplace challenges women face as they enter the realm of what once were male-dominated occupations. According to Statistics Canada, the increasing participation of women in the workforce has been one of the major social trends in the country over the last 50 years. More women are now entering non-traditional occupations, such as construction and manufacturing. As a consequence, health and safety issues that highlight physical and biological gender differences are cropping up in the workplace.

McBride and Chappel were part of an expert panel at a roundtable event moderated by Canadian Occupational Safety entitled, Redefining Women's Health & Safety in High-Performance Industry. They were joined by Elizabeth Mills, president and CEO of the Workplace Safety and Prevention Services (WSPS); Bonnie Hinks, director of health and safety at Loblaw Properties, Ltd.; Jody Young, associate director, OHS branch of the Ontario Ministry of Labour; and Roxanne Bond from the United Steelworkers Union.

Changing demographics
The panelists agree that gender-sensitivity in the workplace is increasingly being discussed today, but a lot more needs to be done to actually translate the discussion into meaningful actions.

"As a leader of an organization — whether small or large — you need to reflect on the people you need to protect and inform, and ensure their rights and responsibilities are being protected," says WSPS's Elizabeth Mills.

Half of that battle is already won in that employers and health and safety professionals today have knowledge of the hazards in the workplace and how to mitigate them. The other half of that challenge is knowing how and whether these hazards affect female workers differently than males.

In some places, these conversations are happening. As the person in charge of health and safety for Loblaws' construction operations, Hinks says a focus group for women has provided a venue for the company to identify these issues.

"We're trying to assist our women in those professions that were previously dominated by men. The conversations are happening and it's being addressed. As long as the issues are being brought forward, it should be taken care of and should be addressed."

Identifying the issues is really the first step in addressing gender-sensitivity challenges. In workplaces where there's union representation, the issues are more easily identified and put forth to management.

With members of the United Steelworkers Union, for instance, some of the most pressing issues for women in the trades are the lack of washrooms and change rooms, says USW's Roxanne Bond.

"If they're not already there, we have a challenge getting the employer to put in new ones because of the cost and necessity of changing the layout of the work area," says Bond.

It becomes even more challenging when the job involves hazardous materials, she adds. "Some positions require you to work with a lot of chemicals. If a maintenance worker is female and working in a high-chemical area, she might not have an area to go after to take a shower or discard her soiled clothes."


---
Biological differences between men and women are also a significant health and safety issue, Bond says. For instance, chemical exposure is a hazard that needs to be addressed to protect all workers from its negative effects. When one of the workers is pregnant, however, the company must provide additional protocols specific to protecting pregnant women and their unborn child.

"In my experience, what [employers] tend to do is try to look at it and figure out whether they need to provide respiratory protection or something along those lines," says Bond. "The reality is that if you're going to provide a female worker with something like that, you have to provide everybody with it because there's a possibility of dangerous exposure."

In manufacturing, ergonomics is the biggest issue, says McBride, who works at the Chrysler assembly plant in Brampton, Ont. Most of the workstations and job processes were set up for "young, big, strong men to handle," and female workers typically have difficulty fitting into the task, she says.

Men are typically taller and female workers tend to be shorter and not usually as strong as men in the upper body, McBride points out. Sometimes, it's not only the employers that need to be educated about these issues — it's also the workers.

"We get a little push-back from the men in our workforce," McBride says. "But I don't understand that, because the changes being made are just as beneficial for the men to make it so the job is lighter and don't require as much reach."

Recognizing diversity
Bringing up gender-related workplace health and safety issues to management may be easier in a unionized environment or in a bigger company with a more engaged and proactive management. But it's not always easy in smaller, non-unionized firms with less sophisticated health and safety management system.

"I think these things are really difficult if you work in a small little factory around the corner where there's ten people working there and you're the only woman," says Jan Chappel of the CCOHS. "You might not really feel you have a voice and you're afraid to speak up. Who's going to protect you when you say you want your own bathroom and you feel it's a big issue, and then they tell you that they don't feel you're doing a good job and decide to let you go?"

The challenge is finding a way to initiate the conversation between the employer and the workers about gender diversity. If workers are not given a forum through which they can bring forward these issues, then it becomes difficult to address them and come up with practical solutions.

Jody Young, of the Ontario Ministry of Labour, says while the government does recognize the phenomenon of changing demographics in the workplace, the bottom-line is that employers have duties and responsibilities to ensure that all workers are protected from the hazards of the job.

"That starts with conducting a full risk assessment of all the hazards that exist in the workplace. Those may be unique to a particular demographic such as women, but it ultimately comes back to the protection of all workers."

The panelists agree, however, that the ability to provide gender-sensitive health and safety policies should not depend on company size. It comes down to the recognition of worker diversity, the willingness to accommodate everyone and a commitment to protect all workers from injury.

"It's really an identification process," says Chappel. "You have to include the workplace environment such as washrooms, the operational process such as ergonomics, and the human factor. It's important to remember all of those steps when you're designing organizational policies and programs."

The panelists also stressed that diversity issues in the workplace are not just about gender differences. Talking about the challenges for women in male-dominated workplaces also brings to light other challenges different types of workers face. The health and safety policies must reflect the organization's recognition of all forms of diversity among workers.

"I think you have to make it all-inclusive," says Mills. "If you're going to look at gender, you also have to look at ethnicity, you have to look at disability, you have to look at lesbian, gay and transgender. You have to encompass all of these things into the policy you create."

Regulatory response
Making the issue about diversity, rather than gender, is particularly true when it comes to legislation. Legislation can't just focus on one type of demographic.

For example, the issue of musculoskeletal disorders, common in the manufacturing sector, isn't just about the physical differences between the male and female workers. Physical differences also exist between people of different age and ethnic backgrounds.

Young says it's important that the legislation requires employers to assess all the hazards for all employees that exist in their workplace, build policies and programs to address all the hazards, then train and educate the workforce on those policies and programs.

She cited the new workplace violence prevention legislation in Ontario, which took effect in June 2010, was a legislative response to a workplace safety issue. The requirements of this legislation cover all hazards pertaining to violence and harassment in the workplace affecting all workers, but the government also recognizes that in some workplaces, women are more vulnerable to these types of hazards than their male counterparts.

Guidelines issued by the Ministry of Labour are a good place to start for increasing awareness on women's health and safety issues in the workplace. These guidelines provide direction about ministry expectations for companies when dealing with workplace issues.

The USW's Bond would like to see language pertaining to gender-sensitive issues, as well as other diversity challenges, put in the guidelines. "Just to highlight some of the issues for some of the employers that may not think about them because they have such a small workforce, but they would notice that there may be issues for women or ethnicity or health."

Updating the guidelines to reflect some of the trends in occupational health and safety will also be significant in raising the level of awareness and conversations around women's health and safety issues, says Mills.


---
As more women continue to choose non-traditional trades as a career path, the government — at least through the guidelines — needs to be more proactive in anticipating the issues in the long-term.

"We know that these are the demographics. We know these trends are coming. As health and safety professionals we don't need to ponder what might be," says Mills.

"You don't have to have a regulation that says, 'Let them go to Tim Horton's,' or any other coffee shop. But to find practical ways to make it a reasonable conversation in the workplace and that there are easier solutions than laying somebody off simply because of the issue of temporary absence from the workflow."

PPE challenge
A huge part of injury prevention in the workplace is the equipment workers use to protect them from the hazards. PPE use is essential in ensuring the health and safety of the workers, but when they're not fitted properly, PPE can have the reverse effect — putting employees in harm's way.

The panelists agree that when it comes to PPE, equipment manufacturers have a long way to go in the area of gender-sensitivity. A large number of PPEs available in the market today are made to fit the male body type.

"Just general leather work gloves, for example," says Bond. "You get them small, medium, large. We do not get extra small, we do not get sizes 5, 6, 7, 8."

Although several manufacturers have started to create PPEs that fit a wider variety of body sizes — including women's sizes — and some companies are even specializing in safety gears designed especially for the female body, Bond says there is still room for improvement.

The issue of properly fitted safety equipment is also a matter of educating the employers and workers, says Loblaws' Hinks. It's not enough to just order fall harnesses from a supplier without looking at whether the equipment will fit each worker properly. Employers must spend the time to do proper fitting and proper training, she says.

"I see a lack of that. Also, are we educating our apprentices? What education do they get? Do they actually know that they are supposed to have equipment that fits them properly? Do they know that they can bring these concerns to their employer?"

Failure to ensure that workers are wearing properly fitted PPE can also have regulatory implications. Under occupational health and safety laws, employers must provide personal protective equipment that is properly fitted to the employee.

If an employer is required to provide PPE in certain hazardous industries and the employer simply provides them without accommodating the size factors, the legal consequence of a resulting injury or accident can be detrimental.

"You could literally find yourself in very serious situation where [it can be proven] that the glove provided — even though the question and the concern were raised — actually does not do the protection adequately. And then you are, in fact, in violation. You haven't protected the worker," explains Mills.

She adds the changing demographics in the workplace can be a huge opportunity for manufacturers and suppliers to think about innovation in the PPE market. The trend and the potential for demand exist and safety equipment manufacturers should be thinking about retooling themselves to be able to supply that demand.

Bond likens it to a parallel phenomenon in the sports industry. "Look at the sports. [Equipment manufacturers] rose to the challenge of women in sports. They came out with the proper fitting hockey clothing, hockey pads and helmets for women. So we know it can be done within sports associations, so why is it so difficult to happen in the workforce?"