'By immunizing these front-line workers, we are making workplaces and communities throughout our province safer'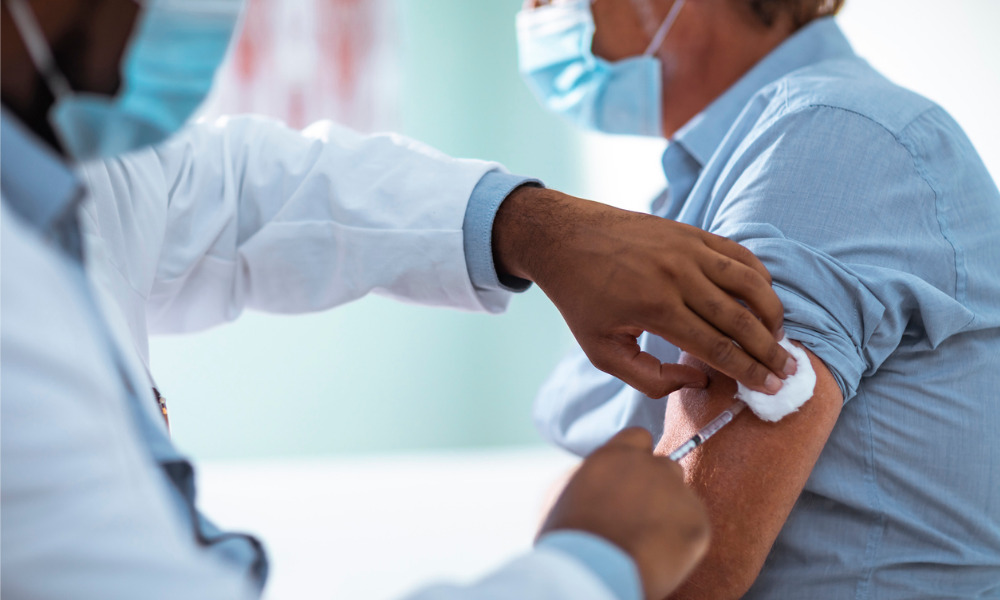 British Columbia will be administering COVID-19 vaccines to more than 300,000 front-line workers in the coming weeks with the province's COVID-19 Immunization Plan moving forward ahead of schedule.
"We know how challenging this pandemic has been on our front-line workers," said Premier John Horgan. "Many of these people have come to work throughout this pandemic, continuing to teach and care for our children, stock the shelves of our local grocery store and keep our communities safe. By immunizing these front-line workers, we are making workplaces and communities throughout our province safer."
Those receiving their first dose of the AstraZeneca/SII COVISHIELD (AZ/SII) vaccine starting in April include:
first responders (police, firefighters, emergency transport);
K-12 educational staff;
child care staff;
grocery store workers;
postal workers;
bylaw and quarantine officers;
manufacturing workers;
wholesale/warehousing employees;
staff living in congregate housing at places such as ski hills;
correctional facilities staff; and
cross-border transport staff.
They were selected because they work in places and critical sectors where the use of personal protective equipment and barriers can be challenging, and where outbreaks and clusters have occurred or are ongoing. Some of them must also live or work in congregate settings.
The first limited round of approximately 4,000 vaccines in B.C. were administered to Lower Mainland health-care workers who work in long-term care homes and front-line health-care workers essential to the COVID-19 response. In December 2020, the Canadian Teachers' Federation (CTF/FCE) called on governments across the country to include teachers and education workers on the COVID-19 vaccine priority list.
"Our age-based rollout is ahead of schedule and with the AstraZeneca/SII supply arriving, we can protect people working in specific, front-line industries," said Adrian Dix, minister of health. "Following the latest science and data to identify high-risk industries or critical services will allow us to protect even more people from COVID-19, which in turn, gives our entire communities and our province greater protection from the virus."
In total, B.C. expects to receive approximately 340,000 doses of the AstraZeneca vaccine by the end of May 2021. The Province will use a combination of community pharmacists, existing immunization clinics and mobile clinics at some worksites to administer the AstraZeneca vaccine to front-line workers.
Booking arrangements for front-line workers will be established in the coming weeks and will be communicated clearly and directly to each sector to arrange bookings.
Pharmacies
In Alberta, there are now 259 pharmacies in 107 communities offering the vaccine – a 154 per cent increase in participating pharmacies since March 1.
"We're expanding the vaccine rollout as fast as the supply coming into Alberta allows," said Premier Jason Kenney. "Our speed and efficiency is only held back by the number of doses that we receive from the federal government. Thousands of Albertans are getting immunized at pharmacies every day, and that number will rise sharply in the weeks ahead."
The also expects the number of participating pharmacies to keep increasing as more vaccine doses arrive, with up to 500 locations booking appointments by early April. However, recent delays in Moderna shipments may impact some pharmacy appointments scheduled for the week of March 22 because Alberta remains reliant on the federal government and the timing of shipments coming into the province for all bookings.
To date, more than 35,000 doses of vaccine have been administered at pharmacies provincewide. Ultimately, community pharmacies will be the largest provider of the vaccine to Albertans, according to the government.
"Alberta's early decision to meaningfully involve pharmacists in vaccinating residents has made a significant impact in the fight against COVID-19, allowing them to open up vaccines to more Albertans, more quickly," said Jeff Leger, president, Shoppers Drug Mart. "We want to applaud the Alberta government for a vaccine deployment that is leading the country and hope that someday soon all pharmacies will be administering the vaccine to residents."
In December, the Neighbourhood Pharmacy Association of Canada (Neighbourhood Pharmacies) said that pharmacies' expertise and experience in vaccine supply chain management and providing immunizations will be essential to the success of Canada's COVID-19 vaccine rollout.