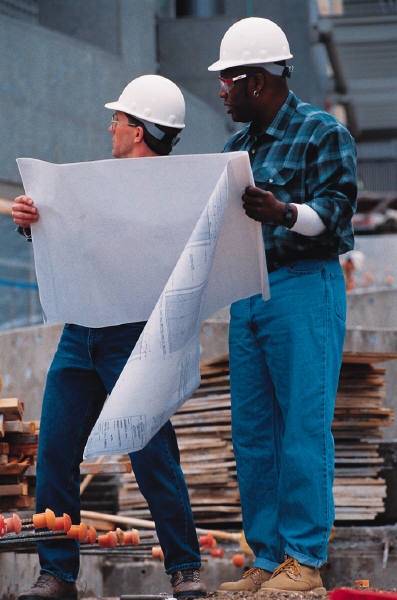 A construction site is a great sign for a community. It signals investment, innovation and improvement. From government financing of rural infrastructure to major condo builds in city centres, you don't have to go far to see this sort of development here in Canada.
Unfortunately,
accidents on construction sites
continue to dampen the great opportunities they bring. It wasn't long ago that Calgary and Toronto reported incidents of scaffolding falling to pedestrian sidewalks. With the
flurry of construction activity
that's taking place coast to coast, it's more important than ever to champion site safety. Not only will this protect your team and the public, it will help you run a successful project.
When an
accident happens on a construction site
, it can be traumatic. When working at height with heavy and complex lifts, machinery operating in tight spaces — there are a lot of people relying on the safe practices of a construction site. Health and safety requirements are one thing, but an experienced insurance broker can help you identify loss control techniques that minimize risks to members of the public, your property and your finances too.
A common cause of accidents on a worksite is fire. Permits for hot work clearly outline safety procedures, but it's easy to take fire safety for granted if you work with it every day. Poor adherence to safety policies can have disastrous effects and is a common cause of injury on a site. When working on a heat-applied rooftop, for example, you must have fire extinguishers within easy reach, and a team member should be tasked with "fire watch" once work is completed. The same applies to welding work or cutting operations.
Another key culprit of fire damage is temporary heating appliances with an exposed flame. Not only can these units cause carbon monoxide poisoning if they're improperly vented, but they can easily start a fire if used incorrectly. Fire risks are huge and easily preventable with a little diligence.
Surprisingly, weather has become another source of incident on construction sites. Sites become more vulnerable as severe weather patterns continue to rise across the country. In Atlantic Canada, where hurricanes have become more frequent, we have seen steel frame buildings collapse under extreme wind, putting projects on hold and resulting in major business implications for project owners. This can easily be prevented by tasking a team member with the responsibility of monitoring the weather to ensure the site is properly braced before a storm. This should be business as usual for an experienced contractor, but an insurance loss control consultant can offer advice as well.
Inadequate site security is another key cause of accidents. Construction sites are magnets for adventurous children and inquisitive neighbours, so it's extremely important to their safety and your liability that you have proper fencing in place. Loss control consultants often come across sites with either a lack of fencing or inadequate fencing, such as snow barriers. Properly fence the entire perimeter of the site and install guardrails around dangerous areas such as excavation holes or open pits to minimize the risk of anyone getting hurt.
Signage is also an important feature of a safe work site. To protect yourself, your team and the general public, make sure to post signs at the entrance that require visitors to wear proper personal protective equipment, such as a hard hat and safety footwear. Not only will this ensure their safety, but it can help defend you against liability claims. At the same time, give clear directions on how to find the site office to avoid visitors wandering around. Failure to do so puts both of you at risk.
Loss control consultants always pay attention to housekeeping on a construction site. The tidiness and organization of a site is a clear indication of how other matters are managed, including site safety. Piles of debris can hide materials and pose fire hazards, and flammable liquids, such as gasoline, need to be stored safely and securely to prevent accidents. Housekeeping is a very simple thing to control and one of the easiest safety measures to put in place. Unfortunately, it's often not established as best practice on site.
To supplement all of these safety measures, appoint a site safety manager to oversee all protocols and conduct routine inspections, including the proper inspection of machinery. If the boom of a tower crane fell because a support pin came out during high winds, for example, imagine the possibility for serious harm to individuals below, let alone the destruction this could cost a project. Cranes must be inspected and reported on a daily basis. This is to supplement the annual inspections done by a qualified engineer, and the inspections required after a repair has been done. All of this due diligence should be recorded in a log book for review during any site inspection.
Besides concrete, a comprehensive site safety plan should be at the foundation of all construction projects. A good plan will address everything from fire prevention and weather events to site security and housekeeping, and should outline a schedule for routine inspections.
Get to know the guidelines and be a champion for site safety on your worksite. Once you have a quality plan in place, it can easily be updated for other projects and it's a great sign to your insurance company that you are committed to operating a safe site. Improved safety experience typically results in an insurers' stamp of approval — potentially at a better rate.
-----------------------
Geoffrey Carter is the Technical Leader for Construction and Contracting Insurance at RSA Canada, a leading home, auto and business Insurer. Geoff has been with RSA for 14 years and specializes in construction and renewable energy Insurance. Geoff is a member of the RSA Small Hydro Centre of Excellence leadership team.