'We warned there was a lack of Personal Protective Equipment, no pandemic-care plan, and an overall lack of preparedness'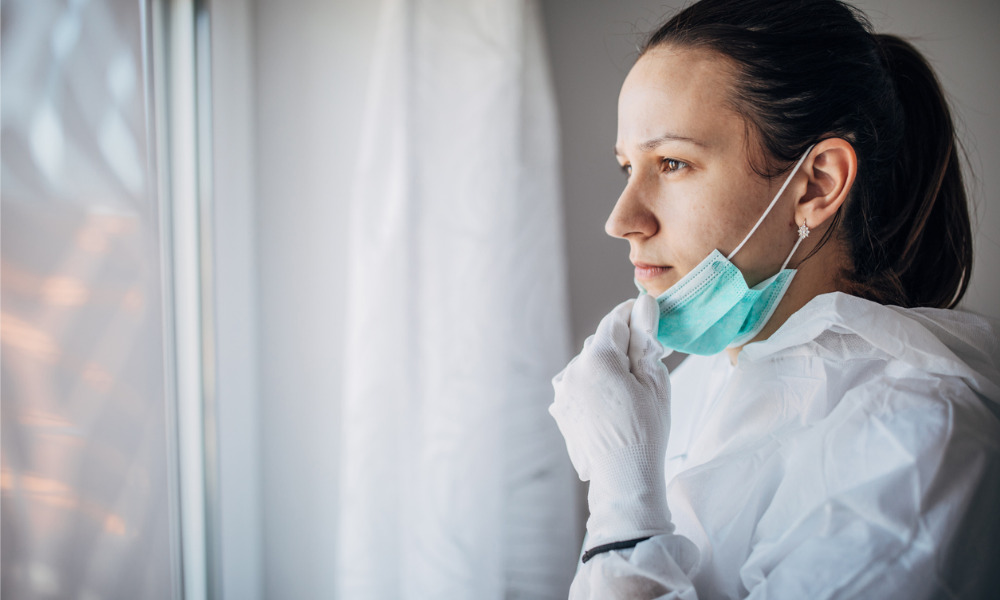 Several unions are calling for immediate action from the Ontario government to address the crisis in the long-term care (LTC) facilities in the province just a few days after the province made public the military's reports on the facilities.
Last week, the government announced that an independent commission will examine conditions in the facilities starting in July, instead of the initially announced start in September. However, "rather than only relying on a future commission, the immediate step is to start implementing the recommendations from past inquiries and commissions," according to the Registered Nurses' Association of Ontario (RNAO).
RNAO is proposing a basic formula to address the crisis of staffing in LTC to include: (a) adequate numbers of staff, and (b) the proper skill mix of regulated and unregulated staff – including larger utilization of nurse practitioners (NP), registered nurses (RN) and registered practical nurses (RPN).
Under the formula, each resident shall receive four hours of direct nursing and personal care each day: 0.8 hours of regulated RN care, one hour of regulated RPN care and 2.2 hours of unregulated personal support worker (PSW) care.
The union noted that there should be one NP per 120 residents, and one infection prevention and control specialized nurse (preferably an RN), per home.
"Although staffing is only one component of what needs strengthening in our long-term care system, it is a central one," said RNAO's CEO Dr. Doris Grinspun. "Adequate overall levels of staffing, as well as strengthening the skill mix between regulated and unregulated staff alongside the funding to make it real will go a long way to start addressing the damage done to nursing home residents, their families and their staff."
Coordinated response
Addressing the staffing issues is also among the concerns for the Canadian Medical Association, which is calling for a coordinated response to the crisis unfolding in LTC homes. The union also said that all governments need to take immediate action to:
rapidly assess the current health and wellness of all residents in long-term care as well as the resource capacity of long-term care homes in each jurisdiction;
establish transparent, publicly available pan-Canadian reporting on the conditions in long-term care residences in each jurisdiction, for example via the Canadian Institute on Health Information's (CIHI) Continuing Care Reporting System;
commit to a comprehensive pan-Canadian plan to improve seniors care, including new federal funding;
identify and implement more effective mechanisms to better support caregivers;
review delivery models and propose regulated and accredited standards;
demonstrate Canada's commitment to seniors, by formally supporting the call for a United Nations (UN) Convention on the Rights of all Older Persons.
Union warning
Ontario Public Service Employees Union (OPSEU) President Warren Thomas said that he warned premier Ford and Merrilee Fullerton, minister of long-term care, about the many issued the LTC is facing in a letter sent on April 22, and the issues mentioned in the letter were flagged a month later by the Canadian Armed Forces.
"We warned there was a lack of Personal Protective Equipment, no pandemic-care plan, and an overall lack of preparedness," said Thomas. "With all those problems along with a lack of infection control, it was ill-advised for inspectors to enter multiple homes. It could have led to greater spread of COVID-19 amongst our seniors, especially with what we now know about asymptomatic and pre-symptomatic spread."
Thomas also points out that on April 14, the Chief Medical Officer of Health ordered that long-term care workers be limited to just one home. The same protocol should apply equally to inspectors.
RNAO also noted that in 2017, the government committed to providing four hours of direct care per day per resident, but the target was based on a 2008 report by RN Shirley Sharkey. To date, the four hours of direct care per day per resident has not been implemented leaving residents short of staff to meet their needs, said the union.
The current legislation in Ontario also does not specify ratios for RNs, RPNs and PSWs, and it only assigns one RN on-site per shift, which is gravely inadequate. There are also only a small number of nursing homes that have NPs, and most must do without any.