What exactly does workplace hygiene entail?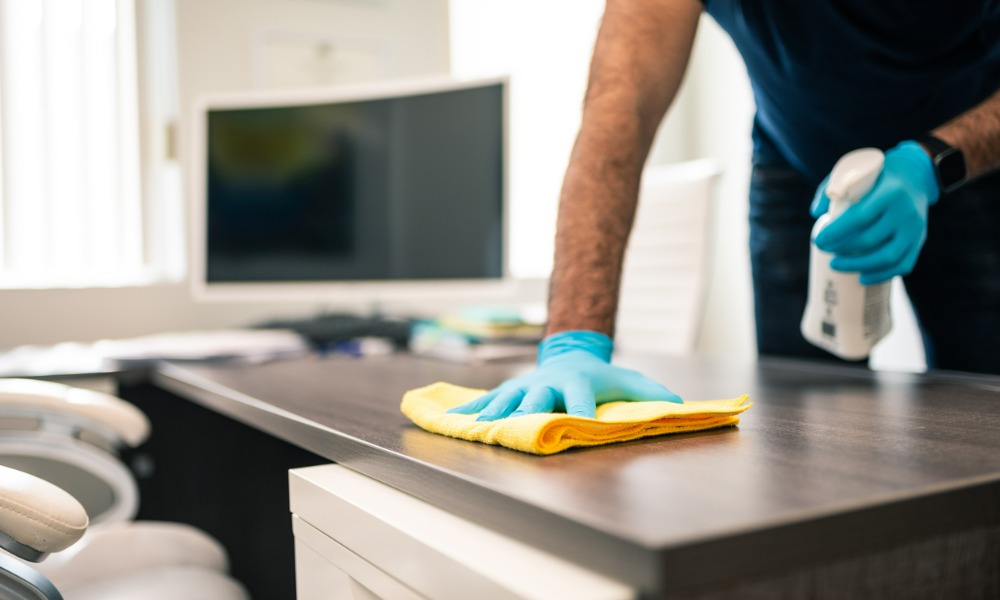 Thanks to COVID, workplace hygiene has taken centre stage over the last couple of years. Between encouraging frequent hand washing, increased workspace sanitization and mask wearing to reduce the spread of the virus, workplaces have never been so clean.
While remote work has developed, many employees still spend between 25 to 30 per cent of their total time in the workplace. This means that workplaces need to be kept as hygienic as possible – but what exactly does workplace hygiene entail?
Well, first and foremost, there are actually health and safety regulations to comply with (and which may differ depending on the type of workplace or the province). Hygiene isn't just a plus, it's an integral part of occupational health and safety. Employers and safety professionals should aim to keep the workplace sanitized, neat and clean at all times.
Some areas may require more attention than others, such as kitchens, bathrooms or high-touch surfaces. To maintain hygiene, employers should ensure that they have an adequate hygiene plan in place – like everything when it comes to OHS, planning is essential. This hygiene plan may be created after a risk assessment for example, to figure out which areas of the workplace demand immediate or frequent attention.
Once this hygiene plan is created, you need to communicate it with all managers and employees. Post it in communal areas if possible, share during onboarding or training. While most organizations will outsource their cleaning or employ specific personnel, workers also need to be aware of best practices and basic hygiene requirements. In some cases, workers will be asked to clean the workplace themselves. As a safety professional, it is thus important to communicate with workers which products and equipment they should use (and provide the necessary Safety Data Sheets or SDSs).
Hygiene is incredibly important and plays a crucial role at work. If workplaces are dirty or unsanitary, this creates a real health and safety risk for workers. During the pandemic for example, workplaces that didn't increase sanitization or put into place strict hygiene measures put workers at risk of catching COVID.
And even outside of the pandemic, bad workplace hygiene still poses a health risk. Uneaten leftovers or rubbish left out could lead to a rodent infestation, high-touch surfaces which aren't cleaned enough could lead to the proliferation of microbes – employees deserve (and have the right to) a sanitary workplace.
Here are four basic things to consider when talking about workplace hygiene.
1. Personal hygiene. Worker personal hygiene is important. To talk to workers about personal hygiene, be sure to include proper background and context in the hygiene plan, and frequently remind them through posters and internal communication (e.g. emails). If you are having a problem with a worker, don't hesitate to talk to them in private.
2. Cleanliness of the work area. The work area in general needs to be kept clean and tidy, with a strong focus on high-touch surfaces and areas with a lot of foot traffic. Keyboards or phones are typically heavily solicited and need to be cleaned very often. Encourage workers to keep their desk areas or workstations clean.
3. Clean toilet facilities. Bathrooms should be cleaned frequently and thoroughly – and employers and safety professionals need to make sure that waste water is disposed of properly (i.e. check the plumbing). Providing a clean bathroom also means that it should be well equipped with essentials such as soap, toilet paper and hand towels (or a functioning and effective hand dryer). As mentioned before, workers also have a personal responsibility to be hygienic, so make sure that are also practicing proper personal hygiene after using the facilities.
4. Clean kitchen. As a communal environment, kitchens (and dining areas) need to be kept as clean as possible. They may be places where food is prepared, consumed and disposed of so it is of utmost importance that surfaces and utensils be kept clean. Poor food hygiene creates huge health risks. A cleaner may be hired to regularly clean the kitchen, but in busy workplaces the kitchen area is almost always in use so it is important to ensure that workers have the right habits and clean after themselves.