13 occupational carcinogens mostly to blame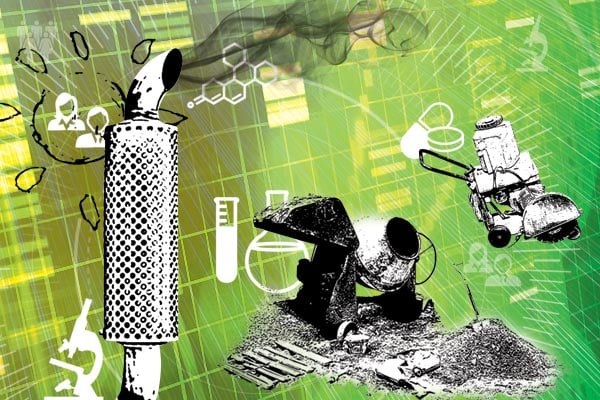 According to the Occupational Cancer Research Centre's Burden of Occupational Cancer in Canada report, exposure to cancer-causing agents in the workplace is estimated to cause approximately 10,000 cancers in Canada each year.
The report identifies the following 13 occupational carcinogens that contribute the most to the cancer burden in Canada: arsenic, asbestos, benzene, chromium (VI) compounds, diesel engine exhaust, second-hand smoke, nickel compounds, polycyclic aromatic hydrocarbons (PAHs), radon, night shift work, silica (crystalline), solar ultraviolet radiation, and welding fumes.
"Workplaces are important settings to target for cancer prevention efforts because workplace exposures tend to be higher than in the general environment and because Canadians spend a significant portion of their days at work," the researchers said in the report.
Solar radiation, asbestos, diesel engine exhaust and crystalline silica had the largest estimated impact on cancer burden and also the highest number of Canadian workers exposed, according to Carex Canada.
Approximately 1.4 million Canadian workers are exposed to solar radiation, causing an estimated 4,600 non-melanoma skin cancer cases per year.
Just over 150,000 workers are exposed to asbestos, but it is estimated to cause 1,900 lung cancers, 430 mesotheliomas, 45 laryngeal cancers and 15 ovarian cancers annually.
About 897,000 workers are exposed to diesel engine exhaust and every year it accounts for 560 lung and 200 suspected bladder cancer cases.
An estimated 382,000 Canadian workers are exposed to crystalline silica, which annually causes almost 570 lung cancer cases.
Construction and manufacturing were identified as industries with particularly high burdens of occupational cancer.
The researchers, led by Paul Demers — who is the director of the Occupational Cancer Research Centre — said efforts must be taken now to reduce exposure and prevent future cases of work-related cancers. The report highlights various recommendations for policy changes, including:
•strengthening occupational exposure limits across all Canadian jurisdictions
•reducing or eliminating the use of cancer-causing substances with workplace-specific toxic use reduction policies
•creating registries of workplace exposures to occupational carcinogens that will facilitate the tracking of exposures over time.
The report also proposes specific policies that target individual carcinogens.
"The evidence-based policy recommendations in this report have been developed with all levels and multiple sectors of government in mind, as well as members of Canada's occupational health and safety system, employers and non-governmental organizations, and are intended to encourage the various levels of governments and these organizations to take further action to reduce exposure to occupational carcinogens," the researchers said.