Manobhiram Nellutla recognized with award for contributions to Canadian OHS profession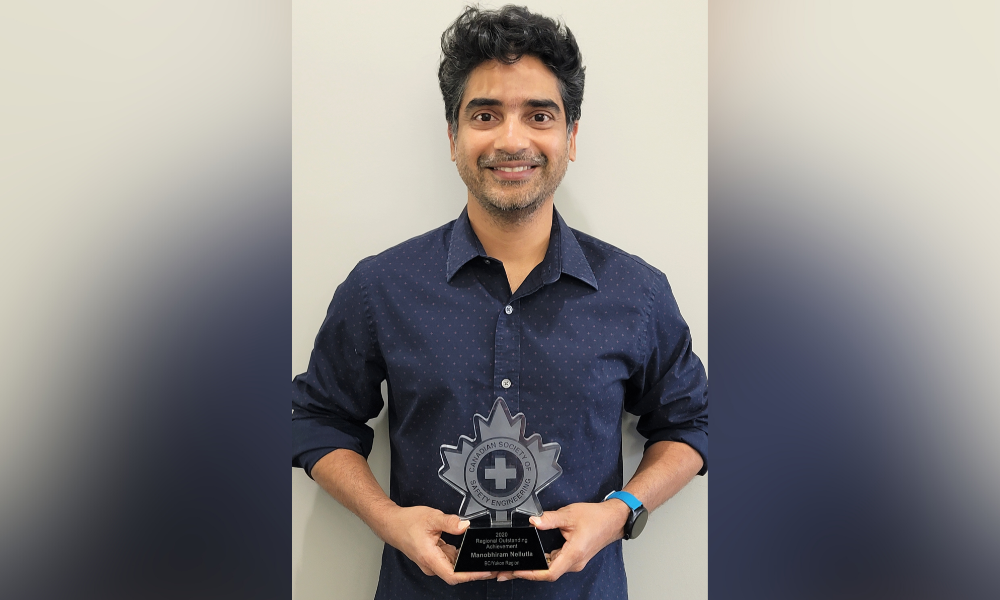 The year was 2001. Manobhiram (Manu) Nellutla's father was working on a sugar plantation in Rwanda when he was attacked by a "psychologically ill or mentally ill person who was affected by the genocide…he lost some fingers, and his jaw was injured."
The traumatic experience ignited a passion within Nellutla that would propel him down a path leading to British Columbia where he now works as a workplace health and safety governance manager for Amazon.
Nellutla drove a winding road from Rwanda to Canada with OHS as the vehicle carrying him on this journey.
In 2007 Nellutla was a senior lecturer and the head of the physiotherapy department at the University of Rwanda. An opportunity arose to explore return to work policies for injured workers for Rwanda's Ministry of Labour and Public Services. "I became part of the core team, which actually drafted the OHS legislations for Rwandan government," explains Nellutla.
He studied more, achieving a postgraduate diploma in ergonomics and a certificate in occupational health and safety. Nellutla also continued sharing his knowledge, teaching in the Master's of Public Health program at Mount Kenya University.
In April 2013, Nellutla brought his skills to Canada, first with the Manufacturing Safety Alliance of BC as COO, supporting the food processing and manufacturing industries in the province. Then he entered the film and television industry with the Actsafe Safety Association, where he became CEO. By then, the OHS profession had given Nellutla so much, he felt compelled to give back.
He volunteers as the regional president for the Association of Canadian Ergonomists and became an advisor for the OHS program at the BC Institute of Technology. In addition, he is a board director at the Work Wellness Institute and was invited to give a Tedx Talk presentation.
"I'm glad I have been able to contribute to the health and safety profession overall," says a modest Nellutla. His body of work earned him a 2020 Regional Outstanding Achievement Award, BC-Yukon from the Canadian Society of Safety Engineering.
He doesn't just receive awards, Nellutla determines award recipients as a judge for Canada's Safest Employers Awards, performing the role since 2018.
Now he's working with Amazon's governance team. "We support our sites, especially around regulatory and governance areas, so that we can provide, what I call, opportunities to reduce risks." This includes the risks at Amazon's warehouses and fulfillment centres, which have been well documented. Nellutla's job is to support regulators in obtaining the required information and documentation during site inspections.
"I was brought in to make sure that we understand what the regulators are looking for and support our sites for the same thing," says Nellutla, who claims he doesn't experience many challenges in this capacity but does admit "we always look at ways to improve our safety side of things."
When Nellutla is not looking for ways to improve Amazon's health and safety initiatives, he is happy to "encourage (and) mentor some of the safety professionals around BC and in Canada."