Reduce office anxiety by being prepared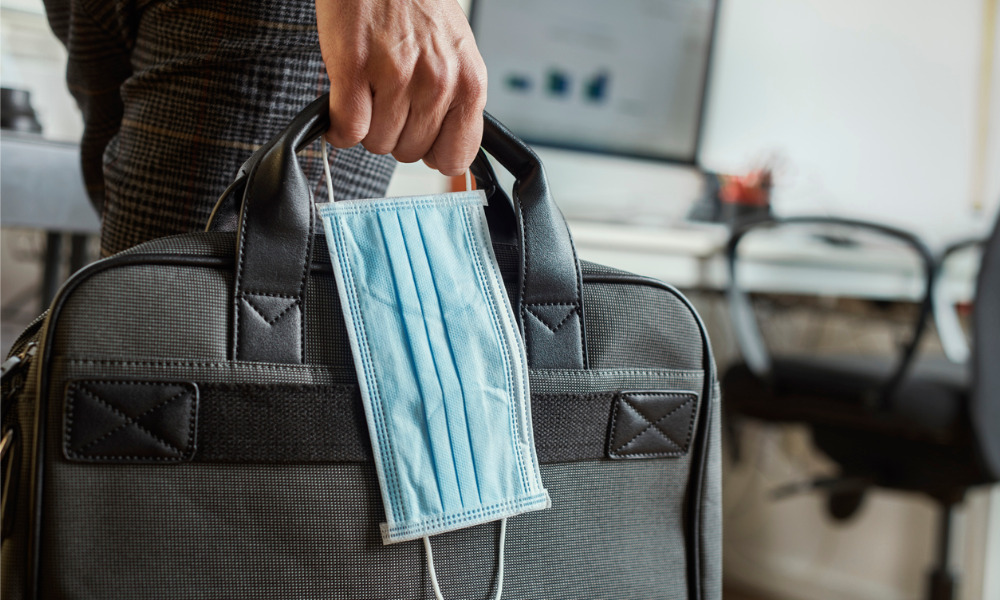 With a year of COVID-19 under our belts, some employers are – cautiously – thinking of bringing employees back to the office in some capacity. In Ontario at least, this isn't likely going to happen tomorrow. Nevertheless, with Canada's vaccine campaign picking up speed, employers are somewhat optimistic that business can resume "as normal" (whatever that means now).
Here is a checklist of what you can do to help prepare for employees returning to work, as well as reduce the inevitable anxiety that employees will have about coming back to a setting that they likely have not seen in over a year.
A recent U.S. study by Wakefield Research on behalf of Envoy found that 66 per cent of employees say that they are worried about their health and safety when it comes to returning to the workplace.
1. Figure out your vaccine strategy
In the same study previously cited, 62 per cent of participants believe that companies should require workers to get a COVID vaccine before they are permitted to work in the office. As it stands, whether employers can enforce vaccinations or not is a complex question.
In a piece for law firm Mathews, Dinsdale & Clark LLP, Eric Kroshus, Natasha Jategaonkar and Paul D. McLean write:
"Employers are obligated by law to ensure the health, safety, and welfare of their employees in the workplace and the desire to immediately implement a mandatory vaccination policy in an effort to protect staff, and the public, is understandable," they say.
"However, employers must be mindful of potential human rights implications which could arise, as well as the impact it could have on employees' privacy rights. Employers should consider whether such a policy is truly necessary for their particular workplace and, if so, ensure that the policy takes all of these factors into account."
Businesses and organizations may want to allocate resources to run a vaccine campaign for example, stressing that vaccines are scientifically proven to be safe and effective.
To further encourage employees to get vaccinated, employers may also want to look into giving them time off for vaccination. Canada Goose recently announced that it will give employees four hours paid leave to receive the vaccine.
2. Update and share your health and safety plan
If you haven't already, now would be a good time to update your health and safety plan. For example, you could include plans for contact tracing in case an employee (or a group of employees) become ill with COVID-19. You may want to also think about COVID-19 "long haulers" and providing some kind of assistance to them.
Health and safety should be part of your business continuity plans to ensure that operations run smoothly despite the effects of the pandemic.
READ MORE: How to manage workplace stress in the midst of COVID-19
3. Ensure that employees feel comfortable taking sick leave
One of the big problems at the start of the pandemic (and which, in some cases, still continues to be an issue) is that employees have been reticent to take time off due to the absence of a sick leave policy. This means people coming into work with COVID-19 symptoms because they are not financially able to stay at home. Furthermore, lack of paid sick leave may fuel feelings of anxiety or stress at work.
Whether it is temporarily for the pandemic or something to implement in the long term, businesses and organizations may want to update their sick leave policy.
4. Communicate with employees
We've spoken to a lot of safety pros over the last year, and the one thing that keeps coming up is that good leaders check in with their employees. This means checking in to see how workers are doing (something which Avetta implemented successfully), but also providing regular updates to employees on government policy changes.
This is an incredibly tough time for everyone, and mental health has really taken a hit. Ensuring that employee are both physically and mentally safe is crucial to bringing people back to the office safely.
"Taking care of our psychological safety and mental health on returning to the workplace will be of no less important as taking care of our physical safety and wellbeing," said Dr. Margie Warrell in a piece for Forbes.
5. Continue respecting COVID-19 best practices
Even when employers are able to bring workers back to the office, we will likely still not be out of the pandemic. As such, it is important that while COVID-19 remains a threat, employers need to continue respecting current prevention measures. For example, businesses and organizations should ensure that adequate sanitation products are available. This means, for example, providing hand sanitizer and/or wipes to employees and keeping a stock in communal areas (kitchen, washrooms, etc.).
This also means having masks on hand for those who prefer them, or encouraging employees to bring their own masks into the office. Lastly, if you haven't already, you may want to consider reorganization the workplace layout to respect physical distancing guidelines. On that note, staggering breaks or arrival times, or limiting the use of communal spaces could also be a good idea.