Canadians' mental health remains low in June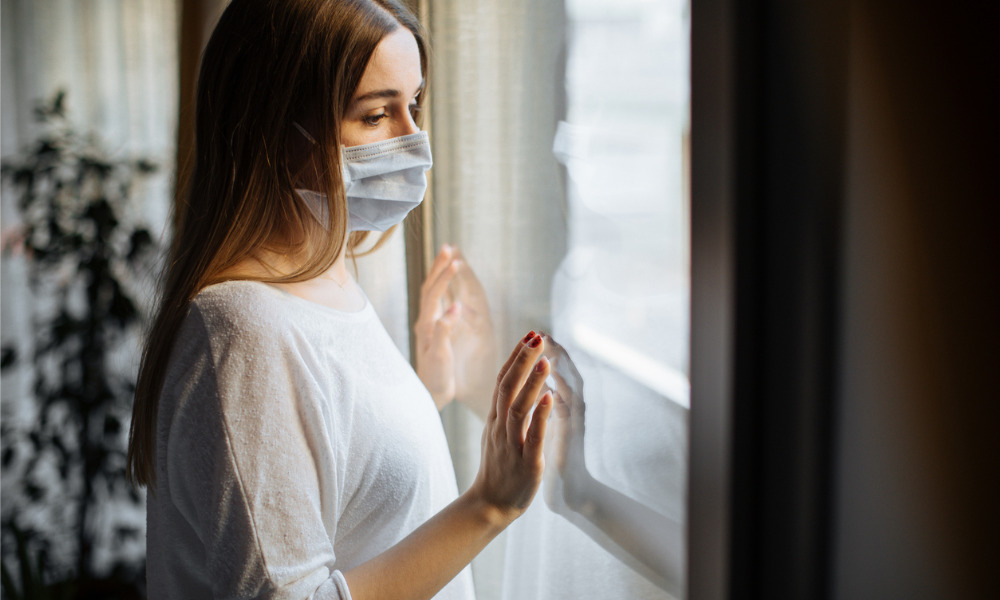 For the third consecutive month, Canadians' mental health score remains negative in June amid the COVID-19 pandemic even though most of the country is entering new phases of reopening, according to a report from Morneau Shepell.
Canadians' mental health score stood at -11, one point higher compared to the score in the previous month but still down from the pre-2020 benchmark of 75.
Scores for anxiety (-12.9), depression (-12.7), work productivity (-12.1), optimism (-12.0) and isolation (-11.6) are also down compared to the benchmark.
"As the country enters new phases of reopening and restrictions begin to ease, it's important to remain focused on the mental health of Canadians and recognize that mental wellbeing requires the same attention and action as physical health," said Stephen Liptrap, president and chief executive officer. "The long-term impact of continued low levels of mental health is not only a concern for individuals, but also for organizations and governments due to higher health and disability costs and the negative impact on individuals' participation in the economy."
"It has been great to see organizations and governments expand mental health support in recent months, but our Mental Health Index tells us there is still more to do," Liptrap continued.
More than one third (34 per cent) of respondents indicated that their employer has been supporting employee mental health inconsistently, poorly or very poorly during the pandemic, found the survey of 3,000 Canadians from May 29 to June 9, 2020.
And their mental health scores differ: -17.2 for those who indicated that mental health was supported inconsistently, -17.7 for those who indicated poor support and -26.3 for very poor support. This compares to -10.4 for those who stated mental health was supported somewhat well and -1.0 for very well.
Those who felt unsupported cited areas that employers could provide support, including clear guidance on how to prevent spreading or getting the virus (27 per cent) and support to deal with anxiety (23 per cent).
"Canadians have experienced consistent negative impacts to their mental health since the start of the pandemic. This is continuing as people go back to work and new stressors emerge," said Paula Allen, senior vice president of research, analytics and innovation. "The reopening of the economy is a welcome and positive change for some, but for many others, re-entering the workplace is bringing up new uncertainties related to their safety and security. There is also more concern that things may never return to what we previously had and there is a lack of clarity about what work and life will be like."
"Employers need to continue to promote their wellbeing plan and resources for employees to seek support, while also looking for opportunities to show employees that their mental health is valued," added Allen.
Also, among respondents, only 19 per cent cited being likely to return to previous spending habits following COVID-19. Among them, 39 per cent are concerned about the risk of infection from being in stores and service areas, 27 per cent feel they will be concerned about job security for a while and 22 per cent indicate that their income has changed since the pandemic began.
Nearly half (48 per cent) of Canadians are very concerned about their mental health as a result of the effects of the COVID-19 pandemic, according to a report from Renascent, a substance addiction treatment and concurrent mental health disorders provider, released last month.
Sixty per cent of healthcare workers in Canada reported anxiety at levels surpassing an accepted threshold for clinical screening for the condition, and this is most prevalent among those whose needs for personal protective equipment have not been met, according to a separate report.