With face coverings becoming an integral part of how we work, shop and socialize, here are 10 Canadian mask manufacturers to look into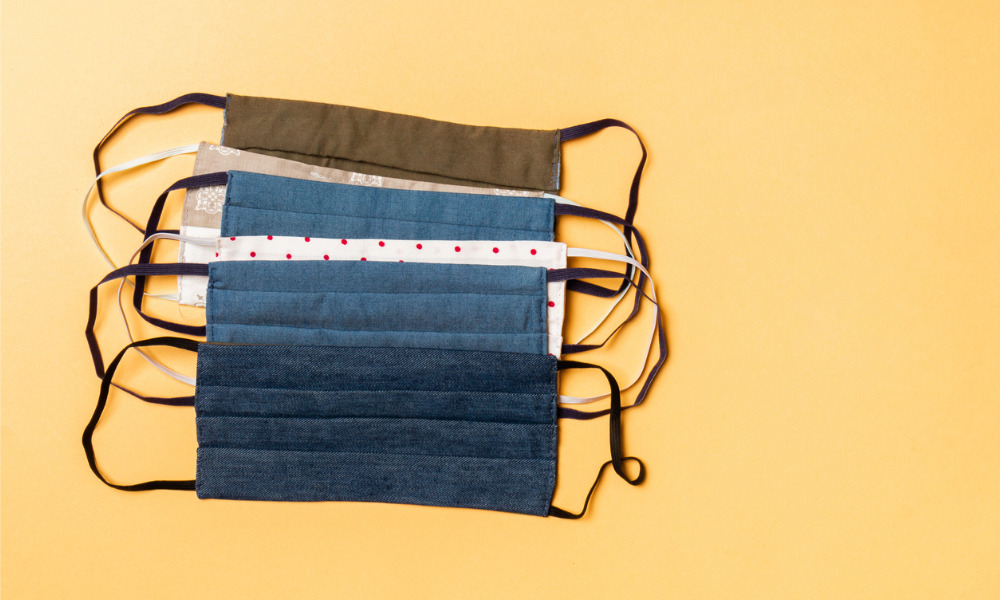 Face masks have become a symbol of the current COVID-19 pandemic. Essential equipment for frontline workers, this crucial bit of PPE faced major shortages around the globe at the start of the pandemic.
At the start of the outbreak, health officials actually advised against wearing a mask in public places, until chief medical officer Dr. Theresa Tam changed her stance mid-May. Tam advised for non-essential workers to wear disposable masks or homemade masks in public spaces where social distancing was not possible. Currently in Canada, wearing a mask is either required or strongly encouraged in closed spaces with a lot of foot traffic, like supermarkets, grocery stores, public transport, etc.
The Canadian government has issued guidelines on its website about face masks. It has also created a video on how to properly wear a face mask. The government currently states that "medical masks, including surgical, medical procedure face masks and respirators (like N95 masks), must be kept for health care workers and others providing direct care to COVID-19 patients."
Those who aren't frontline workers should be investing in non-medical face coverings and masks. One advantage this poses is that cloth coverings broadly have the advantage of being re-usable.
With businesses tentatively re-opening under Stage 2 and Stage 3 in Ontario, and other provinces navigating how to handle the virus whilst re-starting the economy, face masks have become one of the major ways in which individuals can safely work, protect colleagues and customers whilst respecting current federal and provincial guidelines.
Non-medical masks
Many Canadian businesses have shifted their manufacturing focus since the start of the outbreak, with liquor companies now making hand sanitizer and fashion brands making PPE. There are now many brands, small and large, offering face masks. What should you look out for when purchasing a mask? Whilst there are different shapes available, according to the Public Health Agency of Canada the mask itself should be made of at least two layers of tightly-woven fabric, and washed and dried after each use.
For those able to make their own cloth face masks, Montreal-based brand Frank and Oak has provided an online tutorial for DIY masks as well as a template. Instructions for no-sew masks are also available on the federal government's public health website. For those wishing to purchase face masks, these Canadian-made coverings are a good place to start.
1. Toronto-based designer Ellie Mae makes cotton face masks available in a range of colours, and are locally sewn. Individual mask prices vary from $20 - $30 and proceeds from each sales will be donated to Feed the Frontlines TO or the Black Health Alliance.
2. Slightly more affordable, tights brand Threads makes nylon and elastane blend masks. Their standard masks are available in a pack of two for $16.50.
3. Another Toronto-based brand, Roots, is selling reusable face masks which contain a slip pocket that can be used to place a filter within. The masks cost $17 and a portion of the proceeds is donated to The Frontline Fund. Additionally, the company says that to date it has donated $500,000 of merchandise to be used by frontline workers as scrubs.
4. On the higher end, Montreal-based fashion brand UNTTLD makes trendy masks for men and women, with each piece costing around $50. The brand will donate 10% of sales to The Patricia Mackenzie Pavilion, a facility in Montreal which provides a safe place for women victims of domestic abuse to stay.
5. Another Montreal-based designer, IZ, has teamed up with jewellery brand Birks to make face masks. The masks are available for $15 each, and for every mask sold the collaborators will donate a second mask to a hospital. In addition, 20% of each sale goes to the Christopher and Dana Reeve Foundation. Furthermore, some models come with a transparent plastic window across the mouth so as to be lip-reader friendly.
6. Nonie, a brand based in Calgary, is making 100% cotton face masks for $33 each (and $55 for a set of two). The masks are available in small, medium and large. The brand states that for each mask sold they will donate a mask to key organizations in need of PPE.
7. Christopher Paunil, a designer based in Toronto, is selling a range of different face masks. The brand's standard masks start at $15 and are available in small, medium and large. Paunil also sells masks priced $15 - $18 in a range of colours and designs, including a Canada-themed collection. For each mask sold, $2 will be donated to Toronto-based charity UForChange.
8. Vancouver-based clothing and accessories brand Herschel is selling face masks for $19.99. The masks are available in a range of colours. Alongside their face masks, the brand is donating a number of its bags to healthcare facilities across North America as part of their "we've got your back" initiative.
9. Toronto-based company Carry is selling a range of masks in bundles of two (for $28), five (for $70) and 10 (for $140). The masks are part of their #CARRYCARES initiative, which has seen the brand donate over 800 masks to the community and $1500 to Women's College Hospital. Currently, $4 from each mask sale will be donated to Second Harvest and Black Legal Action Centre.
10. Lastly, Unbelts, which has a studio in Edmonton, is selling cloth face masks available in various sizes. The brand sells value packs of three masks for $49. On their website, the company also gives the option to donate face masks (for $19 each) to frontline workers, healthcare workers, low-income families, etc. Donations will be matched by the company.