No workplace is perfect, but it's essential to know the basics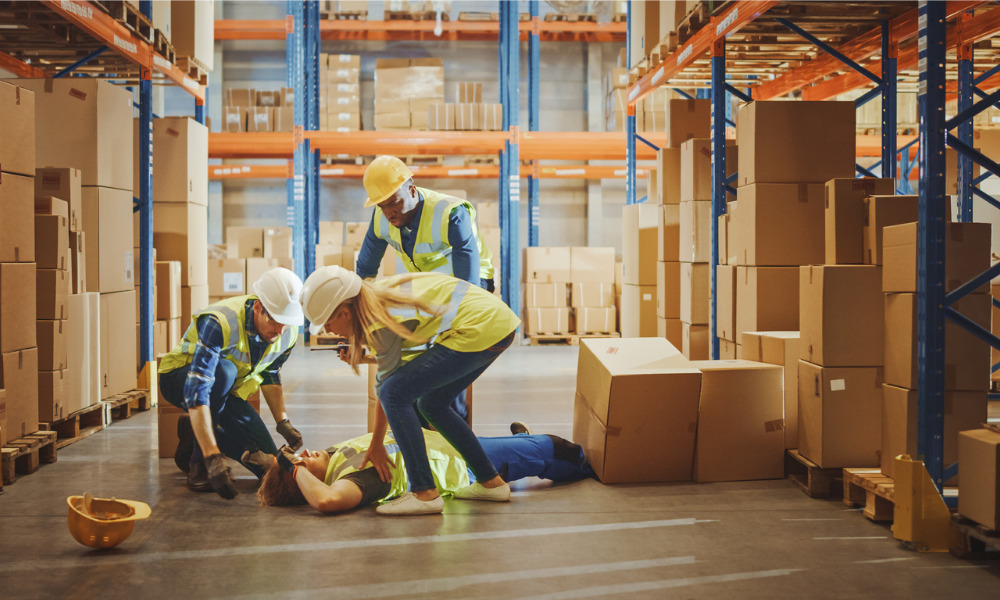 September means one thing: back to school. While Canadian workers don't typically enjoy weeks off like the kids (maybe the one thing most of us miss from school), the start of Fall is usually a great time to reflect and refresh.
In a perfect world, workplaces would be accident free. Sadly the reality is that no matter how careful we are, sometimes accidents simply happen. However, this isn't an excuse to slack off or engage in defeatism. On the contrary, organizations should constantly be on the lookout and make sure that they are doing everything they can to mitigate risks in the workplace.
According to 2018 data from the University of Regina (the latest available data), 1,027 workers died of work-related causes in 2018 – an increase of 76 from 2017. The report also states that in the same year, 264,438 lost-time injury claims were accepted by provincial and territorial compensation boards.
Improvement is not a given, and now is a great time for a fresh start. While one would hope that you are already doing all of these things, here are nevertheless some basic tips to implement (or review) on how to prevent work accidents.
1. Always be alert while on the job. Distractions, fatigue, substance abuse and lack of spatial awareness can be deadly at work and lead to severe accidents. Fatigue especially can have devastating effects.
CSA Group is currently considering a standard on fatigue as currently there is no standard definition or management practice in place for fatigue – despite the dangers it can cause.
2. Promote safety awareness and education. Most safety pros will tell you that effective training is as important (if not more important) than policy. Workers need to understand the risks inherent to their workplace, and how and why what they do could lead to injury or even fatality.
"It's important to understand the dimensions which lead to injuries," said Jon Kabance, President, BIOKINETIX, during a panel at the recent ASSP Safety 2021 Conference.
"What is causing these risks and the injuries themselves? […] these risks are multifactorial – not caused by a single event," said Kabance.
3. Be aware of musculoskeletal disorders (MSDs) and injuries (MSIs). Poor ergonomics are a root cause of many occupational injuries – from construction sites to office spaces, bad posture et al can have seriously dangerous consequences. Employers need to take a proactive approach in preventing workplace injuries:
"All too often in the occupational context of injuries […] musculoskeletal injuries are assumed to be not all causal and are often addressed with reactive measures rather than proactively addressing the multifactorial causes that lead to these injuries," said Kabance.
This includes taking a holistic view:
"You can't compartmentalize the risk of musculoskeletal injuries […] Employees don't swap out their work body for their home body at the end of their shift," said Kabance.
4. Provide PPE. Depending on provincial regulations, employers may be obliged to provide some level of PPE to workers. Certainly during the current pandemic, protective gear like face masks or gloves are a must in a number of workplaces. Providing adequate PPE also goes a long way in reinforcing worker confidence.
5. Maintain an orderly workplace and communicate effectively. Keeping a workplace or site clean and organized is a basic that seems to evade some organizations. Keep track of inventory, make sure the floor is clear and that exits are not blocked, provide safety data sheets for chemical on-site, etc.…These are all simple things that need to be done. In addition, signage should be used to keep workers in the loop.
6. Ensure everyone wear proper attire. As well as PPE, wearing proper protective clothing is a must. And it's not just about the garment, it's about the fit too. Loose or ill-fitting clothing that can snag or be tripped over is a huge hazard (especially for women, who still struggle with ill-fitting PPE).
7. Check for safety hazards. Finally, this may seem like a basic step but understanding which risks are inherent to your workplace is a crucial part of accident prevention. The same rules cannot be applied across the board. Stepping up inspections of sites and equipment is also a great way to keep track of potential dangers as well as areas of improvement.