Company wins gold in mining and natural resources category of Canada's Safest Employers awards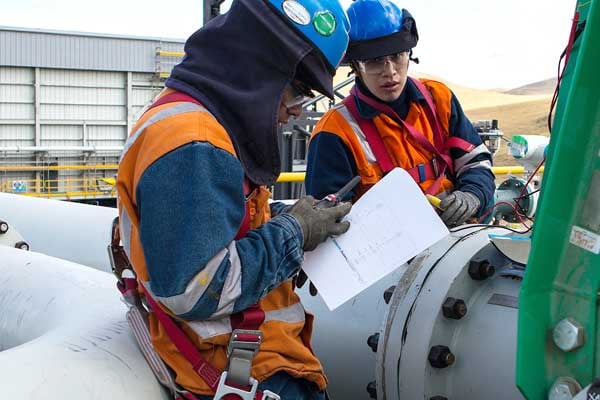 Whether they're working in South America, Mexico, Africa or Australia, Ausenco Engineering Canada's 380 employees follow consistent health and safety practices.
"They tend to travel around quite a lot," says Simon Cmrlec, president, Americas at Ausenco in Vancouver. "It's very important that our strategy provides a strong framework that takes this into account and allows for diversity and something that can really engage every single person in Ausenco, no matter where they're working and which legislation they are working under."
Ausenco's Zero Harm Safety Leadership program plays a key role in the company's global safety strategy. All employees participate in this two-day program where they complete a personal health and safety action plan.
One element of the program is Right to Start, which requires workers to assess their working conditions before each shift and "only accept safe plants, work systems and behaviours." Employees are given a hazard assessment booklet that outlines what to do if they determine it's not suitable to start work.
"The first thing we do is open up our Right to Start book and start going through the lists within there," says James Braund, manager, HSE North America at Ausenco. "It also triggers other risk assessments if they're not right to proceed."
Another element of the program is Courageous Conversations. Workers are empowered to talk about safety and to never walk past an unsafe situation without stepping in. The senior management team actively participates in these conversations so that employees know they can raise issues or concerns without blame.
"It takes away the stigma about having that hard conversation and it makes people realize it's OK to have a conversation about safety," Braund adds.
Ausenco executives make a point to regularly visit work sites to reinforce the company's Zero Harm vision. In fact, Cmrlec says this is one of his favourite parts of his job.
"As a leadership team, we have a responsibility to go and review our offices and sites and demonstrate through that this is really important to the company, it's not just words," he says. "We talk to people about their workplaces and what we can do to make them better and safer and more enjoyable places to work."
Every year, Ausenco hosts Health Week (in April) and Safe Work Week (in October), which include a wide range of events. During Health Week, for example, employees actively participated in a step challenge and logged a collective 10.6 million steps in 2016. For one Safe Work Week, the company made the investment to bring in high-profile motivational speakers who have been affected by industrial accidents.
The company also hosts R U OK? Day in September to raise awareness around mental health issues and encourage discussion amongst employees.
"It's so critical in our industry. Resources industries, in general, we have real issues with mental health," says Cmrlec, noting events like this help build a strong sense of community among the workforce.
No matter where employees are working around the globe, they follow Ausenco's Golden Rules of Safety that often far exceed regulatory requirements. These eight rules cover the biggest hazards employees face, such as excavation, lifting and driving, says Cmrlec.
"We talk about (the rules) all the time and anytime we have an incident where there's a breach of the rule, we talk about that pretty widely and we talk about the controls we put in place to try and make sure the same things don't happen again."