Vitacore's new respirator may be alternative to widely sought-after N95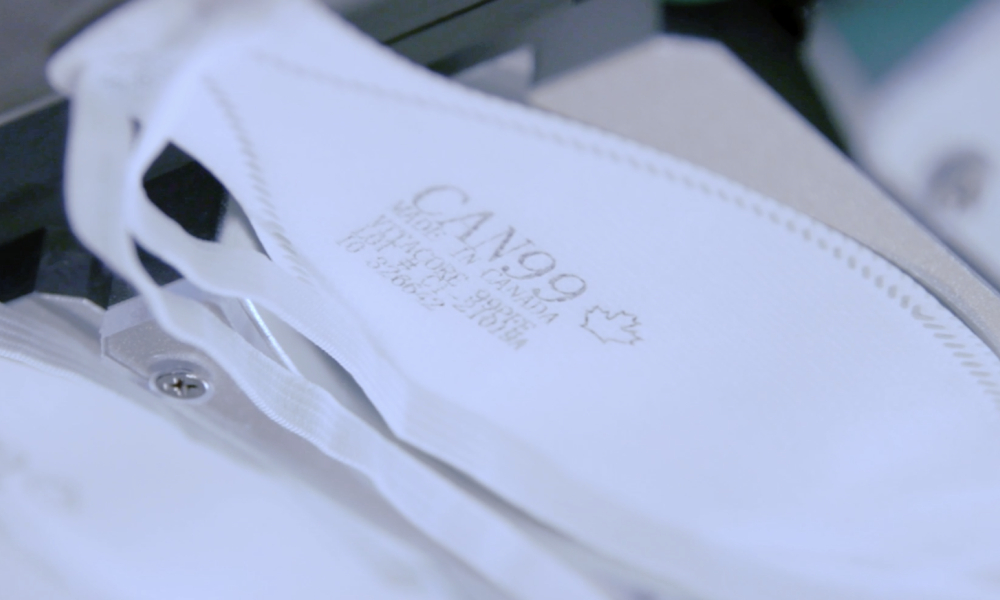 COS recently spoke with Mikhail Moore, President of B.C.-based company Vitacore Industries Inc., about the company's new CAN99 respirator and the product's development process.
"At the beginning of the pandemic, our company was really looking at ways of how we could benefit our frontline workers and solve problems related to the issues that they were facing."
One of the biggest problems at the onset of the pandemic was the lack of N95 respirators in Canada.
"It was difficult for [Canada] to be able to procure respirators and know that they were legitimate," he says. "So we set out to manufacture respirators locally within Canada, and worked closely with the National Research Council as well as McMaster University and the University of British Columbia to ensure a reliable national supply of medical-grade protection."
CAN95
This was the impetus for Vitacore to create its CAN95 respirator. Unfortunately, at the time, it was not eligible for NIOSH certification because it was produced in Canada. Moore says that during that time, NIOSH was prioritizing American companies due to the difficulties of the pandemic. So Vitacore had created a product, but couldn't get it tested.
Nevertheless, says Moore, "we worked very closely with the National Research Council, that actually put it through the exact same testing requirements and scrutiny that NIOSH would." Vitacore and the NRC then approached Health Canada with this issue and the need for a Canadian standard certification. Health Canada has since put a new set of criteria in place through Interim Orders – based on NIOSH standards – for certification of medical devices, including N95 equivalent respirators.
CAN99
With these difficulties out of the way, Vitacore has now created a new respirator – the CAN99.
In February 2021 Vitacore received Health Canada Authorization for its CAN99 respirator, becoming the first Canadian made N99 equivalent single-use respirator.
Moore says that, on top of the Health Canada certification, this new CAN99 has actually also been tested by the National Personal Protective Technology Laboratory (NPPTL), a division of NIOSH, who published results of the CAN99 under the international respirator assessment earlier this year.
"Our CAN99 was the first and only Canadian respirator tested," says Moore. "And we actually were one of only eight with 100 per cent filtration out of the over 500 that were tested." He also highlights that the CAN99 has excellent breathability as well.
The CAN99 is essentially an N99 equivalent respirator, says Moore. This means that it has greater than 99 per cent filtration at 85 litres per minute – which is a lot higher than average breathing.
When people talk about a 95 or a 99, this means that the respirator has 95 or 99 per cent filtration. Though only four per cent, it can really make a difference with regards to breathability. This is why the N95 (or CAN95) is usually preferred, because it offers better breathability and can thus be worn in the longer term.
"One of the biggest challenges we had with the CAN99 was actually making sure that we maintained a high degree of breathability," says Moore. He says that Vitacore was ultimately able to maintain that high level of filtration but also increase the breathability about 50 per cent over for its CAN99 respirator.
Frontline workers
Increasing respirator options for those on the frontlines is crucial.
Moore says that despite better access to respirators with 95 per cent filtration, frontline workers were still facing issues because a number of them do not fit very well on the user's face, and notably on female faces – a huge problem considering the number of women who work in healthcare.
"Depending on where you are in Canada, females represent the vast majority of healthcare workers – sometimes over 75 and 80 per cent in certain provinces," says Moore.
"One of the problems that we tried to solve with the CAN99 was having a respirator that would fit and seal properly on many different faces, specifically demographics within our healthcare workers."
He says that the CAN99 is made to fit as many faces as possible. Moore says that Vitacore research shows that the CAN99 fits around 87 per cent of faces with a single size, and it is working on another larger size to be able to fit the remaining percentage.
Post-pandemic
Moore says that Vitacore is also conscious of its ecological footprint, and is looking towards sustainable options for its mask (read more on that here).
All in all, these developments will not only benefit Canadians during the pandemic but will also be beneficial to a number of industries post-pandemic.
"Looking at industrial uses, at healthcare uses, we think respirators are going to continue to be used in those places for a very long time at a high frequency," says Moore. So it is important to "make sure that the individuals within those settings […] have a respirator that's highly breathable, comfortable, and one that they can wear for long periods of time."