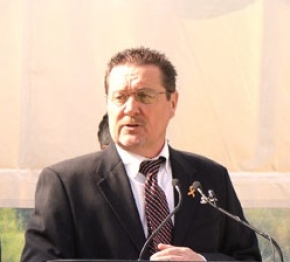 The opening day of the 16th annual Western Conference on Safety saw the announcement of a new WorkSafeBC initiative to document occupational diseases, as well as a keynote address that tackled the topic of preventing distractions that lead to unnecessary workplace injuries.
WorkSafeBC is developing an Occupational Disease Registry for reporting exposures in the workplace, president and CEO David Anderson told participants attending the 16th annual Western Conference on Safety this week in Vancouver.

"We are creating [the occupational disease registry] so employers and workers can register an exposure when it occurs," he said, adding that occupational disease in the province is up 21 per cent. "The registry will be kept and used as database for claims purposes."

Anderson was among the speakers at the opening ceremony of the 2011 Western Conference on Safety. He provided an overview of the province's injury statistics as well as an update on the various initiatives coming out of WorkSafeBC.

While the province has been making progress in the area of injury and occupational disease prevention, Anderson pointed out there is still much work to be done.

Citing asbestos exposure, he noted that "that kind of thing is still out there and those risks are not behind us. That's what the registry is for."

Anderson said the province reported a 65 per cent reduction in injury rate between 1990 and 2010, while serious injuries dropped 27 per cent from 2001 to 2010.

The kick-off event also featured a keynote address from Louis Francescutti, a professor with the School of Public Health, in the Department of Emergency Medicine, at the University of Alberta.

Franscescutti, an emergency physician, said distractions are ultimately the cause of many injuries. "People get injured because of distractions. The distractions that go on in people's lives are incredibly complicated."

Franscescutti also noted that approximately 14,000 Canadians die of injury every year. That's a staggering number, and one he feels isn't being paid enough attention.

"Fifty per cent of Canadians that die today, don't have to die," Francescutti said, adding that most injuries are preventable.

In an attempt to address changes that could help in preventing unnecessary workplace injurices, Franscescutti discussed some of the factors that put workers at risk of injury that are not getting enough attention and resources. Mental illness, for one, is a major cause of work absence. He noted that appoximately 500,000 workers are off sick in Canada each day due to some form of mental illness.

Substance abuse and fatigue are also among the major causes of injuries among workers. Like mental illness, Francescutti feels these topics often don't get the attention they deserve. "Mental illness, substance abuse and fatigue are the three things we should talk about if we want to prevent injury."

Francescutti also talked about cellphones as another major distraction for workers. He called legislation banning handheld devices but allowing hands-free use of cellphones while driving as "stupid."

"There's no difference between hands-free and handheld; it's the conversation (over the cellphone) that's the distraction. You're not paying attention to what's going on around you," Francescutti pointed out.

He warned that if employers don't impose a total cellphone ban among their workers, they will be held responsible and liable for any injury that may occur as a result — maybe not today, but "definitely someday."

The Western Conference on Safety is being held at the Hyatt Regency Vancouver on April 18 and 19. Close to 800 delegates are attending the conference this year, and about 76 vendors are exhibiting.