Fire torches other structures, cars nearby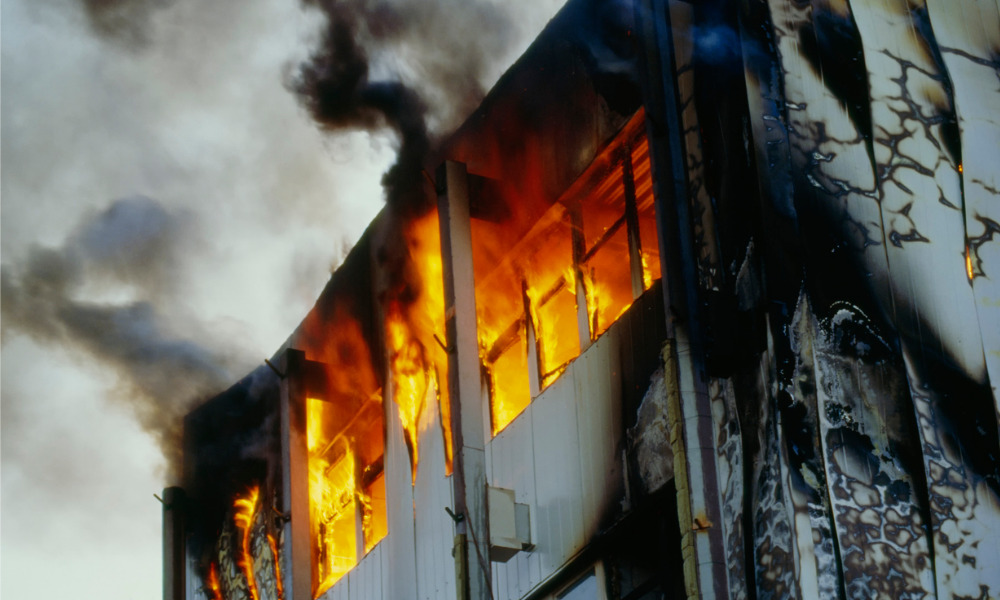 The blaze that happened at a condo building under construction in East Kildonan, Winnipeg in Manitoba highlights some of the risks involved with construction sites.
The incident took place on Jan. 31, when a four-storey condo building under construction at the corner of Kimberly Avenue and London Street "became an inferno," reported the Winnipeg Free Press.
The fire broke out at around 3:30 p.m. and flames also spread to the neighbouring East Kildonan Estates, comprising two condo buildings at 765 and 775 Kimberly Ave., and its parking garage. It engulfed the unfinished wood-framed complex, garage and all vehicles inside, according to the report.
The occupied Kimberly Avenue condo buildings also suffered extensive fire, water and smoke damage, and there were also vehicles that were burned down.
The cause of the fire is currently under investigation.
"Certainly any fire on a construction site is a pretty scary event and yesterday's was absolutely spectacular," said Ron Hambley, Winnipeg Construction Association president , according to a report from Global News. "To see something that involved that quickly was really quite something."
Recently, 1086289 Ontario Inc. o/a Urban Electrical Contractors was fined $85,000 after a worker suffered a critical injury. One worker was connecting electrical cables located in the main electrical switchboard at a construction site and an electrical explosion occurred, critically injuring the worker.
In a document released in March 2015, the University of the Fraser Valley School of Criminology & Criminal Justice noted that myriad risks exist at construction sites, including:
proximity of combustible materials to ignition sources (e.g. electrical equipment and hot work such as welding)
lack of completion of any built-in fire-safety systems such as sprinklers
absence of doors, finished walls and other separations that may slow fire spread
potential site security issue
"Typically on a construction site situation there can be multiple sources of heat, flame or spark — everything from welding to grinding to using solvents to using a torch to perhaps (thaw) something that was frozen," Hambley said, according to the Global News report.
"Particularly during construction, it's a risky period of time certainly and the building itself isn't protected by firewalls or fire barriers or fire-rated drywall or in some cases sprinklers — it's a vulnerable time for a structure."
Commercial insurance company Ecclesiastical Insurance Office had previously issued a similar statement.
"Simply put, for a fire to start and spread it needs an ignition source and fuel. Both are readily available on construction and demolition sites," it said. "As work progresses, there is always an accumulation of combustible material including lumber scraps, packing materials, and oil soaked rags. If these are not properly disposed of and are left to pile up, they can be easily ignited by something as simple as a spark from a piece of machinery or a discarded cigarette."
The University of the Fraser Valley School of Criminology & Criminal Justice also reminded workers that provincial Occupational Health and Safety regulations require the provision of a safe work environment.
"To properly implement and evaluate safety at their sites, employers should have a comprehensive policy that covers all levels of the company, from management to labour. Construction companies should emphasize the need for fire safety and create a mindset amongst all employees that fire safety is a top priority," it said.
One roofing company worker died and another was critically injured in a fire incident at a restaurant in Ontario in November 2021.