As recent tragic events have shown, police work is dangerous. Here's how officers can reduce risks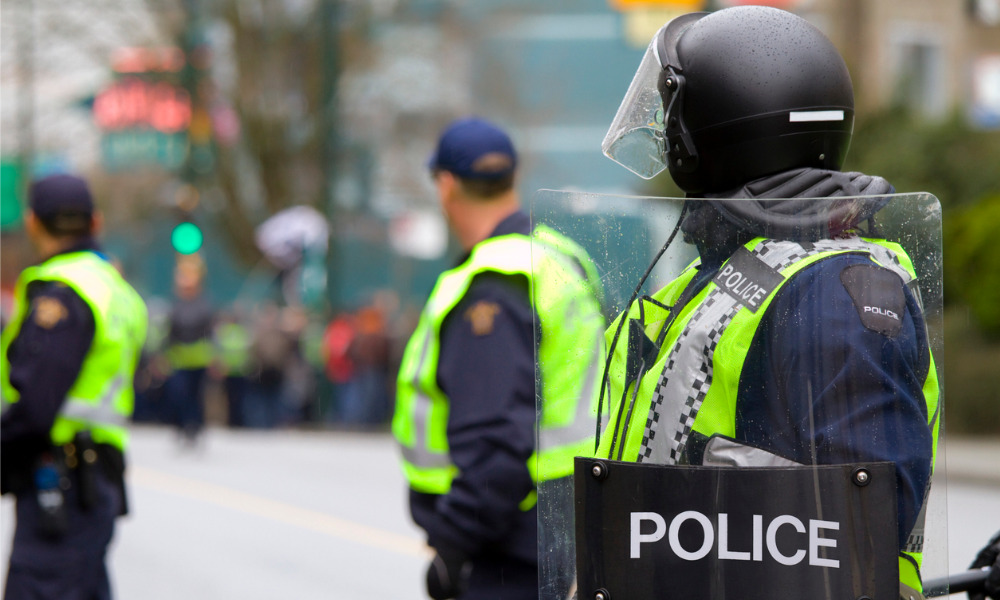 News media was abuzz last week with information about 40-year-old Sean Petrie killed Const. Andrew Hong at a coffee shop in Mississauga, Ont. According to reports, Hong went on a lunch break from a training exercise at work before he was killed.
Police work is full of dangers, even ones that do not reach this level.
Read more: Second victim in shooting was car repair business owner
Understanding the risks of being a police officer
Law enforcement officers are at risk when they respond to crimes, fire, violent situations and disasters, and investigate crimes and incidents.
According to the Canadian Centre for Occupational Health and Safety (CCOHS), these workers are at or from violent attacks, exposure to contagious and infectious diseases from people and animals, exposure to extreme weather conditions, psychological stress and workplace violence and harassment and harassment from the public.
Law enforcement officers also face health issues because of their job.
"When involved in stressful situations, such as dealing with suspect restraints, altercations, or chases, officers face approximately 30 to 70 times increased risk of sudden cardiac death compared to routine, nonemergency functions," according to the International Association of Chiefs of Police.
Also, mental health is a huge problem within the police force, with officers reporting depression, anxiety and post-traumatic stress disorder (PTSD). And more police officers die by suicide than in the line of duty, according to Walden University.
Read more: Mental distress rampant among physicians, says report
Safety tips for police officers
Here are some safety tips for police officers:
1. Do not be complacent. Complacency kills police officers, according to Drew W. Moldenhauer – who has 15 years of Law Enforcement experience with two police organizations in Minnesota.
"I remember making traffic stop after traffic stop and using good tactics and nothing ever bad happened. Until one time when I let my guard down and used poor tactics," he shared in the Blue Ethos Specialized Training website.
"I stopped an individual and causally walked up to the car thinking to myself this is just another routine traffic stop, when he opened his driver's door, hopped out and started screaming "just kill me".
"Thankfully, he did not have a weapon on him and I was able to deescalate the situation, but he definitely caught me by surprise and had the tactical advantage on me from my being complacent."
2. Apply the WIN (What's Important Now?) principle. Think through your choices as you go through your shift. Police work often requires adrenaline and fast action, but taking a second to evaluate a situation can be the difference between safety and harm.
3. Watch your speed. Police officers are exposed to the danger of driving at high speeds, often in difficult traffic or weather conditions, especially during a chase. When on the road, do not forget to drive safely.
Read more: Unsafe driving practices too common among Ontario drivers: Report
4. Exercise regularly to keep fit and reduce risk of injury. For the RCMP and other police agencies, physical fitness is a priority, especially for police officers who have fitness-for-duty requirements.
Exercising is also beneficial. According to the Center for Disease COntrol and Prevenetion (CDC), being physically active "can improve your brain health, help manage weight, reduce the risk of disease, strengthen bones and muscles, and improve your ability to do everyday activities."
5. Learn first aid training. As part of their emergency preparedness training, employees should know how to respond during an injury or illness situation, according to CCOHS, and workers must be aware of the procedures to be followed when first aid is required.
For police officers, being able to provide first aid to another officer who might have faced harm in the line of duty can be the difference between life and death.
6. Consider a debriefing session or counselling after a traumatic event. In June, WorkSafeNB said it is providing immediate treatment for workers who suffer from traumatic psychological injuries (TPI). The agency announced that its SUCCEED program will do these for workers applying for workers' compensation benefits, even before their application is adjudicated.
As mental health is a huge issue in the police force, mental health supports like these can help.
Read more: WorkSafeNB to provide immediate treatment for workers with traumatic psychological injury
7. Learn safe lifting techniques. Police work can be full unpredictable and police officers might be put in situations when they have to lift people or things here and there. Learning about safe lifting techniques can help them avoid injury.
"When employees use smart lifting practices, they are less likely to suffer from back sprains, muscle pulls, wrist injuries, elbow injuries, spinal injuries, and other injuries caused by lifting heavy objects," according to the University of North Carolina.
8. Follow or establish safety procedures for working alone, or for avoiding working alone wherever possible. Police officers might find themselves working alone at times, and a lone working policy can help them stay safe. A lone working safety policy establishes your organization's rules for employees who work by themselves with no close supervision, according to Blackline Safety.
"For a lone working policy to be effective, it should provide clear and simple guidance for safely working alone, the risks that employees may face, the process for coordinating an emergency response, the tools and processes your organization provides to protect the health and safety of lone workers, how incidents must be assessed and reported, and more," it said.