Hand sanitizer, disinfectant still most in-demand products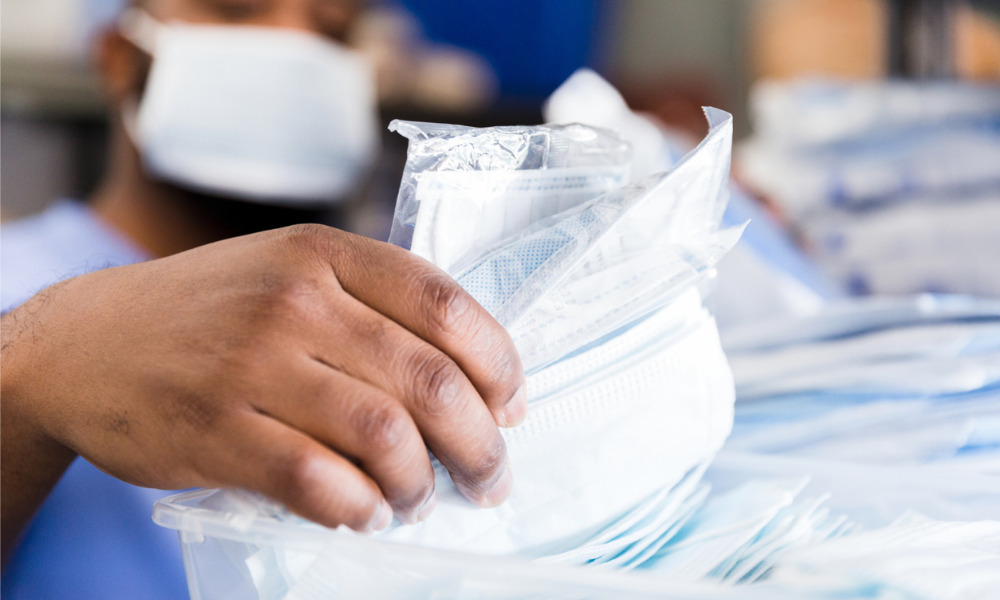 In May 2021, 60.6 per cent of businesses in Canada reported that they needed, or expected to need, PPE to operate in accordance with COVID-19-related public health guidelines, according to Statistics Canada (StatCan).
This is down from 66.1 per cent in February.
The demand for PPE is highest among those in educational services (87.3 per cent), health care and social assistance (82.1 per cent), accommodation and food services (82.0 per cent), manufacturing (78.1 per cent) and retail trade (74.2 per cent).
Meanwhile, the need is lowest among those in professional, scientific and technical services (41.6 per cent) and agriculture, forestry, fishing and hunting (35.3 per cent).
What products are in highest demand?
The most in-demand products are:
hand sanitizers (91.1 per cent)
disinfectants (75.1 per cent)
disinfectant wipes (63.8 per cent)
non-medical masks (54.4 per cent)
surgical masks (39.6 per cent)
non-medical gloves (39.1 per cent)
nitrile gloves (36.0 per cent)
eye goggles (28.5 per cent)
face shields (24.1 per cent)
Last week, several groups came together to launch World Mask Week 2021. Their message: "Masking in public, in combination with handwashing and physical distancing, is still one of the best ways we can protect ourselves and others against COVID-19."
No shortage
Among businesses in need of PPE 80.4 per cent indicated that they did not expect any shortages in any one type of PPE within the next three months.
This number is consistent with the data recorded in February.
Under one-fifth (19.6 per cent) of businesses that reported requiring at least one type of PPE to operate in accordance with public health guidelines had concerns about potential shortages of PPE within the next three months, down 0.3 percentage points from February 2021.
"This marked the fourth consecutive decline in the number of businesses expecting PPE shortages and was the lowest level since July 2020," according to StatCan.
Businesses in private health care and social assistance were most likely (16.6 per cent) to expect a shortage of any type of PPE they required, as was the case in February 2021.
Fewer businesses in the manufacturing, retail trade and wholesale trade sector (4.6 per cent) were involved in the manufacturing and distribution of PPE in May, down 3.8 percentage points compared with February 2021.