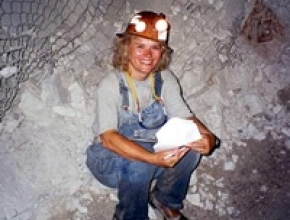 In observance of the American Society of Safety Engineers' 100th anniversary, the
Women in Safety Engineering (WISE)
advocacy group launched its
100 Women Project,
recognizing 100 women that have made or are making a difference in health and safety. One of the recipients of this recognition, Elaine Cullen, was a speaker at this week's ASSE conference in Chicago.
CHICAGO — Elaine Cullen grew up at a time when women weren't expected to go out into the world and make a career for themselves. She grew up in a world where girls were supposed to learn home economics and take up English literature so they can read to their kids one day.
But that culture did not stop Cullen from making a career for herself — and one that would have been dismissed then as a "man's job" and unsuitable for a woman's faint heart. For 38 years, Cullen made a living working in the mining industry.
"More than 98 per cent of people in mining were men," Cullen told attendees at the
American Society of Safety Engineers (ASSE) Professional Development Conference.
She said, the mining industry had a "culture that was hostile to women" and she was looked at as "just a researcher".
Thirty-eight years of Cullen's career were spent working at the now-defunct U.S. Bureau of Mines and then with the National Institute for Occupational Safety and Health (NIOSH). She said so much has changed for women since the 1800s when the British passed a law prohibiting women and children from working in the mines — not the least of which is the increased participation of women in the workplace.
In her session entitled,
Women in Safety: Gender Issues and Challenges over the Years,
Cullen gave a historical account of the evolution of women in the workplace and the challenges they faced trying to make a living in a male-dominated workforce.
"Women have always worked we just never got paid for it," Cullen noted. "But as paid people, it's a fairly recent development. In the 1800s England mined 80 per cent of coal used in the world. Five thousand of the 150,000 miners were women. It was brutal work but [women] had to work" to earn a living.
There was a culture shift that took place during the second World War, Cullen said, that opened up opportunities for women to participate in the workforce. In fact, their participation was encouraged by the government with the help of media as the men were sent off as soldiers in the war and work was left behind for women to take over. During the war, the women worked in factories and other occupations to keep the economy going and make a living for their family.
Occupational health and safety also took a dramatic turn as the first personal protective equipment for women were introduced, Cullen said. Wartime employers provided safety garments designed for women, daycare and night care for their children, transportation to work, and cafeterias so they didn't have to worry about feeding their family after a day's work.
"The women gained high paying jobs, independence, social support, a sense of patriotism, and camaraderie of working together for a common goal," Cullen said.
More women joining the workforce has been one of the biggest social phenomenon in the last 50 years. As a consequence of that, safety also became a profession that more women are going into.
In conjunction with the ASSE's 100th anniversary, the Women in Safety Engineering (WISE) group — an advocacy that promotes and helps women in the safety profession — is recognizing 100 women who have made a difference in occupational health and safety.
"The sky is the limit for you," Cullen told an audience full of women safety practitioners. "Safety is a growing field — one of the few that has a lot of growth potential — and it doesn't matter what it looks like, what matters is you can do the job."
WISE's 100 Women Project
was launched at the ASSE conference in this city.