'Teachers have the right to work in safe conditions'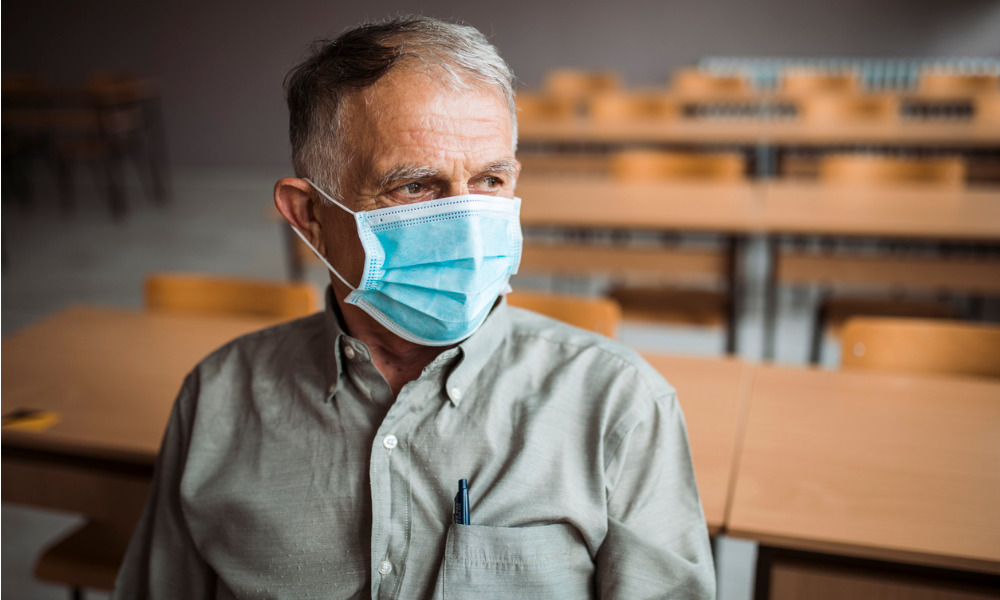 The federal government has invested $763.34 million in support for Ontario through the Safe Return to Class Fund to provide the funding they need as they work alongside local school boards to ensure the safety of students and staff members throughout the school year.
"As a former teacher and a parent, I know first-hand the importance of school for kids' social development and mental well-being, not to mention their ability to learn. The return to school is also an important step to restart our economy and get parents back to work while not worrying about the health of their children," said Prime Minister Justin Trudeau. "The Government of Canada will remain a close partner to provinces, territories, and First Nations as we work together to keep children, families, and all Canadians safe and healthy during this difficult time."
The fund will help Ontario by supporting adapted learning spaces, improved air ventilation, increased hand sanitization and hygiene and the purchase of PPE and cleaning supplies.
"Parents deserve a government that prioritizes the well-being of their children. Teachers have the right to work in safe conditions. And the health of Canadian youth must remain a vital concern for all of us," said Peter Fragiskatos, member of parliament for London North Centre. "While education is not a federal area of jurisdiction, COVID-19 continues to impact our communities and unconventional policy response are required to confront it. Today's announcement is a clear sign of how much the federal government cares about assisting families, teachers and students. We will continue to be there for Canadians throughout this challenging time."
Funding will be provided to Ontario in two installments, with a first disbursement in fall 2020 and additional funding available for early 2021, to ensure that Ontario has support for the whole school year, according to the government.
Other provinces and territories will also benefit from the funding. The funding by province and territory will be allocated based on the number of children aged between four and 18 years old, with a $2 million base amount provided to each jurisdiction. Maximum total allocation by province and territory is:
Alberta: $262.84 million
British Columbia: $242.36 million
Manitoba: $85.41 million
New Brunswick: $39.79 million
Newfoundland and Labrador: $26.18 million
Northwest Territories: $4.85 million
Nova Scotia: $47.88 million
Nunavut: $5.75 million
Ontario: $763.34 million
Prince Edward Island: $10.39 million
Quebec: $432.15 million
Saskatchewan: $74.90 million
Yukon: $4.16 million
The Safe Return to Class Fund is in addition to the more than $19 billion previously announced for the Safe Restart Agreement to help provinces and territories safely restart their economies. This agreement included funding to increase testing and contact tracing of the virus, support vulnerable Canadians, ensure the availability of safe child care, and provide income support for people who do not have paid sick leave so all Canadians can stay healthy, according to the government.
Post-secondary
Since the beginning of the COVID-19 outbreak, the Ontario government has partnered with post-secondary institutions to help establish best practices for in-person teaching. This includes COVID-19 testing for students who are in quarantine as a result of travel outside of Canada immediately before classes start.
The province is also helping the post-secondary sector meet federal requirements for international students, including ensuring that quarantine and outbreak management plans are in place.
"Post-secondary institutions have carefully considered and developed plans to welcome students this fall, delivering programs in-class, online, and through hybrid models," said Ross Romano, minister of colleges and universities. "We have heard from our post-secondary partners about the challenges and opportunities involved with a safe return to campus, and we are building on the experience of the limited in-class summer reopening pilot programs. I want to thank our post-secondary institutions for their efforts to ensure all the necessary health and safety measures are in place for the fall."
Alberta, Saskatchewan, Yukon and other provinces have also announced plans for safe reopening schools.
Meanwhile, Unifor school bus driver members are calling on the Ontario government to implement standardized COVID-19 safety protocols to protect both themselves and the students on board.