How a deadly bridge collapse triggered a movement to provide better protection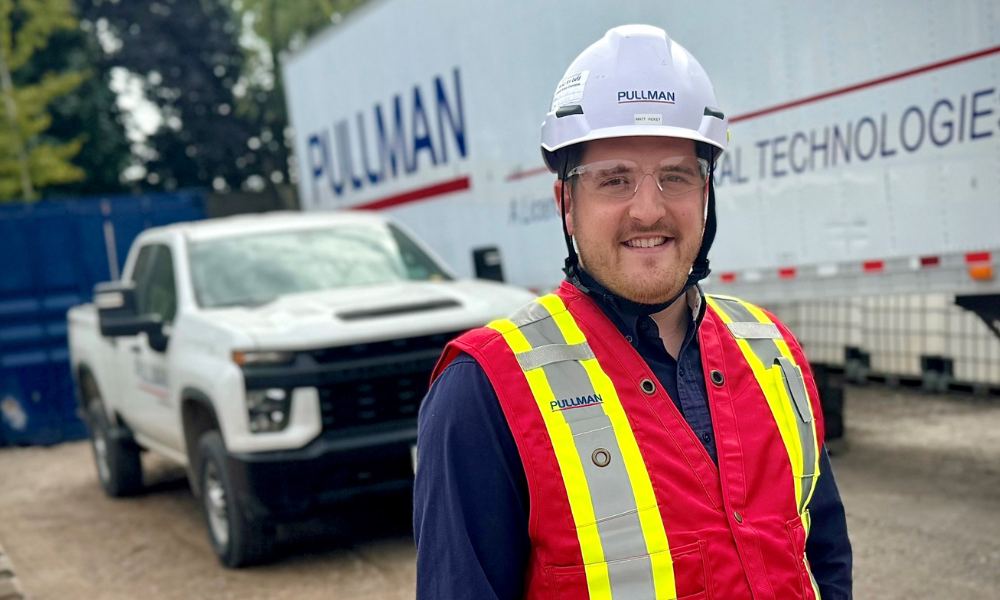 On March 15, 2018, a pedestrian bridge collapsed in Miami, Florida killing six people and injuring ten others. 37-year-old Navaro Brown was a worker who died. He was an employee of Structural Technologies VSL. Another one of their employees suffered a traumatic brain injury.
Ever since then, the construction company has been on a mission to change the way construction workers protect their heads. "This was a very large problem for the company…we lost a team member to something that in our eyes may have been preventable," says Matthew Hickey, branch director at PULLMAN Services, which is a licensee of Structural Technologies.
Hickey is now leading the charge in Canada for the company's 'Hard Hats to Helmets' initiative. "The hard hat is one of the very few items that is required all the time on all job sites throughout Canada, and arguably is protecting our biggest investment, which is our head and our brains," explains Hickey.
In the Miami bridge collapse, Hickey says the difference in headwear was stark – those who wore construction helmets survived with minimal injuries, while those in traditional hard hats were more severely hurt.
Hickey points out that while other forms of personal protective equipment (PPE), such as fall protection gear and safety glasses, have evolved significantly over the years, hard hats have seen little innovation over the decades. Meanwhile, traumatic brain injuries have accounted for 25% of construction-related fatalities.
"A lot of times these traumatic brain injuries are not from things that you would think," explains Hickey, who says a hard hat doesn't necessarily protect the head from slips, trips, and falls, or from an object striking the head horizontally. "The construction helmet is a much more holistic form of head protection that better aligns with all other industries outside of construction," claims Hickey.
"Our calling is to try and go to the industry and really save lives and prevent this from happening to somebody else," Hickey said, highlighting how the bridge collapse compelled the industry to rethink its safety standards.
The 'Hard Hats to Helmets' initiative started as a grassroots movement in the United States, involving various industry partners, general contractors, and subcontractors. Over the past five years, it has gained momentum, with major players in the construction industry adopting construction helmets. Large contractors now require their subcontractors to use these upgraded helmets, creating a ripple effect for change.
In Canada, the transition to construction helmets is gaining momentum, with several major contractors making the switch. EllisDon, Tuner, and Clark Construction are among the companies that have embraced helmets.
"It's a simple change to make," says Hickey, and one that can save lives immediately.