Industry expert explains how companies can protect staff as extreme wildfires set deadly records across Canada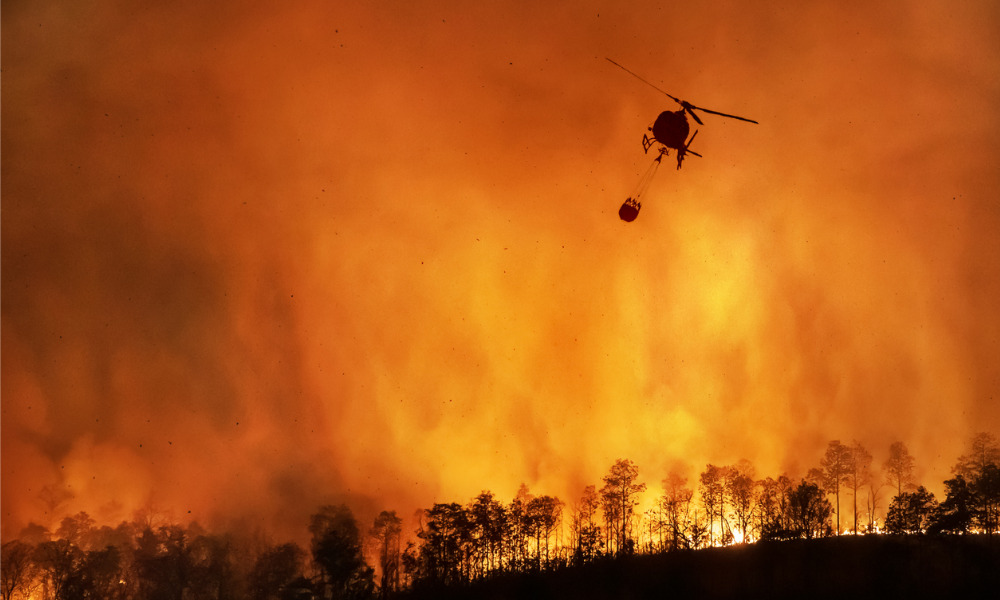 In a brutal show of strength, natural disasters have been plaguing North America for the last few months.
The year's hurricane season has been wreaking havoc, with a devastating earthquake in Haiti – the deadliest of 2021 so far – as well as torrential rain from Hurricane Grace, and the current Hurricane Ida making its way along the Eastern Seaboard to Atlantic Canada.
Alongside these disasters, wildfires have been burning for months amid sweltering heat conditions in Western U.S. and Canada. Now, these fires have arrived East.
And while wildfires are typically more common in Alberta and B.C., there has been a surge in wildfires in Ontario. Environment Canada estimates that there have been over 1,000 wildfires in the province since April alone – double the 10 year average.
Wildfires have also been an issue in various countries around the world, including Turkey, Greece and Algeria – and are more than likely linked to climate change.
Air pollutants
Alongside the threat of the fire itself, air quality has been a huge concern.
"Wildfires can cause large temporary increases in outdoor airborne particles and gaseous air pollutants such as carbon monoxide, nitrogen dioxide, formaldehyde, and acetaldehyde. There can be immediate irritation to eyes and the respiratory tract," says Tim Turney, Global Marketing Manager, Casella – a manufacturer of air monitoring equipment.
Indeed, the particulate matter found in the smoke is very fine (PM2.5) and will deposit deep in the lung airways, resulting in adverse effects on respiratory, cardiovascular and neurological health.
Turney explains that the smoke can stay in the atmosphere for days, weeks or even months and is capable of travelling vast distances.
"In fact," he says, "the composition of the hazard changes with distance and therefore so does the health risk. As a result, the smoke not only poses an imminent risk to those in the area and beyond, but a long-term health risk for others in the form of air pollution."
Ensuring optimal quality
Air quality has caused a lot of concern for businesses and organizations on East and West coasts alike. So what can employers do to ensure optimal air quality amid this prolonged wildfire season?
"Although organizations cannot 'cure' the air, having localized and frequent readings can aid decision-making that protects health and safety.
For example, if particulate levels are hazardous, employers can send outdoor workers home or advise a vulnerable person to work inside. Keeping windows and doors closed and air conditioning filters clean will help to improve indoor air quality," says Turney.
There are a number of tools that can help organizations better monitor air quality data.
"Accurate air quality data is crucial as wildfire smoke can dissipate to a level where it is not visible in the air, but particulate levels are still high," says Turney.
In the same vein, monitoring air quality can help achieve early detection of air contaminants, helping to reduce the exposure to those in the area and surrounding communities.
"Organizations should consider their unique environment," says Turney. "Monitoring air quality requires one or several pieces of equipment, depending on the size of the area being monitored."
Clean spaces
And outside of air quality, what should employers consider?
For workers indoors, creating 'clean spaces' can be of great benefit, says Turney. These would be areas where workers can work that contains filter air safe from outdoor pollutants.
In addition, he says that awareness and training are also important. For example, for employees working outdoors, "a simple face covering won't be adequate to protect against inhalation. An N95 mask, or better, is needed. Of course, this also has to be fitted properly or it will be of little help."