'The pandemic generates a new demand for fully customizable services adapted to evolving risks and challenges'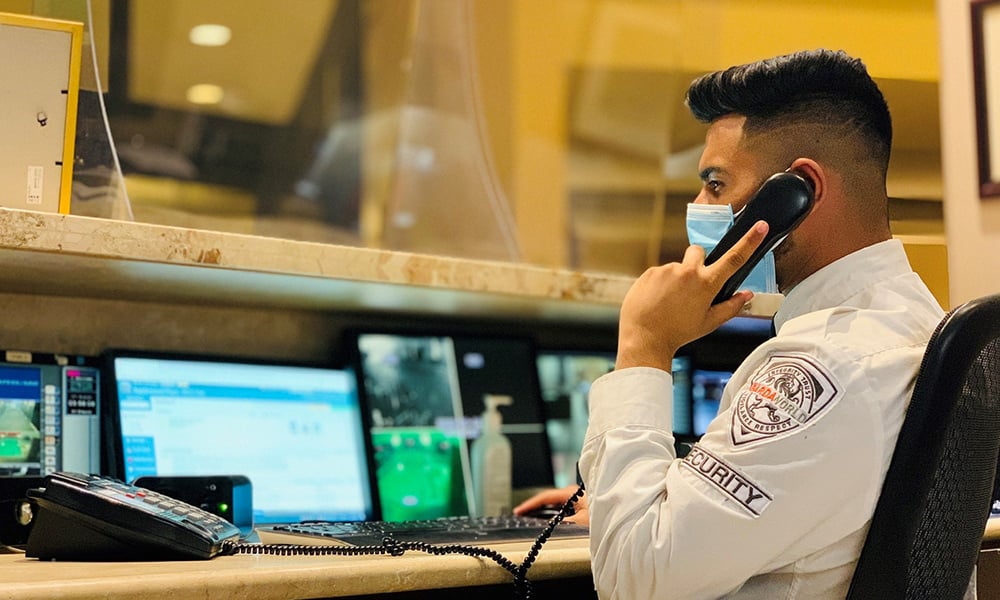 Think of how much has changed over the course of the past four months. Canadians faced a lockdown period where isolation and other mental health challenges peaked. Social distancing, facial coverings and gatherings of various natures continue to be a hot topic of conversation. Businesses and the public are transitioning to a new reality; a reality that continues to shift.
"In times like these, we see that different provinces are at completely different pandemic recovery stages. Some provinces seem to be on the verge of returning to normal life while others must increase their efforts to implement the best health and safety practices, for a safe return to work of their employees" comments Mathieu Dupuis, National Health & Safety Advisor at GardaWorld.
Evolving Infection Prevention Solutions
Throughout the pandemic, we have seen new and unique risks bring forth an additional need for infection prevention solutions and other pandemic response support. At GardaWorld, internal subject experts meticulously developed a suite of services tailored to combatting the effects of this pandemic on local businesses, workers, and customers.
GardaWorld consultants know that effective infection prevention requires changes both outside and inside facilities. Our security guards, concierges and customer service agents are trained to enforce a 360-degree pandemic risk mitigation approach at client sites.
Starting with client premises, we encourage stricter access control measures. Entry and exit point services such as infection symptom screening via health and safety questionnaire, occupancy counting, hand sanitizing stations and face mask distribution are strategic ways to protect people and the infrastructure from the spread of COVID-19. This service complement was previously uncommon, borderline non-existent, outside healthcare facilities and other sensitive environments.
Various protection methods are also required once inside the facility. Depending on the business size and visitor frequency, different measures form the integrity of a proposed risk management plan. Clients are urged to consider if the following are applicable to their place of business:
Patrolling to ensure social distancing regulations are respected
Managing employee, visitor, and/or customer traffic within lobbies and common areas to reinforce building-specific protocols
Implementing hygiene best practices (handwashing, surface sanitization)
Promoting health and safety awareness using relevant signage and floor markings
Security professionals now provide these services, where applicable, to physically deter infection at client sites across Canada.
Incorporating Technology and Enhancing Protection
In the spring of 2020, health authorities began educating Canadians on common COVID-19 symptoms. As a result, there was an increase in demand for fever-screening technology to lower the risk of infection.
In response, GardaWorld developed an entire range of thermal (or infra-red) products to further service clients from a technology standpoint. Our thermal fever detection camera products include:
Hand-held infrared thermometer: Our most compact and portable solution, the no-contact thermometer can be used in virtually any setting requiring a temperature scan of passing individuals.
High-volume temperature scanner: This system comprises a tripod-mounted camera and a separate, tripod-mounted accuracy calibrator. It reads temperatures of multiple subjects simultaneously, making it the ideal solution for high-traffic areas.
Temperature scanner with facial recognition: This tablet can be used for both temperature screening and facial recognition to control access and prevent infected individuals from entering a building.
Walk-through temperature scanning gate: The gate detects both elevated temperatures and metal contraband, simultaneously.
The incorporation of this type of technology is merely one piece of the pandemic response solutions suite. It complements the presence of physical human risk controls and offers a much-needed support in times of high infection rates, as seen over the past few months, notably in Quebec and Ontario.
Advancing Remote Hiring, Onboarding and Training Services
Another change brought on by the pandemic was the movement toward a remote employment style where many businesses began allowing staff to complete their work from home.
TalentWorld has the technology in place to help Canadian businesses transition to a remote workforce, the processes to make it seamless, and experts in change management who will guide employers every step of the way.
Businesses understandably have limited cash flow during the pandemic. TalentWorld experts adapted existing solutions to help with the labour-intensive prequalification and testing portion of the recruitment cycle at a fraction of the cost. The service offers innovative technology that allows our experts to extend service to include remote interview and testing as well as onboarding and training in a virtual landscape. The goal is to continuously keep operations flowing during these strained times.
Looking to the Future
The pandemic generates a new demand for fully customizable services adapted to evolving risks and challenges. As a Canadian-founded company with a global footprint, GardaWorld is a trusted partner for organizations located coast-to-coast looking for security and business continuity solutions.
While the future of the pandemic remains uncertain, GardaWorld can be a pillar of support during these unprecedented times. Canadians have been cautiously advised to keep the potential for a second wave of infection on the radar. In the coming months, it will remain crucial that compliant pandemic response efforts come from all angles. Business owners, employees and customers all need to adopt the latest precautionary measures as released by health authorities and service providers to effectively combat COVID-19 and keep Canadians safe.
Mathieu Dupuis adds, "Our collective efforts are what will help get Canada back on its feet."
Learn more about GardaWorld's pandemic response solutions in Canada.