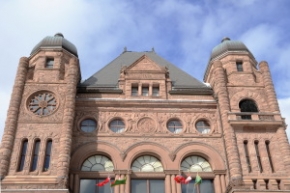 The new program recently implemented by Ontario's workers' compensation board to ensure early and safe return for injured workers is taking the flak from critics at Queen's Park, but the WSIB says some of the statements made at Question Perio were inaccurate.
The Workplace Safety and Insurance Board's new
Work Reintegration Program
is stirring up controversy at Queen's Park as questions about retraining of injured workers came up during Question Period on Monday.
Paul Miller, MPP for Hamilton East-Stoney Creek, questioned the WSIB's new program saying it brings up the same problems as the Labour Market Re-entry program — which has been replaced by the Work Reintegration Program.
"The WSIB planned and implemented its new program, then decided to hold public consultations on it completely counter to normal practice and basic sense," Miller said.
In statement, however, the WSIB refuted Miller's claim saying that consultations were held prior to the implementation of the Work Reintegration Program.
"In fact, the WSIB did extensive consultation with Ontario workers, employers and their representatives before the Work Reintegration program was developed. The WSIB considered feedback gathered from the 2008 Morneau Sobeco report on Experience Rating, the 2009 KPMG Value for Money Audit, and the results of Chair Steve Mahoney's 2009 Stakeholder Consultation sessions," the statement said.
The WSIB also consulted with the Ontario Network of Injured Worker Groups and the Canadian Federation of Independent Business.
The agency is currently reviewing submissions and recommendations from worker and employer groups as part of the policy consultation process, which will be considered for when the WSIB finalizes the policies around the Work Reintegration program, the WSIB said.
Miller also made reference to injured workers being retrained only to Grade 9 level, which the WSIB countered.
According to the WSIB statement, the agency has forged an agreement with 24 Ontario community colleges to provide upgrading, when required, beyond grade 9, as well as certificate and diploma programs. "Any academic upgrading or training is provided to help the worker achieve the vocational goals set out in an individualized Work Transition plan. These plans are developed with the worker's participation and input."
The WSIB's new Work Reintegration Program provides policies relating to early and safe return to work of injured workers.