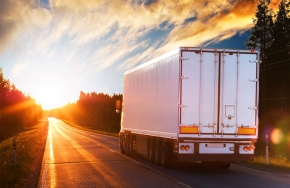 The Manitoba Trucking Association announced it will establish a safety association to help reduce worker injury and illness in the province's commercial transportation industry. The new safety association will focus its efforts on prevention in partnership with SAFE Work Manitoba.
"We recognize the significant contribution that safety associations make to their industries," said Minister of Labour and Immigration Erna Braun. "I applaud the Manitoba Trucking Association on taking this important step to enhance the safety and health of its industry members."

The new safety association will promote sound safety and health practices, and provide leadership in advancing a culture of safety in the trucking industry. It will develop and deliver safety and health training, programs and services for trucking companies.

Jamie Hall, COO of SAFE Work Manitoba, encouraged other industries to follow the example set by the Manitoba Trucking Association.

"We'd like to see all Manitoba businesses and all workers have access to the many positive benefits safety associations bring," he said. "As these associations work to keep their members safe, they also give companies an opportunity to reduce their costs. We're here to support any industry that would like to form an association."

Each year, about 1,100 people are injured in Manitoba's trucking industry. As well as taking a tremendous human toll, these injuries create an estimated $90 million annually in direct and indirect costs to the industry.

Terry Shaw, executive director of the Manitoba Trucking Association, said he is thrilled that industry-specific safety programming and education will soon be available to more industry members. Development of a safety program has been a long-term goal, he added.