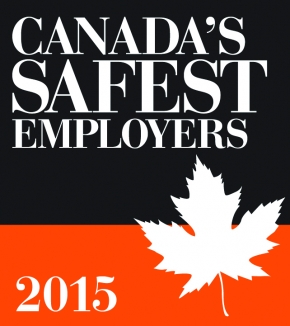 Do you work for one of Canada's safest employers? If so, we want to hear from you.
Canada's Safest Employers Awards recognize Canadian employers from coast to coast that are raising the bar for occupational health and safety. If your company demonstrates exceptional safety leadership, innovation, employee engagement, training and wellness (to name a few), consider nominating it for this prestigious award.
Award categories:
• Building and Construction
• Health Care
• Mining and Natural Resources
• Transportation
• Hospitality
• Manufacturing
• Oil and Gas
• Public Sector / Non-profit
• Retail and Services
• Utilities and Electrical
Additional awards:
• Wellness
• Psychological safety
• Young Worker Safety Award
- NEW!
To be handed out to a deserving company that has exceptional programs in place for keeping workers under age 25 safe on the job.
• Canada's Best Health + Safety Culture Award
- NEW!
The top award of them all! This award recognizes an employer that exceeds traditional health and safety practices by its impact on a broader community dimension beyond their workplaces. (More information coming soon).
Visit
www.safestemployers.com
for the nomination forms and more information.
Deadline to apply: June 1