Workplaces need to keep best practices top of mind amid ongoing pandemic, says safety specialist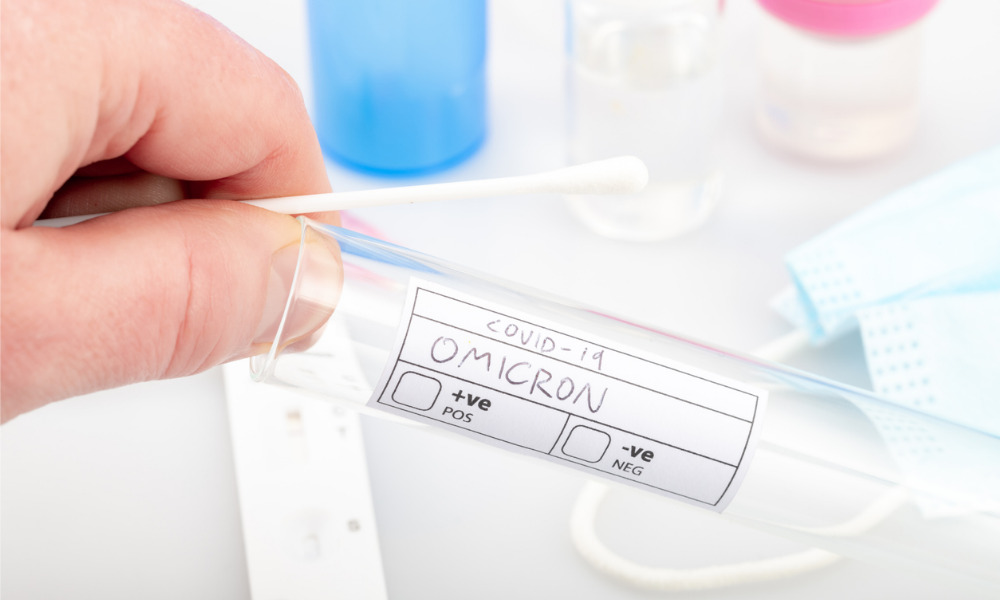 With the Omicron variant now circulating in Canada, employers need to make sure that they are still keeping COVID safety top of mind.
"New variants keep emerging," says Andrea Jacob, "employers and workers shouldn't let their guard down."
Jacob is an occupational health and safety specialist with the Canadian Centre for Occupational Health and Safety (CCOHS).
As the pandemic continues to be a reality for Canadian workers, employers should not let 'pandemic fatigue' set in.
"It can be difficult for employers," says Jacobs, workers and employers are experiencing the stress factors from the pandemic.
"The first thing is to be able to recognize the signs of pandemic fatigue, [employers] might see people letting their guard down, being less careful in following the control measures […] they might start showing symptoms of burnout, mental health concerns and even impairments," she says.
Employers need to keep in mind best practices to follow to ensure that workers are safe from the threat of the virus.
At the top of the list of best practices, workplaces should follow the guidance of their local public health authority – but be prepared to adapt to whatever the current situation is bringing.
"Have a COVID-19 safety plan and a business continuity plan ready," says Jacobs, "and identify the COVID-19 exposure risks for your unique workplace."
This means doing a risk assessment for COVID, which includes identifying how, when and where your workers could be exposed:
"And then use all of these control measures and a layered approach. No single control measure alone protects 100 per cent against COVID-19, so use different control measures at the same time," says Jacobs.
This includes things such as physical distancing, good hand hygiene and respiratory etiquette, wearing a mask that is well made and fits properly, good indoor ventilation, a cleaning and disinfection program, promoting vaccinations, using contact tracing apps, etc.
"The final cap on the whole program is making sure you're communicating with your workers and supporting them through all of these changes," says Jacobs. "There's been a lot of frequent changes and uncertainty during the pandemic. So it's important to help everyone move through it together."
Employers also need to make sure the information they are receiving is accurate and current, and coming from truest sources:
"Communicate the current situation and the safety plan, which will help reduce some uncertainty in the workers as to what is going on," she says.
Says Jacobs:
"No matter what the name of the variant is, it's still COVID. So continue to use the toolkit. It might ebb and flow, control measures might be eased and then put back again, so really the key point is to be prepared and have a plan."
For those still working from home, "the employer is still responsible for the health and safety of workers while they are [teleworking."
And those working from home are still exposed to the threat of COVID-19, through exposures from other household members or the surrounding community.
In addition, ergonomic injuries are possible, says Jacobs, recommending that employers train their workers to recognize early signs of potential ergonomic issues.
She also advises employers to "keep an eye out for signs of mental health burnout, and even domestic violence. There has been a noted rise [during the pandemic."
To help with employee mental health, says Jacobs, employers should acknowledge the obvious pandemic difficulties and frustrations that we are all experiencing.
Employers and workers need to work together to recognize these hazards and avoid them.
Additionally, employers can provide ergonomic assessments for home workstations, and can offer mental health and wellness support programs as well as frequent check-ins.
Ultimately, says Jacobs:
"The pandemic isn't over, and it does come in waves. So these controls might be eased, and then increased again by public health – and the workplace needs to follow along and respond to that.
Lead by example, show the workers that you're taking the pandemic and their safety seriously. Do your best to try to keep morale up and show appreciation."