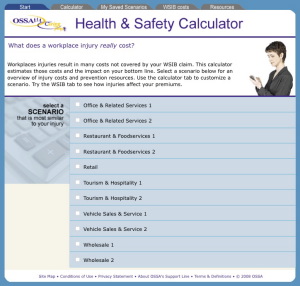 Following announcement by the Institute for Work and Health about the spring release of its
Health and Safety Planner
, the
Ontario Service Safety Alliance
says it has a relative tool already available online. Dubbed the Health and Safety Calculator, the tool is modeled to adhere to the service sector and calculate the costs of a workplace injury to a company.
Kim Grant, manager of research and product development at the Ontario Service Safety Alliance told
COS
in an email that the calculator helps safety managers build a business case for safety.
"The calculator is designed to help businesses evaluate the total cost of an injury in the workplace and have a better understanding of how an injury impacts their bottom-line." Grant said.
The calculator assists those in the office, restaurant, retail, tourism, vehicle and wholesale industries in understanding the costs associated with a workplace injury. It takes into account both the direct costs — such as premium costs and fines — as well as the indirect costs — such as re-training and time spent investigating an accident, Grant said.
Grant explained, "People are always wanting information to provide the business case to senior executives, there are many variables in assessing the full effect of a workplace injury. The calculator is a tool that provides awareness and information about the magnitude of the costs, and opens the avenue for discussion about the costs."
With the calculator you can choose an example scenario — or create your own — to find out how much a certain injury can cost your business. Scenarios can be saved and stored for future use. Each scenario has two subsections, Injury and Recovery costs. These costs are tallied in detail and are accurate.
"The scenarios were vetted by a committee of subject matter experts that work with, or in, businesses in the various sectors (retail, office, etc) and are based on common hazards or accidents. So, I would assume that they accurately reflect the businesses." Grant said.
The calculator informs the user of costs not covered by a Workplace Safety and Insurance Board claim, and how much injuries affect an employer's WSIB premiums. This allows companies to foresee the financial dangers a serious injury can cause before they actually happen.
The Health and Safety Calculator is available at
www.ossa.com/SafetyCalculator/