Toronto researchers test boots in specially made lab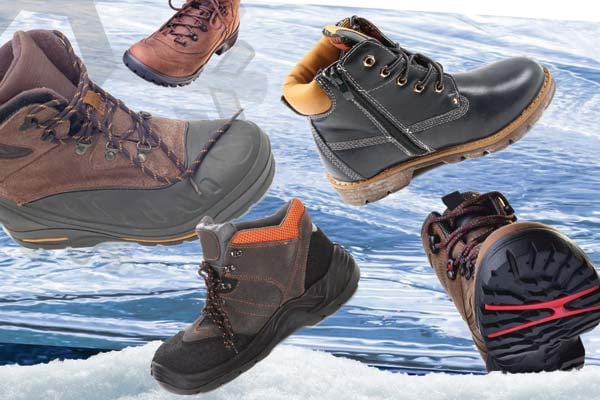 One weekend in 2017, after freezing rain had left Winnipeg's sidewalks and roads covered in ice, more than 200 people ended up in emergency departments across the city with slip and fall injuries. The most common injuries were wrist fractures, ankle injuries and hip fractures, while 60 people required emergency surgeries.
Serious injuries caused by slips on ice are very common. From 2011-16, the average annual number of hospitalizations for these slips in Saskatchewan (the highest number among the 10 provinces) was 43.4 per 100,000 residents. Alberta, the next highest, had 42.3 per 100,000 population, followed by New Brunswick at 39.3.
Despite the frequency and seriousness of injuries caused by slips on ice, little work had been done to improve the slip-resistance of winter footwear. However, a few years ago, scientists at the Toronto Rehabilitation Institute (TRI), part of the University Health Network, launched a project to test casual and work boots for their 
ability to stop slips and falls in winter. Since then, the "snowflake" rating system has tested and rated hundreds of winter boots, and has attracted enormous amounts of attention from consumers, manufacturers 
and employers.
"This has been a very intractable problem. Falls just kept increasing, and it looks as though this (project) is making a big difference," says Geoff Fernie, senior scientist at the TRI and faculty member at the University of Toronto.

HOW DOES IT WORK?
Testing takes place in the WinterLab, a specially built laboratory that resembles a huge ice box and sits on a platform that can be tilted to produce different angles. The team of researchers can create different winter conditions in the lab, variously covering the floor with wet ice, dry ice or powdered ice with snow and ice shavings. To test each boot, a volunteer, wearing a harness to prevent them from hitting the floor, walks up and down on real ice as an operator gradually increases the angle of the slope until the volunteer slips.
Testing is done on dry, cold ice and on wet ice because, Fernie says, the performance of footwear varies dramatically depending on whether the ice is just beginning to melt, when the sun shines during the day or whether it's really cold and hard. The two kinds of ice require different kinds of footwear.
Several volunteers try out each boot. Researchers record the steepest angle at which the volunteer remains upright in each of the different icy conditions. That becomes the "best angle" for the performance of the boot. From the various best angles for each boot, the lowest number is selected for the snowflake ratings because, as Fernie says, they want to have the safest results possible.
"We express the performance of the shoe in what we call the MAA, the maximum achievable angle. And, because putting a number, an angle, on the screen is hard for consumers to remember, we simply invented a 'snowflake' scale. Just the same as a restaurant has stars, we have snowflakes," he says.
TRI set up a three-snowflake scale, with the minimum at seven degrees: 
To get one snowflake, a boot must perform on a seven-degree slope consistently, in both wet and dry conditions, going up and down. The seven-degree angle was chosen because it is commonly used in building. It is the angle of wheelchair ramps that lead from the sidewalk to the road, for example.
If a boot continues to grip at an angle of 11 degrees or more, it gets two snowflakes; if it grips at 15 degrees or more, it gets three snowflakes.
While the concept of the testing may be simple, the results are meaningful, Fernie says. In large part, that's because the testing is human-based. Most personal protective equipment (PPE) is tested on machines, but winter boots in the snowflake testing are worn by actual humans.
"The previous kind of testing that's used in a limited way is to set up a kind of robotic machine that either drags feet or takes a pace on the ice. It gives you consistent results, but it's not sensitive to changes that you can experience as people walk," he says. "But we found this testing to be reliable and useful in giving you a realistic understanding of how well the boot is performing."
Results of the first test were published in November 2016 on RateMyTreads.com. Out of about 100 boots tested, only 10 achieved one snowflake. No make of boot got more than that.
RateMyTreads.com is updated regularly. Boots that rate no snowflake, and those that are between one and two snowflakes, are now also listed on the website, along with the angles they achieved.
Research at the TRI is supported by grants and by donations to the institute's foundation. They are now charging companies for testing.
Two classes of materials have consistently scored within the top 10 in the snowflake slip-resistance ratings, says Iain Summers, vice-president of innovation and footwear at Calgary-based Mark's. Green Diamond, invented for the tire industry in Iceland, contains fine synthetic quartz or crystals that scratch the surface of the ice. It works best on cold, hard ice and is usually less effective on wet, soft ice.
"The secret of Green Diamond is not the crystals or quartz, but the binding agent that they treat those crystals in and that then attaches itself to the rubber, so it's throughout the rubber. As you wear down the rubber, the quartz or crystals fall out, but new ones come to the surface because they're mixed through the rubber," Summers says.
The second top-scoring material, Arctic Grip, was developed by Vibram Corporation, based in Albizzate, Italy, and works best on wet ice. Arctic Grip has a gritty texture and is essentially fibreglass filings or shavings, which appear as blue flecks, mixed into a synthetic rubber compound. As with Green Diamond, the slip-resistant filler is distributed throughout the entire outsole.
"Arctic Grip works better in Eastern Canada than in Western Canada because our climate here (in Calgary) is extremely dry, compared with Eastern Canada," Summers says.
The same slip-resistant filler is used in Arctic Grip Pro boots, an industrial safety boot. A fire-retardant version of this boot is manufactured to meet NFPA performance standards and is designed for use by firefighters who deal with slippery outdoor conditions in winter, says Bill Ells, Vibram's vice-president of sales, who is based in North Brookfield, Mass.
"You get those nights where the ice is melting during the day and freezing during the night," he says. Stepping out of the rig and onto wet ice is the cause of many serious falls for firefighters, so the idea is to minimize that, he adds.
The publication of the first snowflake slip-resistance ratings in November 2016 received a great deal of media attention and had an immediate effect on the market, Fernie says. Retailers, manufacturers and consumers all took notice.
"What was pretty dramatic was that the one-snowflake boots sold out across the country by Christmas."
Retailers help promote the rating and some, such as Mark's, are major supporters, he adds.
Additionally, manufacturers started working with the TRI to make better boots. In winter 2018, instead of 10 per cent getting one snowflake, 20 per cent of the more than 200 boots they had on RateMyTreads.com at the time got one snowflake.
"(Manufacturers) have clearly improved their product and they needed to improve it. Previously, the products were mostly designed for their graphic appearance. They had some aggressive-looking treads, and colours, names and marketing that made them look effective. But they could be quite useless," Fernie says. "You cannot tell whether you have a good boot by looking at it. You have to test it."
To date, RateMyTreads.com has received millions of visits, and employers and safety managers are beginning to pay attention. For example, Canada Post is recommending that its 60,000 couriers all wear boots that tested at the top of the snowflake rating. Other organizations, such as police and ambulance services, are using the snowflake scale as a guide for the footwear they purchase, too.
"Some are very enthusiastic and I think that's encouraging. If eventually we can demonstrate on a larger sample — because now the sample is too small — that it's worth buying good winter footwear for your staff and you'll actually save money, that would be brilliant. It would change the market considerably."
Summers agrees, saying many employers who come to Mark's are aware of the snowflake rating. The retailer works with a lot of large industrial employers across the country, and they have often expressed concern about winter safety.
"The injuries caused by slipping on ice last year were terrible. There was ice all across Canada," he says, adding some of their customers are gas metre readers and utility workers. "They walk around people's homes, and you never know what they're going to be walking onto."
Ells, who is on the board of directors of ASTM, says the TRI has done a good job of promoting the snowflake rating system and, from the inquiries Vibram has had, it's clear that awareness of it has flowed into the United States.
"If you're a safety professional and something like the snowflake rating system comes to light, with the amount of publicity it got, I have to think that the vast majority of safety directors paid attention and probably did a bit of research. It's all about minimizing the negative effects we all deal with," he says.

WHAT'S NEXT?
Currently, there is no standard for slip-resistance in the winter. That absence is largely due to the sheer difficulty of devising a standard when huge variations in weather conditions have to be considered, Summers says.
"No two slips are alike; no two incidents are alike. The environments change all the time, in particular in ice and snow," he says, noting that in winter there can be completely different foot surfaces around an office building depending on the strength of the sun, wind direction and presence of snow.
"All the way around a building, you can be faced with four to five environments and challenges. So how does any one type of boot deal with all that? This is the reason it has been so challenging for people and why there aren't a lot of standards in place."
Moreover, while the TRI has been able to devise a reliable testing method, its lab is not the kind of facility others could easily reproduce.
"At the moment, our testing is quite expensive, rather specialist," Fernie says. "It's not a simple piece of equipment. If you develop a standard, you try to make something that's affordable so that people can test to that standard in their own countries, in their own companies."
Fernie, who represents Canada at the International Standards Organization (ISO), says the TRI does a great deal of work with standards bodies in all sorts of areas. It is currently working on the snowflake testing lab, aiming to miniaturize it and make it more economical. It also plans to automate some aspects.
"It takes a long time to change standards and introduce new standards," he says. "But we expect and hope that what we do will eventually be adopted as the standard."
Fernie says they are now, for the first time, testing boots that rate two snowflakes. They have also seen prototypes that achieve three.
"And in our own laboratories, with our own technologies, we have been able to achieve a five on this (snowflake rating). But we haven't managed to get those into working, practical shoes that don't wear out. Wear is one of the issues."
Manufacturers are experimenting with new materials — softer rubbers, for example — and with different tread patterns. Some companies, like Mark's, are blending the Arctic Ice and Green Diamond technologies.
Researchers at the TRI are also doing work on pavement design and floors. They plan to start testing indoor footwear, too, Fernie says, because there are a lot of incidents with people slipping on wet floors in hospitals and greasy floors in restaurants.
There's more coming to RateMyTreads.com, as well, he says. They want to add a "wear factor" — a measure of how long particular boots maintain good adhesion — and a recommendation for when the boots should be replaced.
"That has been quite difficult to accumulate," Fernie says. "But we'll get there."
Linda Johnson is a Toronto-based freelance journalist who has been writing for COS for eight years.
This article originally appeared in the February/March 2019 issue of COS.
---
TOP-RATED FOOTWEAR
Below is a list of the best winter work boots for slip-resistance. The higher the score, the better the traction and worker protection.
FOR WOMEN
• Dakota Composite Toe, Composite Plate, Felt Pack Winter Boots (MAA score: 8)
• Dakota Composite Toe, Composite Plate, Transitional Work Boots (MAA score: 8)

FOR MEN
• Dakota 8527 STSP Leather Winter Boot (MAA score: 10)
• Dakota 8901 Composite Toe, Composite Plate, HD3 Waterproof Work Boots (MAA score: 9)
• Dakota Oil-Resistant T-Max Anti-slip Transitional Boots (MAA score: 9)
• Wolverine Glacier CSA (MAA score: 8)
• Wolverine Glacier Side Zip CSA (MAA score: 8)
• Royer Agility Arctic Grip Collection Model Number 5727AG (MAA score: 8).
Source: RateMyTreads.com