Leaders called upon to be 'the future' for not-for-profit organization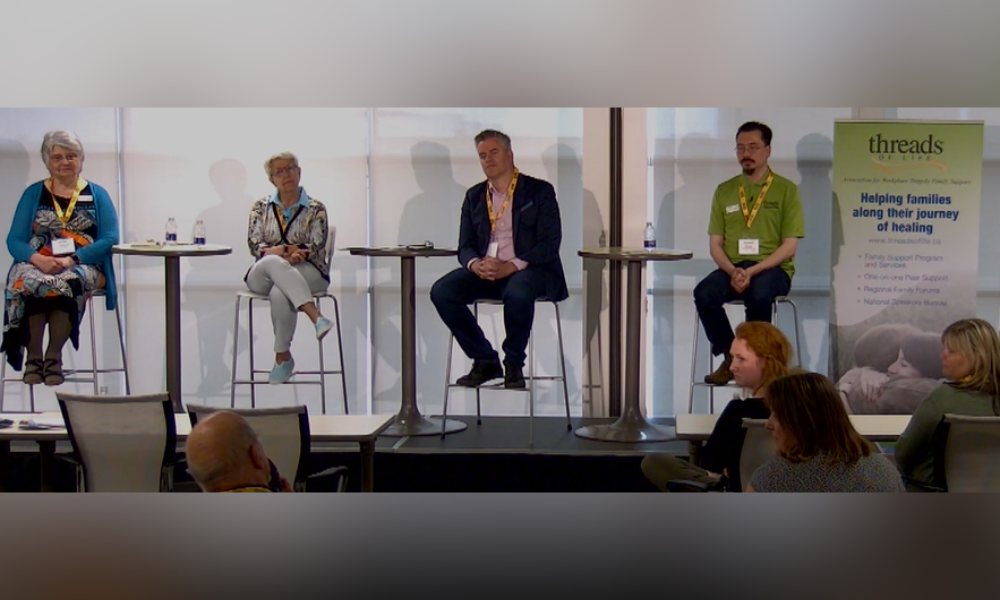 Threads of Life, a not-for-profit organization that has been helping injured workers and the families of hurt or deceased workers, marked an important milestone, highlighting the work it has accomplished, and the challenges that lay ahead.
Threads of Life celebrated 20 years on Friday. Founder and executive director, Shirley Hickman, shared a special message with everyone in the health and safety community.
"You are the future for Threads of Life, you're the ones that are going to reach out to families, and you're the ones that are going to reach out to employer groups, to health and safety organizations, you're going to ensure that every Canadian becomes aware that Threads of Life exists," encouraged Hickman proudly.
For the past two decades the organization has had a two-pronged mission; support families and create a community of awareness. Hickman thanked all the organization's partners, while calling on them to continue to broadcast its mission statement.
"So that every Canadian becomes aware that there is such an organization to promote prevention and awareness of workplace injuries, illnesses and deaths and to support those who are affected as an outcome of going to work and not coming home well, or uninjured or not at all."
WSIB announcement
Ontario's Workplace Safety Insurance Board (WSIB) is a key partner. Rod Cook is the vice president, workplace health and safety services with WSIB and attended the celebratory event in Mississauga, Ontario. In the tradition of birthdays, he came bearing gifts.
WSIB staff donated more than $42,000 and the board matched that amount, for a total donation of close to $85,000. "It was just an amazing campaign," says Cook, "and it's because of the difference that Threads of Life makes."
In addition to the donation, the WSIB provides an annual operating grant, which Cook announced is being doubled from $250,000 to $500,000.
That money will help Threads of Life carry out its mission, and health and safety professionals are an integral part of the process.
The safety leader's role
Russel Claus is a Threads of Life board member who became a safety professional after suffering a workplace injury. He was runover and had his pelvis shattered. Claus shared some of his story, but then offered advice to other health and safety professionals about how to respond to a workplace incident.
"These sort of situations, they can be very emotional and that can lead to difficulty in executing the investigation in a way that it should be," says Claus, who suggests energy should be focused on preventing similar incidents from happening again, "rather than sometimes going down the tunnel of trying to figure out whose fault it is."
Anne Tennier is the president and CEO of the Canadian Centre for Occupational (CCOHS) and added that following an accident, safety professionals have a responsibility to make sure the hurt employee and their family don't feel abandoned.
"You want to keep in touch, don't forget these employees. Make them feel part of your employment family…they didn't ask to get injured… they need to feel that it's not in vain that they're being remembered," says Tennier.
She also adds the "carer-ers need care" and encourages health and safety leaders to "think about yourself as well."
A team needs to pull together in the worst of times. Threads of Life has kept the health and safety community aligned, focused on awareness, while providing support to the people impacted by tragedy.