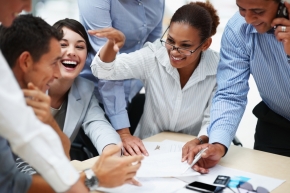 One of the hardest parts of getting your employees to buy in to health and safety awareness campaigns is engaging them and keeping them interested in the information you are imparting. Follow these tips to keep your next safety campaign fresh in your workers' minds.
A safety awareness campaign that replaces boring with brilliant, conventional with kitschy, vacuous with vivacious, reminds workers how important safety is — and gives a little lightheartedness to the situation.
Back that message up with a solid, company-wide safety training program and a catchy campaign can really have an impact.
Serious doesn't have to mean dull
Work injuries are serious business — lost productivity, medical bills, administrative expenses, workers' compensation fees, higher insurance premiums, and the list goes on. While communicating the need to take safety precautions should be taken just as serious, that doesn't have to mean the messaging should be dull.
Try adding a touch of humour to your safety messages, and create a buzz around the organization.
Elements of a successful message
Today's workforce uses mobile devices, the Internet and interactive video games on a daily basis. They prefer their information quick and engaging. Using humor, drama and quizzes, eye-catching messages feature bold graphics and minimal text.
When developing safety campaigns, focus on:
•
Emotional appeal
– Will readers be drawn to keep looking and reading? Create something that connects with workers. The best campaigns resonate with workers long after they've seen a poster or pulled a safety stuffer from their paycheck.
•
Catchy design
– Safety messages should be as engaging as advertising. Be bold. Be creative. Believe that grabbing the attention of workers will reduce injury in the workplace.
•
Keep it short
– Keep your messages clever, short and to the point. Do not write copy that drones on and on and on. No one will read it. No one will care. Make it short to make it memorable.
•
Buzz factor
– Create a final piece that will generate a positive buzz about safety. You want workers to be talking about safety in the lunchroom, while walking out at the end of the day, or at home with their families. Word of mouth is, and always has been, one of the best promotion tools.
Getting everyone to think and talk safety
According to Human Resources Skills Canada, nearly 1,000 people die each year due to work-related injuries and diseases at companies under federal or provincial jurisdiction. Visible safety campaigns can get workers thinking, or better, talking about how to make workplaces safer. They also show that company leaders are investing in safety and making it a priority. The most effective safety campaigns are those that involve everyone in a company — not just workers, not just middle managers, not just the CEO.
"Safety has to be a top priority on every jobsite and for every worker and manager," said Dan Bulley, senior vice president of Mechanical Contractors Association of Chicago. The organization produces an annual catchy safety campaign. "These safety stuffers are talkers. People may get a chuckle out of them, and they are one way to ensure the message of safety is on their minds."
Make your next safety message creative, bold and memorable.
------------------
Ann McGlynn is the public relations manager for Nehlsen Communications, an international marketing and public relations firm. She can be reached at [email protected] or (309) 736-1071.