Green Book 101: COS takes a detailed look at the regulations, training and Safety Data Sheets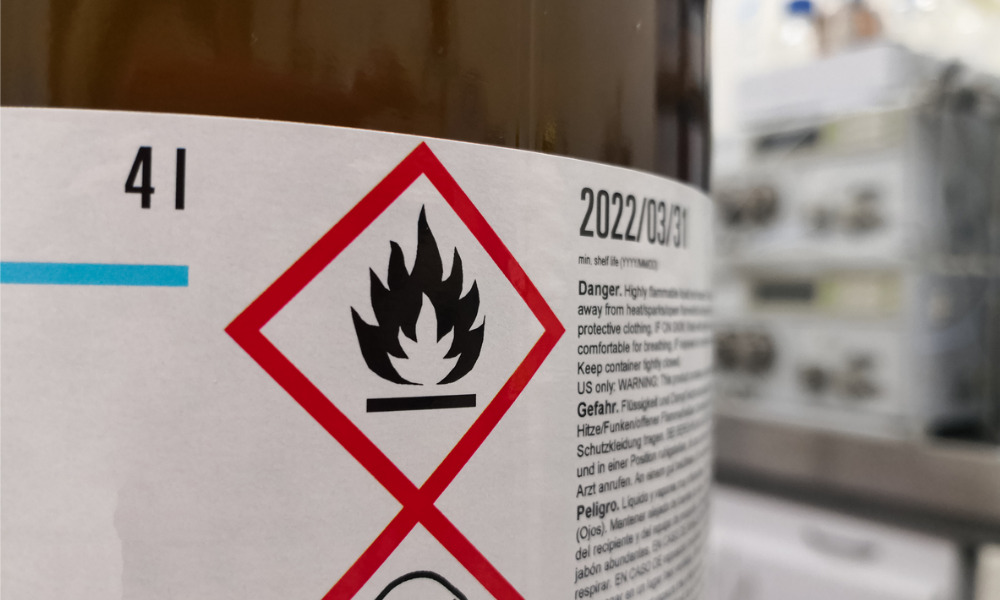 In Canada, the Workplace Hazardous Materials Information (WHMIS) is aligned with a broader system created by the United Nations (UN) to improve global chemical safety. The system is entitled the Globally Harmonized System of Classification and Labelling of Chemicals (GHS). The GHS is actually part of national legislation in more than 70 countries. First introduced in 1988, WHMIS was revised to include the GHS in 2015 – hence the distinction you may sometimes find between WHMIS 1988 and WHMIS 2015.
WHMIS is Canada's national hazard communication system which allows workers and employers to correctly identify, classify and communicate around chemical hazards. WHMIS regulations are included in Ontario's Occupational Health and Safety Act (OHSA).
Despite the change from the 1988 version to the updated version, very little has changed with regards to education and training on WHMIS, says Wes Mazur, CRSP, CHSC, NCSO, Health & Safety Professional, Mazur Safety Inc. The pictograms have been updated, which workers obviously need to be retrained on to properly recognize.
Training and education
Training is one of the main components of WHMIS regulations that safety pros are concerned with. Mazur says that the key question that is commonly asked is, do all workers in the workplace require WHMIS training? "And certainly, any employer who produces a hazardous product in the workplace has to ensure that every worker who with directly, or may be exposed to, it in the course of their work is informed and trained."
The next question is how often workers require WHMIS training. This is still highly misunderstood, says Mazur. "In the field of occupational health and safety, it is based on the regulation of the province or the territory. Most of them do not have a set timeframe." Indeed, the regulations simply state that employers shall provide that training or education.
This depends on the safety program of the organization, but a refresher or an annual review certainly wouldn't be remiss. Some training tickets are more specific, for example work at heights training or first aid and CPR training – which typically expires after three years. "There's a magic number that seems to be three years across the board for most health and safety training." Mazur says that though it is not the law, it is his advice that employers do look at a minimum of three-year recertification or do it annually if that's what they feel is required to comply with the intent of the regulation.
It is important to distinguish between education and training. Education is more generic information about how WHMIS works, what the hazards, what the pictograms. It includes the basic functions of WHMIS. Training on the other hand, is job specific for workers to understand which chemicals they are using, storing, or potentially exposed to. It's about really digging into the SDSs to learn how to safely store the products, use them, handle them, dispose of them, etc.
Mazur says that in over 90 per cent of all workplaces that he has travelled to in the course of his career, WHMIS understanding usually stops at the education piece. But in Canada, "any workplaces that uses hazardous products, there has to be a WHMIS program in place and workers have to be educated and trained so they understand the hazards." He says that every worker needs education if their workplace has any of these products. "But the ones that are actually going to store them, move them, handle them, dispense, them, use them, need the training."
Safety Data Sheets
As mentioned before, the transition between the previous iteration of WHMIS and its current version has been relatively smooth. Mazur says that what has been the bigger challenge for suppliers is to ensure that Safety Data Sheets (SDSs) are up to scratch and aligned within the transitionary timeframe.
In Ontario, any worker that works with, or might be exposed to in the course of their work to hazardous products, should be informed about all of the hazard information regarding that product. Realistically, this means access to labels and Safety Data Sheets (SDSs) which will give them the right information about the storage and handling of a specific product.
There are different aforementioned Safety Data Sheets – those provided by the supplier of the product, and those provided by the employer if the employer is the one creating the product itself. Some products are not required to not have SDSs, such as food or wood products, or tobacco products.
Read more: What is a Safety Data Sheet?
Employers are responsible for ensuring that they have all the correct SDSs available and at hand in the workplace. "Just because the supplier didn't send it to you, doesn't mean that you don't have to update your internal Safety Data Sheet database or your hard copies," says Mazur. But it still quite rare that employers aren't up to scratch, he says. Broadly, the alignment to the GHS has been "fantastic" says Mazur. And the GHS has been helpful in having a more streamlined approach across the board.