With residential fires on the rise, teleworkers need to invest in fire safety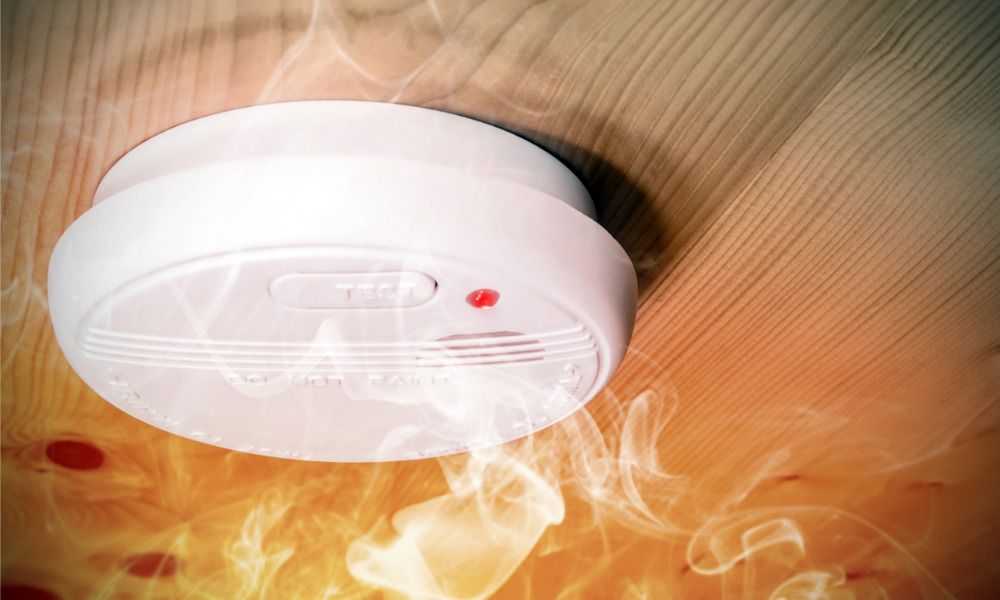 It has now been over a year since the outbreak of COVID-19 and the start of the pandemic in Canada and around the world. Not that this needs reminding, but the pandemic has altered the way in which we do pretty much everything.
One of the biggest changes that has affected the workplace is that a number of employees are now working from home. For some companies, this is a temporary fix, though others are looking into making this a permanent change.
While it may seem like an easy solution for some, there is actually a lot to consider with regards to the health and safety of teleworkers. At COS, we have spoken at length about ergonomic concerns as well as mental health issues but one topic which seems to fly under the radar is fire safety at home.
Read more: Fire drills amid COVID-19? Here's what you need to know
Fire safety at home
This is not a niche topic – Allstate Canada and the Ontario Municipal Fire Prevention Officer's Association (OMFPOA) say that they have seen an alarming increase in residential fires and fatalities over the past year. Both want to raise awareness and remind Ontarians (and indeed, all Canadians) to stay vigilant.
Allstate Canada has reported a 51 per cent increase in claims for residentials fires, which result from cooking or smoking, in 2020 compared to 2019. Furthermore, preliminary data from January 2021 has also shown a big spike in claims – with the highest number of residential fire claims for that month in the past three years.
Allstate says that these alarming numbers can be tied to the start of the pandemic: "At the start of the COVID pandemic when everyone was in lock-down for the first time, the number of claims Allstate received was even higher," said Gene Myles, Allstate Agency Manager and residential fire spokesperson.
Indeed between March and May 2020, it reported a 333 per cent increase in residential fire claims compared to 2019.
On their end, OMFPOA has also reported a 30 per cent increase in fire fatalities in 2020 compared to the previous year. And this is a trend that seems to be sticking, with 2021 fatalities still on the rise. The organization's data shows that in the first two months of 2021 alone, 33 per cent of the total recorded fatalities in 2020 have already occurred this year.
Read more: Fire drill fun: Creative ways to keep workers engaged in fire safety
How to telework safely
With more Canadians than ever being forced to stay at home, these numbers make sense – though they are no less alarming. Many Canadians may not be equipped to deal with these fires, and may not even have proper equipment available. There are, nevertheless, a few things that home-bound Canadians can do to improve fire safety…
1. Fire drills
The Calgary Fire Department in Alberta recommend that fire drills continue despite current social distancing measures. This may be a little easier for businesses and organizations still operating on-site, but it is still possible – to a certain extent – to educate teleworkers. Indeed, in a memo issued in August last year, the Calgary Fire Department recommended providing online fire safety training to workers to keep them updated and in the know.
Companies big and small may want to include at-home training in their current fire safety plan (definitely something to consider for those wishing to make teleworking a more permanent fixture).
2. Stay alert
"Insurance can protect someone's investment in their home, but it can't bring back treasured items lost in a fire. A fire can also be life threatening, so prevention is key to keeping everyone safe," said Myles. This fits into the previous point about fire drills, but it also touches upon basic fire safety awareness.
Working from home can blur the lines between personal and professional, and while fire drills may be provided in a professional setting, home-bound Canadians also need to be aware of fire safety in their personal lives too.
This is especially important in kitchen settings. For example, Myles says "don't leave cooking unattended. If you have to leave the kitchen, turn off the stove."
3. Invest in the right equipment
Smoke alarms are already a necessity in homes: "For the home or workplace, have smoke and carbon monoxide alarms on every floor," says Myles. "But, more than that, change the batteries twice a year and replace them when they expire."
Upkeep is as important as having the right equipment in the first place.
"Another way that might help is keeping a fire extinguisher in the kitchen, be sure you know how to use it, and have it inspected by a certified technician every year," says Myles. This may be something that teleworkers invest in personally, or something that workplaces could provide for their workers as part of an updated safety plan.