'It is imperative that proper safety precautions are followed to prevent damage to property, injuries or worse, a fatal incident'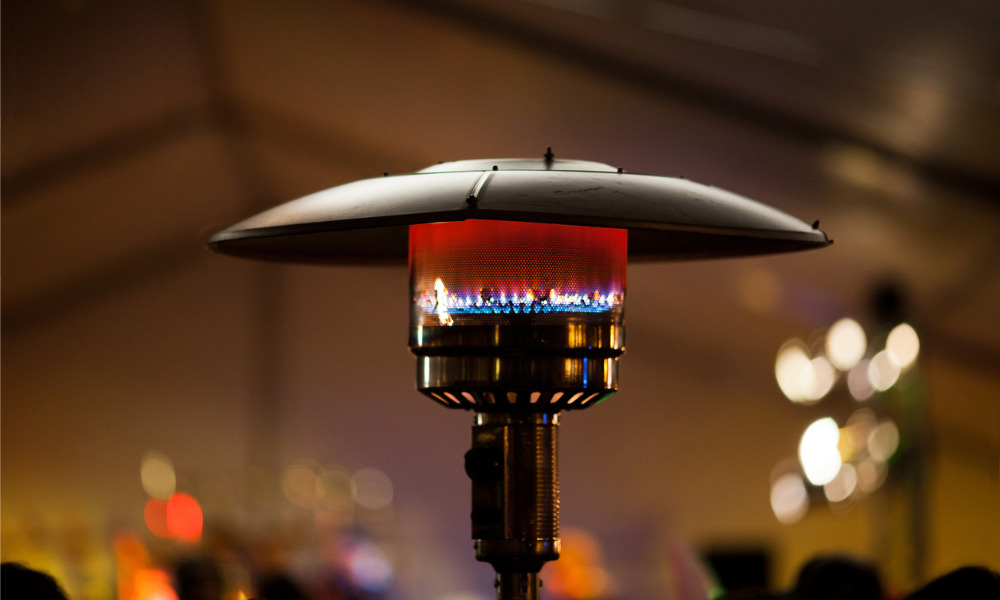 Patio heaters can pose a danger if they are not installed, operated and maintained correctly, according to the Technical Standards & Safety Authority (TSSA), the Ontario Association of Fire Chiefs (OAFC) and the Canadian Propane Association.
The agencies issued the warning in time for the Fire Safety Week, which runs from Oct. 4 to 10 this year.
They noted that with the cooler weather, restaurants, bars, cafes and individuals are using patio heaters to extend the use of their patios and outdoor dining areas into the fall and winter seasons. And while these fuel-fired heating units provide welcome warmth and comfort while dining alfresco, they can also pose a danger.
"Not only do portable heaters need to be installed, used, and maintained correctly, they must also be a safe distance from flammable objects, and be properly ventilated," said Chief Cynthia Ross Tustin, OAFC president. "It is imperative that proper safety precautions are followed to prevent damage to property, injuries or worse, a fatal incident."
Patio heaters – both portable and fixed, open-flame units – are designed for outdoor use only in open areas away from combustible materials. If used inside a tent or other enclosure or near flammable tablecloths or paper products, there is a risk of fire or carbon monoxide poisoning. Carbon monoxide is a leading cause of accidental poisonings in Ontario every year and can be fatal, according to the agencies.
Also, fixed fuel-fired appliances, including fire pits, fireplaces and tabletop units, present additional fire hazards caused by open flames. These units must be installed by a TSSA-certified technician.
"Our inspectors have reported seeing some propane cylinders stored inside buildings or unprotected in parking lots," said John Marshall, director of fuels department, TSSA. "We recognize that some restaurants and bars have not operated patios before and may not be aware of the potential hazards associated with patio heaters and propane cylinders. We hope our Patio Heater Safety Guidelines will serve as a valuable reference."
Owners and operators of outdoor patios and dining areas are responsible for the safe installation, operation and maintenance of their patio heating units. They must abide by all safety instructions outlined in the operating manual for their heating appliances, ensure staff understand how to safely operate the heating units and handle propane cylinders, and are urged to consult and follow the TSSA's Patio Heater Safety Guidelines and local fire department guidelines.
"The proper installation, use, or storage of propane cylinders, and other fuels contributes to a safe environment when using propane appliances," says Nathalie St-Pierre, President and CEO of the Canadian Propane Association.
"When propane cylinders are not connected to an appliance, they are considered to be in storage and should never be kept indoors. They must be stored in an upright position, three feet from any building opening and 10 feet from any mechanical air intake, sidewalks and adjoining property occupied by schools, churches, hospitals, athletic fields or other points of gathering. They must be safeguarded with tamper-proof, vehicle-proof protection, such as a locked cage or fenced-in area. Smoking is prohibited near stored propane cylinders."
In August, the Calgary Fire Department in Alberta issued a reminder for employers wanting to conduct fire drills.
"During the pandemic, it would be acceptable for fire drills to be conducted with supervisory personnel present, taking into consideration social distancing to complete any fire warden training which may include an evacuation table top exercise," said the department in a memo released addressing their expectations amid the pandemic.
Read more: Canadian brands making face masks to support
Home cooking
Meanwhile, Bill Blair, minister of public safety and emergency preparedness, said that home cooking can also be a cause of fire.
"This week, from October 4 – 10, we mark Fire Prevention Week in Canada. This year's theme is 'Serve Up Fire Safety in the Kitchen!' I encourage everyone in Canada to familiarize themselves with kitchen fire safety. Cooking can lead to home fires and can cause home fire injuries," said Blair.
Blair noted that one-third of residential fires are initiated by cooking equipment, and, sadly, "too many people already know the devastating outcome that fires can cause".
On Sept. 13, Canada marked Firefighters' National Memorial Day to remember and honour those firefighters who lost their lives in the line of duty.
"We stand with the families that have been faced with tragedy, and support them with the Memorial Grant Program for First Responders. This benefit recognizes the sacrifice of fallen firefighters, and supports their families," said Blair.
"I commend the work of Canadian firefighters, their professional organizations and other fire safety leaders who keep us safe. I would also like to thank firefighters across the country for their courage and public service in the face of dangerous emergencies, especially during the global COVID-19 pandemic."
In July 2017, an Ottawa roofing company was installing a roof on a two-storey house. Three workers were on the home's balcony when adhesive glue, a flammable liquid, caught fire. No fire extinguisher was available, and the workers had no way to escape from the balcony quickly. Two workers caught fire; the third suffered serious burns to the arms, legs and torso.