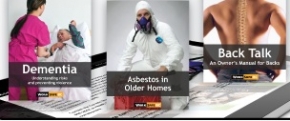 WorkSafeBC has launched several interactive e-books for iPad, aimed at helping employers improve their health and safety training.
Valuable information on a wide range of workplace health and safety topics is now available in the form of 18 free, interactive ebooks, WorkSafeBC said.The ebooks can be downloaded from the iTunes Store, and incorporate videos, quizzes, 3D graphics and other tools to make it easier to deliver safety information to workers.
Once downloaded, the e-books can be used without an internet connection.
"We've adapted some of our most important and popular resources as interactive e-books for mobile use," says Gordon Thorne, WorkSafeBC manager of product and program development. "Putting the e-books on mobile devices gives employers, supervisors and trainers greater access to safety resources, and gives WorkSafeBC one more way to share safety information that can help keep workers safe"
The following titles are currently available as e-books:
• Asbestos in Older Homes• Back Talk: An owner's manual for backs• Back Talk for Employers• Buried Facilities• Confined Space Hazards• Dangerously Exposed: Exposure prevention for young workers• Dementia: Understanding risks and preventing violence• Electrical Safety• Fall Protection• Forklift Hazards• Home and Community Health Worker• Introducing WorkSafeBC Ebooks• Lockout• Preventing Falls in Residential Construction• Return to Work: Healthy workers, healthy business• Using Saws Safely• What's Wrong With This Photo?• WHMIS: An overview
WorkSafeBC said it's set to release more new titles in 2013.
For more information on WorkSafeBC's ebooks visit
WorkSafeBC.com/Innovations.